Ad-Hoc Wireless sharing with Android 4.0 Ice Cream Sandwich
Wednesday, October 19th, 2011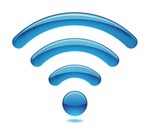 One of the more notable features that is included with the release of Android 4.0 Ice Cream Sandwich is the "Wi-Fi Direct" feature. We have heard a lot by now about the new feature "Android Beam" that uses NFC to transfer and share information but what about the Ad-Hoc wireless sharing? We no longer have to rely on Bluetooth to share information across Android devices.
Wi-Fi Direct lets users connect directly to nearby devices using a Wi-Fi network connection without worrying about data connectivity or tethering. As long as both devices have Wi-Fi Direct compatible devices they can stream videos and share files with it. One of the great benefits to Wi-Fi Direct of Bluetooth is the fact that its a lot faster.
The Wi-Fi Direct app has been tested on the Samsung Galaxy S II already without any issues reported that we can find to date. This is however not integrated into Android 2.3 Gingerbread and is only available via Samsung's custom TouchWiz ROM or Android 4.0 Ice Cream Sandwich.
---
---