Welcome to Android Advice and Tutorials.
---
Adobe Flash Player 11 and AIR 3 for Android Updates
Tuesday, October 4th, 2011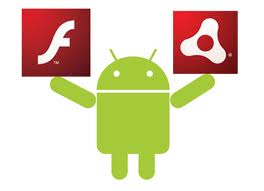 Adobe has been staying up to date with their Android apps for some time now with almost weekly updates to flash for a while there. Now they have released updates to Adobe Flash Player and Adobe AIR bringing them to version 11 and 3 respectively. These updated versions are available to anyone with Android 2.2 Froyo or higher on the Android Market.
Flash Player 11 new Features:
Native 64-bit Support (Flash Player desktop)
Asynchronous Bitmap Decoding (new for Flash Player)
TLS Secure Sockets Support (new for Flash Player)
Adobe AIR 3 new Features:
Native Extensions
Captive Runtime Support
Stage Video Hardware Acceleration (AIR Mobile)
H.264/AAC Playback Support (AIR for iOS)
Front-facing Camera Support (AIR for Android)
Background Audio Playback Support (AIR for iOS)
Device Speaker Control for Mobile (AIR for iOS & Android)
16 and 32-bit color depth
Game Controller API (AIR TV)
New Features Adobe Flash Player 11 and AIR 3 have in common:
Stage 3D Accelerated Graphics Rendering (Player & AIR desktop + AIR for TV)
Flash Access Content Protection Support for Mobile
Flash Access Content Protection Enhancements
Protected HTTP Dynamic Streaming (HDS)
NetStream.dispose()
H.264/AVC Software Encoding for Cameras (desktop)
JPEG-XR support
Enhanced high resolution bitmap support
High efficiency SWF compression support
G.711 Audio Compression for Telephony
Native JSON (JavaScript Object Notation) Support
Garbage Collection Advice
Cubic Bezier Curves
Secure Random Number Generator
Socket Progress Events
DisplayObjectContainer.removeChildren and MovieClip.isPlaying
---
---
---