Android 4.0 Ice Cream Sandwich Source Code Available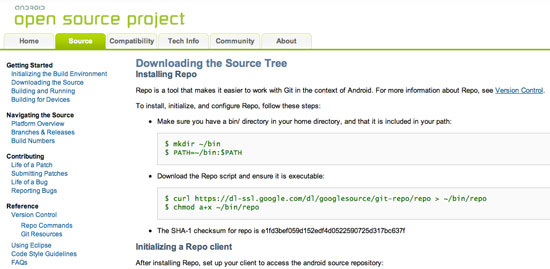 This week the Android 4.0 Ice Cream Sandwich source code has been uploaded and made available to developers. It seems to be the same build that was leaked meant for the Galaxy Nexus a few weeks ago.
This is actually the source code for version 4.0.1 of Android, which is the specific version that will ship on the Galaxy Nexus, the first Android 4.0 device. In the source tree, you will find a device build target named "full_maguro" that you can use to build a system image for Galaxy Nexus. Build configurations for other devices will come later.
You can get started with the source code by going to http://source.android.com/source/downloading.html and following the instructions there.
With every new source code release we tend to see an increase in ROM's and other improvements to our devices.  Hopefully since Android is getting so advanced we will start to see the OS grow faster and more stable as the community builds it up without having to rely on one Dictator to do it all.  There are many ROM's already available but we like to see the smaller names in ROM development come out of the woodwork and create the crazy designs and such.