Flash Player 11.1 Available with Ice Cream Sandwich Support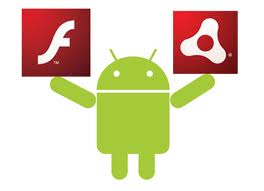 Now that the Galaxy Nexus has been released Adobe has released their new update to Flash bringing it to version 11.1 with ICS support. The update is focused specifically on bug, performance, compatibility, and stability fixes to make it stable on devices running Android 4.0 Ice Cream Sandwich. This means most other users will not see any difference with the update.
This new update does not however come with full support on ICS and still have many bugs. Some of which are the fact that StageVideo using On2 and Sorenson still doesn't work on Android 4.0 devices along with the new Android OS not stopping flash in the background before and after phone calls.
While Adobe says that this is the last version of Flash supported for mobile devices we have to hope that they will iron out the new issues before completely forgetting about us. While the bugs need to be ironed out for now, flash is a battery and resource drain meaning HTML5 will be taking over making flash nearly obsolete.