Ever since Honeycomb was brought into the game the tablet experience has changed. Most tablets now come with Honeycomb as the stock Android OS which is now at version 3.1. Honeycomb will soon be updated to version 3.2 but still seems to be the red headed step child of the Android world.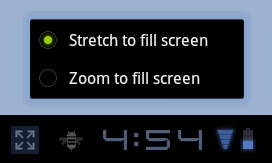 With very few apps designed specifically for Honeycomb, or even tablets in general there has been a need for tablets to be able to support your average smartphone app. Most apps are designed for smaller screens since a majority of devices running these apps will be phones and not tablets.  Developers will likely not start creating apps specifically designed for tablets until there is a larger user base.
With Android Honeycomb 3.2 there will be the current option to "stretch to fill screen" or a new option to "zoom to fill screen". Basically what this will do is enlarge the app 2x to make it more compatible with your devices larger screen.  Until now you would either see an extremely distorted app on your tablet or see it the size it would normally be on a phone (which defeats the purpose of having the larger screen)
The first device that will be receiving the Honeycomb 3.2 update will be the Huawei Mediapad followed closely by the Motorola Xoom.  As either of these devices get the update we will surely let you know and get some examples of the new features.  We have a Motorola Xoom on hand and will update to the new version 3.2 as soon as its available.  When you get the update however, please let us know if the new features make your experience any better as we are sure it will.
UPDATE: We got the update just fine and have noticed that most of the apps we had running very small on our 10 inch screen are now filling the screen while still keeping the clear look you expect.  There have also been a few more developers jumping on the tablet bandwagon and making their apps more user friendly on tablets.
UPDATE:  There are now talks of the next version of Android being a hybrid, meaning the same version that runs on phones will also run on tablets so that everyone has the same OS version.  This being said it should be a lot easier for developers to develop an app that is compatible with both devices rather than creating two different apps.