New Browser with Android 4.0 Ice Cream Sandwich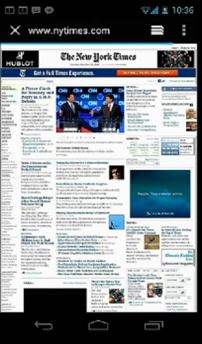 Before the official announcement of Android 4.0 Ice Cream Sandwich we were made to believe that Android 4.0 would have chrome integrated in. This is not the case but Ice Cream Sandwiches browser does look a bit like chrome. While its not Chrome it has some really great features.
Android 4.0 Browser Features:
Complete redesign with Android 4.0
Address bar, tabs, and menu buttons
Tabs button displays all open tabs
Swipe a tab to close it
Can force Desktop version of any website
Sync bookmarks with Chrome
Some of the other features that we see worth mentioning is the fact that you can save webpages for offline viewing. This is a great feature that will be very useful when needing information where you may not get data like in subways and other enclosed areas. Another great feature that allows incognito browsing for added security.
So again while not Chrome, its the closest we've seen Android get up till now. With the newest features we can surf the net with much more ease than the complicated browser packaged with Gingerbread.