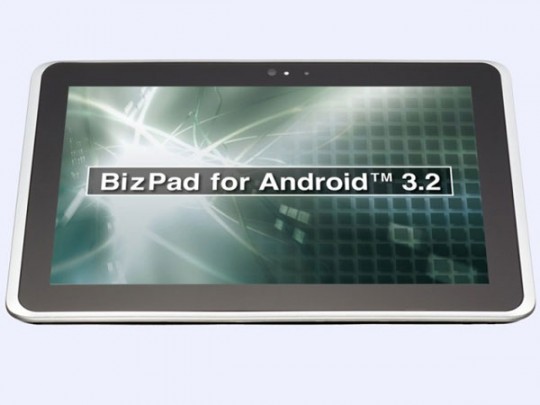 Panasonic has announced a set of new tablets that have been designed for the business user. They will have two different screen sizes and will begin their launch in the Japanese markets. The BizPad JT-580VT which is a 7 inch Android tablet and the BizPad JT-581VT with a larger 10.1 inch screen. Both BizPad tablets will come with Android 3.2 Honeycomb and are built to be rugged to handle abuse when used.
Both BizPad tablets are built to be resistant to dust, water, and shock. The 7 inch BizPad can handle a drop at 120 cm and the 10.1 inch BizPad can take a 80 cm drop. Also this rugged tablet has an ARM Cortex A9 dual-core processor, NFC (near field communications) reader, replaceable battery, and all the other goodies like Bluetooth and GPS.
The 7.1 inch Panasonic BizPads will be available this year being released in December as WiFi and 3G models. The 10.1 inch BizPad however will not be released until January as only a WiFi model. There has been no price set that we are aware of but will keep you informed as we find out more.