Some HTC Phones Banned in The US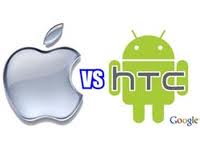 Apple again has gained ground on HTC Corp. through winning a patent infringement ruling. The U.S. International Trade Commission reviewed a judges findings in July and found that HTC is violating an Apple patent over data-detection technology. The International Trade Commission has issued a limited import exclusion order that will start April 19th 2012.
Peter Toren, a patent lawyer with Shulman Rogers in Potomac, Maryland said "The battle between Apple and Android is going to continue, I'm not sure this decision, the way it is, is enough to push the parties to settlement. Apple doesn't have the leverage of a total exclusionary order."
This said Google representatives have had no comment on the affair and HTC says they will remove the patented technology from their devices soon.
We haven't been made aware of a full list of devices that are being banned and can't seem to find very much concerning the full scope of the ban.  This being said I highly doubt that HTC will have much trouble getting everything fixed and back in the US.  Apple seems to have given up on innovation in favor of litigation and we are seeing the start of a downhill slide for Apple.  I wouldn't be surprised to see their value decrease and stocks fall quickly with all of the lawsuits they have started and lack of truly new devices.