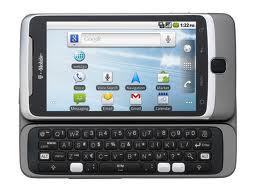 After T-Mobile promised an update to take the G2 to Android Gingerbread 2.3 they are starting the first phase or OTA updates. If you don't get the over the air update today don't worry it will be available to you over the next few weeks. You can always check manually as history says you can get it that way before the OTA push.
Phandroid posted the following T-Mobile Communication Earlier today:
On  July 27, T-Mobile G2 devices will begin to receive an Over-The-Air (OTA) update  to Android 2.3.3 (Gingerbread). The update will roll out to customers in waves over  the coming weeks.

The update provides the following enhancements and improvements.

New features:

Android  2.3.3 (Gingerbread)
Tell HTC
Google  Books added
Notification bar color scheme is changed to black
New  battery indicator, phone, and web icons
Color-coded network icon and signal indicator added. Green when connected to Google  servers. Grey when not connected.
Pressing the power key while on a call disables the proximity sensor
Fixed or improved  issues:
Wi-Fi calling improvements
New SMS and email notification improvements
Improvements to sending MMS from the Gallery

Your  phone will show a notification when you have received the update. Alternately,  to check if your phone has the update, follow these steps:

From Home screen, press the Menu key.
Tap Settings.
Tap About Phone.
Tap System Updates.

Important: Do NOT call T-Mobile to receive the update before September 1. The timeline for receiving the OTA cannot be expedited. T-Mobile cannot manually push the software to customers who ask to receive it.
Its good to see T-Mobile making good on promises as quickly as can be expected.