10 inch Amazon Kindle Fire Available this Summer?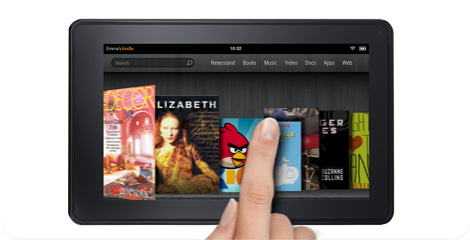 When Amazon originally started working on their Kindle Fire they mentioned that they were working on two Android tablets. The first tablet released was the Kindle Fire that is popular and widely used today. The Kindle Fire quickly became one of the most owned and largest player in the Android tablet market. Soon after its release there was mention of a 10 inch Amazon Kindle Fire but never came out.
The 10 inch Kindle Fire is said to run Nvidia's Tegra 3 quad-core processor and was supposed to release in Q1 of this year. With Q1 ending in only a few days we can assume that the date we all hoped for is not correct. Amazon and Amazon's CEO Jeff Bezos are very good at keeping secrets as we saw with the release of the current Kindle Fire.
While Amazon hasen't mentioned anything about the 10 inch Kindle Fire it was reported by Digitimes that Amazon has ordered a chasis for a new Amazon Tablet from Catcher Technology in Taiwan. Catcher Technology is one of the chasis manufacturers Apple uses for their iPad and was used for the original Kindle Fire as well. Digitimes reported:
Catcher will supply the chassis to Amazon from its plants in Taizhou, China with estimated gross margin to be more than 40%, the sources noted.
We aren't sure what this means exactly when it comes to Amazon ordering although its a pretty good indicator that they will be releasing a new tablet very soon. If all goes well and this order is for their 10 inch version of the Kindle Fire we could see them announced by the end of Q2 of this year.