ASUS Transformer AiO Dual-Boots Windows 8 and Android OS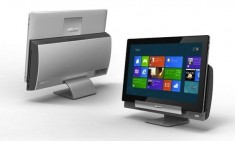 ASUS just announced they will be merging Windows 8 and Android 4.0 Ice Cream Sandwich on their dual-booting computer called the ASUS Transformer AiO. While we have seen tablets dual boot with the Android OS this is the first like this, a computer with Windows 8 and Android on an 18-inch screen.
ASUS unveiled their Transformer AiO about a week ago at Computex showing off the prototype. The Transformer AiO when docked is a Windows 8 desktop that can be disconnected to be used as an 18 inch tablet running Android 4.0. You can however with a button on the back of the dock switch between Windows 8 and Android 4.0 when docked. ASUS has also partnered with Bluestacks to allow Android apps to be ran within the Windows 8 environment as well through the Bluestacks Android player.

Video courtesy of Engadget
We currently have no pricing or availability yet for the ASUS Transformer AiO although the concept alone should spike an interest in the new Desktop/Tablet. As we find more information we will be sure to release it to those that are interested.