Com2Us Homerun Battle 2 for Android Review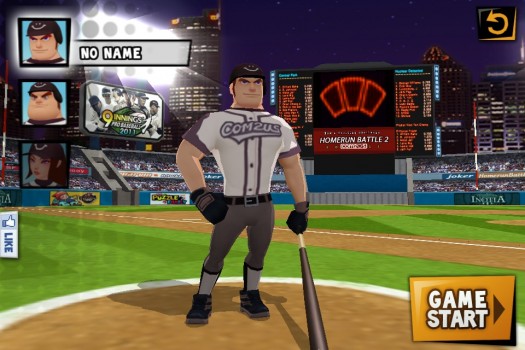 Homerun Battle 2 is the second version of the Homerun Battle line of games following Homerun Battle 3D and was developed by Com2us. Homerun Battle 2 is a free install through the Google Play Store that has a paid option that can be acquired through stars within the game itself. The cost for the paid version is 520 stars which equates to $4.99 in real world currency. This being said you can play the free version as long as you want with ad support and it will cost you 5-10 gold balls per game based on multiplayer or single player modes.
There are many ways to acquire gold balls within Homerun Battle 2, one of which is downloading games through tapjoy, another is by playing and doing well enough within the game (each game gives gold balls by hitting special balls out and beating scores), last is the daily spin that Com2us gives to Android players. You can acquire gold stars through the free daily spins and eventually pay for the game that way although it will take a long time to get enough stars to get $4.99.
Homerun Battle 2 Graphics and Visual Elements:
Com2us does a great job with the graphics in the game overall with clean, smooth gameplay on most devices. The graphics can be turned down to either make gameplay smoother on slower devices or save battery life for those that play for long periods of time. There is also a picture in picture setting that allows you to see other players you are competing with as they play in multiplayer mode. The PIP can be shrunk down to take less of the screen or turned off to again save on battery life and increase speed when having slow data connections.
Homerun Battle 2 Game Play Features:
There are a few different ways you can play Homerun Battle 2 with the first being single player arcade mode. In single player mode you basically get 10 outs (this comes from strikes and foul balls), when you get 10 outs your arcade mode is over and stats are saved along with any gold balls acquired added to your account.
The second single player mode is Burning Mode, in burning mode outs don't matter in the sense that the game does not end when you reach a certain number of outs. When in Homerun Battle 2 burning mode you hit as many balls with a clean connection as possible as a timer runs down. When hitting the ball you will get a score based on Bad, Good, Great and Perfect hits. While the timer runs out if you can get enough points there is a burning mode that you hit and it will reset your timer and give you a level up. This is the best mode for unlocking many of the achievements which we will discuss later.
Third mode of gameplay goes into multiplayer mode and is called Duel Mode which is basically one on one game play with other players throughout the world. When playing duel mode there will be a set amount of points you need to get in order to win and the first one to hit that wins the duel. The winner of a duel will not only get more gold balls than the loser but also win points which is how levels are determined. Levels will also be mentioned a bit later.
Fourth mode is also a multiplayer mode called survival mode. Survival Mode is everything that is in duel mode with a twist in the sense that you have items that you can either hit other players with to make it harder for them to get points (shown with red background) and other items that help you gain more points (shown with blue backgrounds). Survival mode also effects your overall level in the same way that Duel mode does.
Last there is a mission mode that creates a room with up to 4 players total in the room. When in mission mode you and the others in the room will be given a task to complete like hit the most homeruns in time allotted or cycle twice within the time allowed. By completing the task before the others in the room and within the time allotted you will win the mission and get gold balls based on the room you were in and the amount of people in that room.
Overall gameplay is very fun and allows for enough different types of play to keep anyone interested for long periods of time.
Homerun Battle 2 Achievement System:
Homerun Battle 2 does have achievements for players to stiff to complete that allow players to collect large amounts of gold balls to spend on items within the game. Many of the achievements are based on skills alone and some are granted based on how long you play and get certain numbers of homeruns and or patterns of play. There are also achievements that will give equipment and other items to enhance your skills and or players physical appearance. Overall the achievement system is pretty well thought out although in my opinion there should be more achievements available within the game. Currently all of the achievements can be completed within a few months leaving players with nothing to strive for once they are all unlocked besides actual gameplay itself.
Homerun Battle 2 Levels and Ranking:
Homerun Battle 2 does a great job at ranking as far as winpoints which are given or taken when you win or lose in multiplayer arcade or survival modes. When playing you are awarded winpoints for beating opponents and winpoints are taken when you lose to opponents. There is another part of ranking though which is your level itself. The levels in Homerun Battle 2 are where Com2us seems to have dropped the ball as the idea is great the actual implementation is not as well thought out. When you get enough winpoints you will move from Rookie to Slugger and then to Champion. You can easily hit Champion in a day and then have nowhere else to go from there. Each level effects the rooms that you are allowed to play in as there is a Rookie only room for newcomers and then a free for all where all levels can go to play. The other two rooms consist of one for sluggers and above and another for champions and above. While this is nice in itself the fact that a Champion can play with a Rookie in the free for all room seems a bit off.
Homerun Battle 2 Items and their effects:
Homerun Battle 2 has many different types of equipment to enhance your players stats and give permanent buffs to your player as well. Many of the items that are more powerful do cost stars which are very expensive if not saved p from free spins and most do not have an equal that can be obtained with gold balls. This system seems to be flawed a bit since paid players can get an instantly powerful player on their first day of play. There are also player physical items that can be purchased with gold balls and stars that change skin color, give your player some shades or new haircut. Next are the fields, there are 5 different fields within Homerun Battle 2 with the first being unlocked automatically so you have one to play on. You can unlock all but one field with gold balls and the 5th with stars. Overall the items and buff system is great although the number of items and having the ability to get equal items to those that require real money should be added.
In Conclusion:
Homerun Battle 2 is one of the best games i've played on Android to date. It does have a few features that could be improved but has enough ways to play to negate whats missing. The one thing that keeps Homerun Battle 2 from being maybe the best game for Android ever is the greed when it comes to having to pay for the game and then to be competitive with paid players having to spend even more money to buy equipment. Let us know what you think about Homerun Battle 2 via comments below.