Corning Launches Willow Glass for Flexible Displays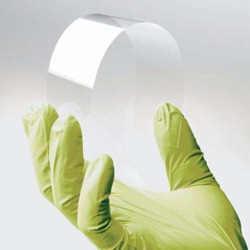 We have seen flexible displays that Samsung has been working on for some time now but without the flexible glass to go with it, now Corning has created the flexible glass calling it "Willow Glass". Corning is the company behind our loved Gorilla Glass which may be the only glass that everyone with a mobile device truly knows by name.
It will support thinner backplanes and color filters for both organic light emitting diodes (OLED) and liquid crystal displays (LCD) in high performance, portable devices such as smartphones, tablets, and notebook computers. This new, ultra-slim flexible glass will also help develop conformable (curved) displays for immersive viewing or mounting on non-flat surfaces.
This new glass is a slim strong material that will allow for flexible screens on devices which only Corning would be expected to release. This will also allow roll-to-roll processing making the entire process less expensive. In turn we hope that the savings are reflected in mobile devices costs.
"Displays become more pervasive each day and manufacturers strive to make both portable devices and larger displays thinner. Corning Willow Glass provides the substrate performance to maintain device quality in a thin and light form factor," said Dr. Dipak Chowdhury, division vice president and Willow Glass program director. "Currently manufacturing in a sheet-to-sheet process, we expect Corning Willow Glass to eventually allow customers to switch to high throughput, efficient roll-to-roll processing, a long-awaited industry milestone."
While Corning hasn't gone into much detail about how flexible the glass really is we would be interested to see a demonstration. Based on the image above we can see that it is quite flexible with a 180 degree bend. As we get more information we will be sure to share.
Source: Business Wire