Welcome to Android Advice and Tutorials.
---
CyanogenMod 9 Available On The Motorola Atrix
Monday, January 23rd, 2012
Those of us that have the Motorola Atrix have been waiting for some time now to get Android 4.0 Ice Cream Sandwich on the device and it seems for some of us the wait is over. While the CM9 ROM still has some bugs it is available and functions on the Motorola Atrix 4G. If your Atrix is your primary phone you may want to hold out due to some bugs that still aren't ironed out completely but in any case its a nice ROM.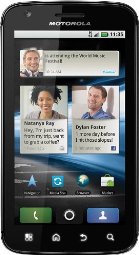 CyanogenMod Features not working on the Atrix 4G:
Camera
Adobe flash is buggy
HDMI landscape
YouTube
Car dock
Some 2d issues
Built in video playback
While there are some pretty hefty daily use items not quite there yet like the camera jokersax11 from XDA Developers has vowed that he will not stop until its fully functionally on the popular device. If you have already installed the ICS ROM on your Atrix 4G please let us know what you think. In the mean time we are gonna give it a shot with one of our test devices and get back to you later.
---
---
---