Ematic eGlide XL Pro 2 10-inch Android 4.0 ICS Tablet $219
Ematic has released an Android 4.0 Ice Cream Sandwich tablet for $219, it may be mid range but based on price and features its a tough on to beat. The Ematic Android tablet named the eGlide XL Pro 2 is in line with the ereaders but is a full featured tablet with specifications that are very hard to beat one of which simply being the 10-inch display.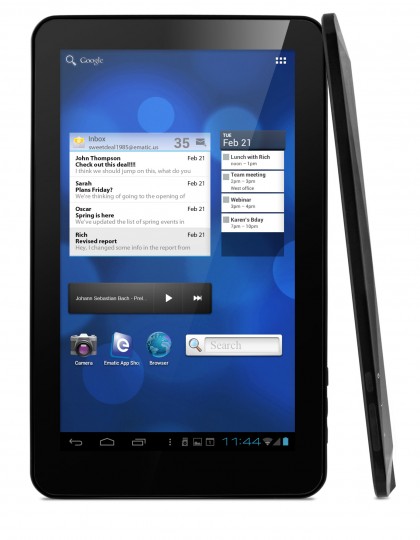 Ematic eGlide XL Pro 2 Android 4.0 Tablet Features:
Android 4.0 Ice Cream Sandwich (out of the box)
10-inch Display
1 Ghz Processor
400 mhz GPU
We aren't sure of many more features at this point although they are in a partnership with Kobo for delivery of books and the tablet is on sale at Wal-Mart stores already. We have no idea on Google features or if Google Play even comes on the device although as soon as we get a chance to hold on to one we will let everyone know.