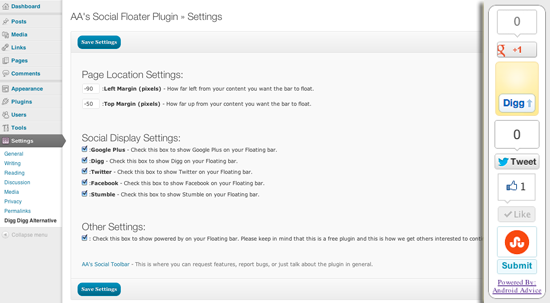 If you are looking for a Digg Digg alternative that is faster loading with cleaner code for SEO friendliness then AA's Digg Digg Alternative WordPress plugin is for you. Here at Android Advice, we needed the social sharing options that Digg Digg offered but didn't want the slow loads and puffed up code that it adds to every page of the site. Our answer to this was to create our own floating social sharing toolbar.
After a few requests by visitors to our site for our social sharing toolbar plugin we decided to turn it into a WordPress plugin and release it. The plugin has a simple structure and one short page of settings. You can move the bar around if you want to tweak its location and choose which social networks to show up.
Benefits to AA's Digg Digg Alternative over Digg Digg:
Much faster load time
Cleaner SEO Friendly code
Substantially less code
Much easier to customize
Less settings to run through to get it working
We ran speed tests using the Digg Digg social plugin and our own and every website it was tested on came up with better results using our Digg Digg alternative than the Digg Digg bar itself.
How to Install the AA Digg Digg Alternative Floating Social WordPress Plugin:
Upload the plugin to the `/wp-content/plugins/` directory
Activate the plugin through the 'Plugins' menu in WordPress
Choose your options via "Settings -> Digg Digg Alternative"
Frequently Asked Questions about the Digg Digg Alternative Social WordPress Plugin:
My Toolbar is not Floating where I want it to?
If you go to the settings for the toolbar "settings -> dig digg alternative" you will see location settings. You need to change those numbers to move the toolbar around. (i.e. changing left margin from -90 to -100 will move it further left by 10 pixels, changing top margin from -50 to -40 will move it to the right 10 pixels)
Why are there only 5 social platforms?
We created the toolbar for our own website originally and decided to release it, we only needed those 5. We will be adding other networks now that its released based on user feedback and requests.
Demo of the Digg Digg Alternative Social WordPress Plugin:
Its the toolbar you see floating to the left of this article.
Please leave us a comment below with any bug reports, feature requests, and or general comments about the plugin itself. Please take note that this is the initial release and we will be adding other social networks shortly.