FleaFlicker is a free fantasy sports website that allows everyone to play their favorite fantasy sports. There have been a lot of people around the internet requesting an app for Android and finally someone has released one. The un-official FleaFlicker app for Android is available now on Google Play.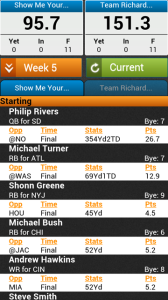 The current FleaFlicker Android app does not have all of the features that the website has although it does have everything you need to view stats, scores and previous weeks standings. As of right now the Android app for FleaFlicker only has the football fantasy leagues implemented although there are talks of adding other sports to the mix.
Current FleaFlicker for Android Features:
View current weeks fantasy scores via a scoreboard style display
See all of your active, benched and injured players
View your opponents active, benched and injured players
See each players fantasy stats and other details
Features that are said to be added in the next update or two will be total fantasy leagues standings by team, full rosters, and the ability to make trades and control your team from within the application.
Where can I download the FleaFlicker Android App?
The FleaFlicker Android app was removed from the market, we are working on getting our hands on the APK so check back later.