Frodo Physics Game for Android Released by TNGames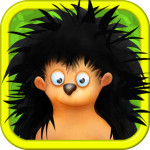 In Frodo, a charming little hedgehog got lost and cannot find the way home. The goal of the player is to help the hedgehog and break the obstacles around him in such a way so that it makes Frodo roll to his cottage. Each level is timed so the quicker you find the solution to the puzzle, the more points you score. There are 40 tricky levels to go, each offering a unique layout of obstacles and multiple ways to solve the puzzle.
TNGames is proud to announce the release of Frodo for Android. In this charming physics-based puzzle adventure, you'll need to use your brains and objects on the screen to help little hedgehog get home. The game is available for download from the Google Play.

Here's a sample how to solve a puzzle: break the box, the hedgehog starts rolling and gets into the cannon, shoot him at the big red button on the wall that gets pressed and lifts the stone wall up, the hedgehog rolls down and into his cottage. The game play resembles a pinball game and is sure to please the whole family.
Key Features found in Frodo for Android:
Over 40 brain-teasing levels to play through, each with its unique set of obstacles
Cartoon-like graphics and nice sound effects
Perfect physics-based puzzle gameplay for all ages
Updates add new levels

TNGames is an independent game development company focused on creating casual games for Apple iOS, Android and other platforms. TNGames was established in 2012 by a group of software developers. For more information about the company and its projects please visit http://www.tngames.us.  If you download the game and play please leave some constructive criticism in the form of a comment below.