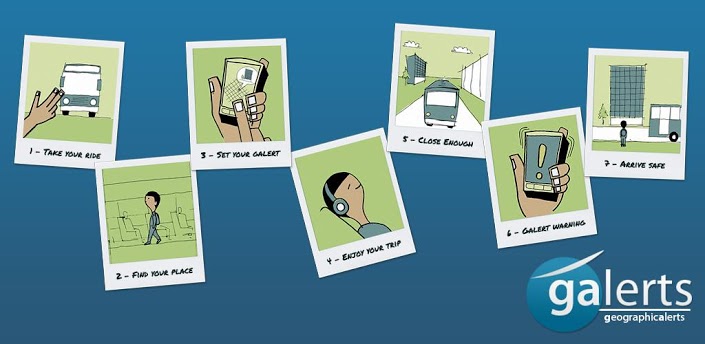 GAlerts is free android application and it name means "Geographical Alerts" and it is available on the Google Market. This application allows users to generate geographical alerts (points of interest, or land marks) and using the GPS the application notifies the user when he is close to one of the marked positions.  GAlerts is a new and helpful application for all kind of trips (an other situations too) from daily bus trips to awesome turist trips.
Here I list some of the practical uses for GAlerts:
Using a bus line for first time? not sure which is your stop? GAlerts can notifies you when your are getting closer, so you never miss your stop again.
Going home after work? enjoy your trip without worry about your stop, you can sleep, rest or listen some music and GAlerts will let you know when you are close enough.
Taking a tour and don't want to miss any spot? create one GAlert for each point of interest and you will be notified.
Do you have to pick up something from the store? create a GAlert near your favorite store and you will never forget it again.
You can find more information (or download) at GAlerts's website
www.galerts.net or from Google Play at https://play.google.com/store/apps/details?id=uy.com.spiria.galerts
Besides you can use GAlerts everywhere and you don't need internet connection to use it, just need connection once to setup your galerts, so it could be really helpful if you are visiting other cities or countries.