Google's Sound Search (Google Ears) APK (No Root Required)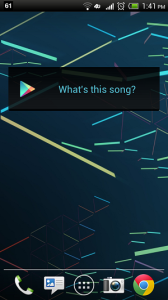 It looks like Shazam and SoundHound have some competition from Google with the release of Android 4.1 Jelly Bean called Google Ears. Google Ears is Google's Sound Search feature that has been added to their Jelly Bean OS. Quite simply the Google Ears app scans a song and after identified it will go to the Google Play market and give you the option to purchase the song. Of course you can use it to just identify a song and get it however you do.
Originally there was a port of Google Ears that was released but it required rooted devices now you can install it on a stock unrooted Android device easily using the apk below.
Download Google Ears APK for Un-Rooted Android Devices