How to Make Phone Calls on your Nexus 7 or other Android Tablet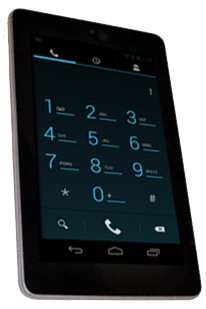 You can now make outgoing and receive incoming phone calls with your Nexus 7, or any other Android tablet, using your Google Voice number. Keep in mind that both methods of turning your Android tablet into a phone require root access in order to make the changes to the required files. Also both methods will trick your Nexus 7 or other Android tablet into thinking it is voice capable and allows the voice dialer app to work as a normal phone through Google Voice.
Incoming calls are handled with an app that you will have to setup your call number and routing through like CSipSimple. Before you choose a method keep in mind that the first which is the manual way is the best but also the most difficult and will require a good knowledge of the Android OS, mostly hackers and tweakers only should try the first method. The manual method created by XDA member "bongostl" also allows users to get calls on their device and gmail while the second method only allows one or the other.
Method 1: Manually Hack your Tablet to handle Phone calls:
Head over to XDA for the full Instructions (XDA Link)
Method 2: Automatically Hack your Tablet to handle Phone calls:
Download GrooVe IP (Google Play Link)
Again if your not really a hacker or tweaker of any kind then you may want to play it safe and grab GrooVe IP, but for those that want to dive into your device you can use method 1. Also take note that the easy method (2) will cost you $5 while the manual method is completely free. Let us know how it goes and if you have any questions about the process that we haven't outlined above.