HTC One X Android 4.0.4 Update 2.20.502.7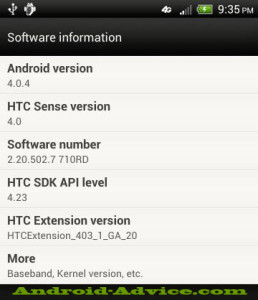 The HTC One X is by far one of the greatest Android devices to date and in fact our every day use device. The phone overall has many redeeming features along with the speed to support. There has however been one small issue that the phone has had since it was released, which is the large black menu bar that would not go away. This update which is currently rolling out to the HTC One X has fixed this one issue with the device.
Keep in mind that the Android 4.0.4 update that has started rolling out today is for the AT&T version of the HTC One X. The international version should see this update in the coming weeks so be patient, it will hit soon.
This large update to the HTC One X comes in at a huge 270MB and brings its build to version 2.20.502.7 and OS version to Android 4.0.4. There are many bug fixes and performance enhancements that come with the update but as stated already the menu bar is the only esthetically noticeable change so far we have found. Be patient as the update takes about 5 minutes to install even after you have downloaded it.
Just like most updates you can expect to lose root access to your HTC One X with this update although we can all but guarantee that you'll have it back very quickly. We did also notice that there is a smoother process when deleting apps in calculating size and the process itself. If you haven't seen the update to Android 4.0.4 yet on your HTC One X you can manually check by going to "settings -> Software update". Also if anyone notices anything we have not mentioned here let us know via comments below.