HTC One X, S, XL, V Android 4.1 Jelly Bean Release Update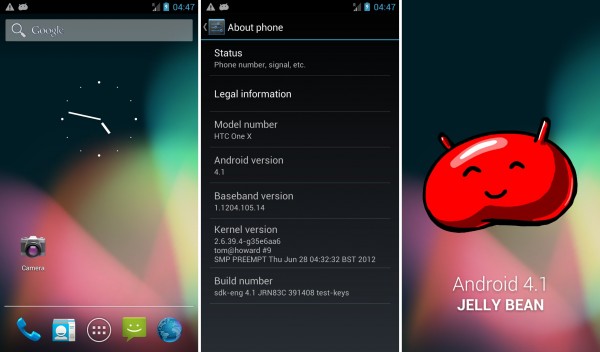 If you own an HTC One series Android phone you know there has been promises by HTC to update the devices to Android 4.1 Jelly Bean. The HTC One series of Android devices are one of the best designed and feature filled devices of the year only to be compared to the Samsung Galaxy S III. While HTC has made the promise to "listen to their customers" as well as timely updates to their devices it seems its a false sense of security.
HTC has missed many deadlines on their newer devices as well as ones that have been around for some time like the Thunderbolt and Incredible 2. Both of these devices have been slated for Android 4.0 Ice Cream Sandwich and both missed their deadlines.
With the release of the HTC One X+ which is a small upgrade from the HTC One X and not worth spending for the upgrade HTC has gone back on its most basic stance of slower phone rollout to shift focus to quality. The largest part of this promise was to only rollout new devices and the HTC One X+ is obviously an upgrade to a current model that has only been out a short time itself.
HTC was one of the first manufacturers to promise they would be releasing the Android 4.1 Jelly Bean update to their devices. More specifically the confirmation was for the One Series of devices. There was never an ETA on the Jelly Bean updates although they used to overly used term "soon". We haven't seen so much as a leaked build for the One Series which leads us to believe that soon was just a term used to keep the community interested in the device and those users that were thinking of another device to be persuaded.
From what we have heard the HTC One Series of Android devices will not get the Android 4.1 Jelly Bean update until December at best. Usually this rollout would start with the International versions and followed by the carrier specific versions. HTC has disappointed many of its users by making hollow promises and if they plan on keeping their commitments and customers happy are going to need to get on the ball with this update.
Personally we love HTC devices and usually choose the HTC counterpart of any Samsung device when talking about our personal daily use phone. This being said the winds could change if using their devices is a gamble when it comes to latest and greatest updates when promised. Please chime in via comments below to let us know how you feel about HTC's inability to keep their promises and the lack of updates to Flagship devices specifically.