Install a Custom Keyboard on the Nook Color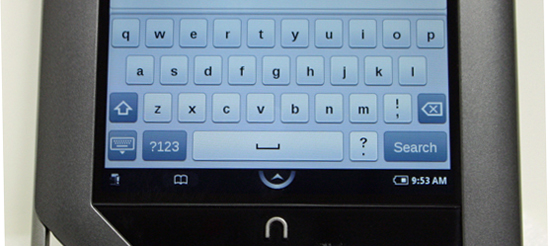 Most Android users take great pride in the fact that their devices can be customized entirely the way they want them to work. The Nook Color is no different, keep in mind you will need to root the device before installing a custom keyboard (in this case anyway) (Nook Color Root Instructions).  The Nook Color can have a custom keyboard if you want to change it from stock … there are just a few steps you need to follow:
How to install a custom keyboard on the Nook Color:
Grab a file manager like ES File Explorer (if you don't already have one)
Go into the file managers settings and give it root access
Set the root directory to "/"
Download and install the keyboard app that you want from the market
Open your file manager and go to "/data/app"
Find the APK for the keyboard you just installed
Long press the APK and select "Move" or "Cut"
Navigate to "/system/app" and paste the APK there
Exit your file manager and reboot your Tablet
After the Nook Color turns back on go to "NookColor Tools"
Select "Choose Keyboard" and select the Keyboard you installed
Congrats you now have the custom keyboard on your Nook Color!
If you have any issues please feel free to ask questions via comments below. Otherwise just drop a line to let us know that everything went ok for you. Also if your installing Swiftkey of Swype be sure to open the app for the keyboard after the steps above to complete setup.