Install Android 4.0.4 ICS on the Droid Bionic
There has been a new leak found for Verizon's Motorola Droid Bionic to install Android 4.0.4 Ice Cream Sandwich on the Droid Bionic bringing it to 6.7.2233. This leak unlike many in the past requires no special setup besides having a stock Droid Bionic that is updated to the current official ROM. Be sure before starting the process below that your Droid Bionic is running the stock Android OS version .905.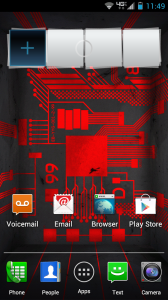 How to Install Android 4.0.4 ICS on the Droid Bionic:
Download the leaked ROM (Download Link)
Reboot Bionic into stock recovery (vol up + vol down + power)
Tap Vol Down until you see Recovery and Volume up to select it
You should now see the Exclamation point
Press both volume buttons at the same time
Now choose update from SDcard
Be patient for the process to complete
Congrats your Droid Bionic is running Android 4.0.4 ICS
Again I have to stress the fact that your Droid Bionic should not be modified in any way for the process to be clean. If your running anything besides the stock ROM and stock recovery then you will need to flash your Bionic back to stock before completing the instructions above. We are as always not responsible for the use of this leak or any damage to your device for attempting it. Please feel free to ask any questions or just tell us how you like the new ROM via a comment below.