LoonaPix Effects for Android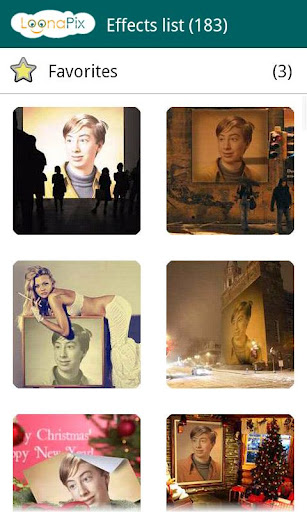 LoonaPix Effects offers one of the highly creative and coolest forms of self-expression that you have ever seen on the Android screen and you can do it yourself in 30 seconds. All you need to begin is a photo and the LoonaPix Effects app installed on the Android smart phone. The program lets you create a funny photo by pasting a face of choice into one of 200 fancy templates, such as currency, magazine covers, movie posters, paintings and paparazzi shots. The app is easy to learn and use and does not require design skills.
Here's what you do to create your first fancy picture:
Step one is to choose a photo template to be used from the app's collection.
Step two is to select the image from the phone's gallery and upload to LoonaPix Effects.
Then the app embeds that photo to the selected template and generates a fancy picture.
Once you have the image, you can save it to the gallery, email, or share it with others via AllShare, Bluetooth, or Picasa.
Android Market Link: https://market.android.com/details?id=com.loonapix