Welcome to Android Advice and Tutorials.
---
Mood Media's Klikt Loyalty Program for Android
Monday, February 6th, 2012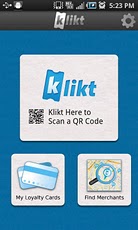 There is a new loyalty program available for Android that is being released by Mood Media called Klikt. This app is still under pretty heavy development but works pretty good to date. The Klikt app allows you to have multiple loyalty cards within one app to avoid multiple apps or cards in your wallet. Of course the only downside to this is that the business offering the loyalty card has to register it with the Klikt app.
The Klikt app currently forces you to download the barcode scanner from the Android Market to scan since there is no native scanner in the app. This feature is said to be added but hasn't been yet. If your interested in trying out the app head on over to the Android Market and download it via https://market.android.com/details?id=com.kazumlabs.klikt&hl=en
---
---
---