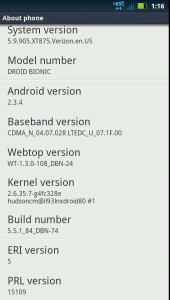 There has been another update for the Motorola Droid Bionic leaked for build 5.9.905 that will require you to be running version 5.9.902 to use. This is not the long awaited Android 4.0.3 Ice Cream Sandwich update but could prove to improve the Droid Bionic a bit. Those that have already updated using the leaked build have reported much smoother interaction which has been an issue with the device since its release.
This update is a transitional update for the Android 4.0.3 update that the device is expecting and should allow those with the device to breath easy that Motorola is attempting to get the device in flawless working order. The Droid Bionic has since release turned into a pretty solid Android device despite its early mistakes.
You can find the 5.9.905 update file here (http://www.droidforums.net/forum/motorola-droid-bionic/208780-5-9-905-anyone-pulled-cheesecake-server-your-pleasure.html) although you will need to be sure your running .902 before you flash to be sure its a smooth process. To flash back to .902 follow this link (http://forum.xda-developers.com/showthread.php?t=1417116).
Source: Droid Life