New Android Malware Zeus Masquerades as Security App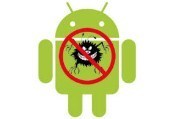 Yesterday Kaspersky Lab reported a new Android Trojan called Zeus that disquises itself as an Android security app called "Android Security Suite Premium". This new Android malware first appeared in early June but has had updates since making it that much harder to avoid.
What the new Zeus malware does is steal incoming text messages and send them to a command-and-control server owned and operated by the attackers. With this they can access sensitive data such as password reset links and account information based on other apps you have installed on your device.
"It is also important to mention that these malicious apps are able to receive commands for uninstalling themselves, stealing system information and enabling/disabling the malicious applications," Denis Maslennikov, a Kaspersky security researcher said in a blog post.
You can see that the malware is installed on your Android device by its blue shield icon that will show a fake activation code when accessed.
You can dramatically decrease your chances of getting malware like Zeus by installing an app like Lookout Mobile Security and not running or installing apps that you aren't sure of or don't remember downloading.