Welcome to Android Advice and Tutorials.
---
We want to thank the CyanogenMod team and Jokersax for all the work they have done to get a fully functional CM9 Android 4.0.3 Ice Cream Sandwich build ported to the Motorola Photon 4G. The CM9 build for the Motorola Photon 4G does have a few bugs but nothing that will effect its everyday use.  To Install ICS on the Photon follow the instructions below.
PLEASE WAIT FOR AN UPDATE TO THESE INSTRUCTIONS BEFORE ATTEMPTING.  IT SEEMS THERE ARE SOME KEY ITEMS THAT ARE MISSING.
Prerequisites to install CM9 on the Photon 4G:
How to Install CM9 on the Photon 4G:
Download CM9 and move the zip file to your SDcard (Download Link)
Reboot your Photon 4G into Recovery from ROM Manager
When in Recovery select Wipe Data/Factory Reset
Wipe cache and wipe dalvik cache
Navigate to install downloaded zip from SDcard
Choose zip from SDcard and select the ROM
Reboot your Photon 4G
Congrats your Photon is on CM9 Ice Cream Sandwich!
If you have any issues installing CM9 on your Photon let us know here and we will try to help you out. As always we are not responsible for the use of these instructions and you flash your device at your own risk.
If you just can't wait to get Android 4.0.3 Ice Cream Sandwich on your HTC Sensation 4G nows the time and it comes with Sense 3.6. There has been an Ice Cream Sandwich ROM created by an XDA Developer named thelegendarylegends called Extreme Sensation that gives you everything you need.
The Ice Cream Sandwich ROM for the HTC Sensation is based on a leaker RUU version 3.24.401.1 and stable enough to be used as your daily ROM. Best of all you get HTC Sense 3.6 with the ROM with a few extra features like overscroll glow, semi-transparent app drawer, battery percentage meter and more.
How to Install Android 4.0.3 ICS on the HTC Sensation:
Your HTC Sensation muss be Rooted with S-Off
Make sure your battery is at least 80%
Install ClockworkMod Recovery via ROM Manager (free on market)
Put the Extreme Sensation ROM on your SDcard (Download Link)
Place the 3.24 Unlocked firmware zip on your SDcard (Download Link)
Place the "su-bin.zip file on your SDcard (Download Link)
Reboot your Sensation into Bootloader "Vol Down + Power"
When a screen comes up select "Bootloader"
Select "yes" when bootloader asks for an update to install 3.24
Wait for your Sensation to install firmware and reboot
Connect your Sensation to a PC via USB
Delete the 3.24 Unlocked Firmware file from your SDcard
Disconnect your Sensation from the PC
Open ROM Manager and select "reboot into recovery"
When in recovery select "wipe data/factory reset" and confirm
Select "wipe cache" and confirm
Select "install zip from SDcard" and choose "Extreme Sensation"
Wait for the phone to flash the ROM then select "reboot device"
Once booted install "4EXT Recovery Updater" from the Android Market
Install the su-bin.zip file via 4EXT Recover Updater
Congrats you now have an HTC Sensation 4G running Android 4.0.3
As always we are not responsible for the use of these instructions although any issues you run into please feel free to ask in the comments below. Let us know if there are any steps that need more information added in your opinion and we will be sure to add them.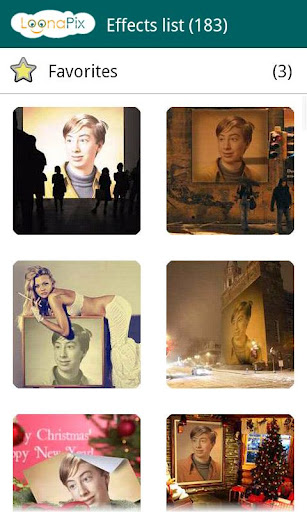 LoonaPix Effects offers one of the highly creative and coolest forms of self-expression that you have ever seen on the Android screen and you can do it yourself in 30 seconds. All you need to begin is a photo and the LoonaPix Effects app installed on the Android smart phone. The program lets you create a funny photo by pasting a face of choice into one of 200 fancy templates, such as currency, magazine covers, movie posters, paintings and paparazzi shots. The app is easy to learn and use and does not require design skills.
Here's what you do to create your first fancy picture:
Step one is to choose a photo template to be used from the app's collection.
Step two is to select the image from the phone's gallery and upload to LoonaPix Effects.
Then the app embeds that photo to the selected template and generates a fancy picture.
Once you have the image, you can save it to the gallery, email, or share it with others via AllShare, Bluetooth, or Picasa.
Android Market Link: https://market.android.com/details?id=com.loonapix

"My Catholic Prayers" is a collection of Catholic Christian prayers, songs and much more. It suggests to you prayers to say in specific situations. It allows users to write their own prayers and share them on social networks, it allows users to recite the rosary, to learn the lyrics and many other things.
It also includes the complete rosary with all the prayers and the mysteries (Joyful, Luminous, Sorrowful, Glorious),
approved by the Vatican.
-Available in two languages (English, Italian)
Android Market: https://market.android.com/details?id=com.massivecoding.prayer
Website: http://marcogmarotta.altervista.org/myprayers.html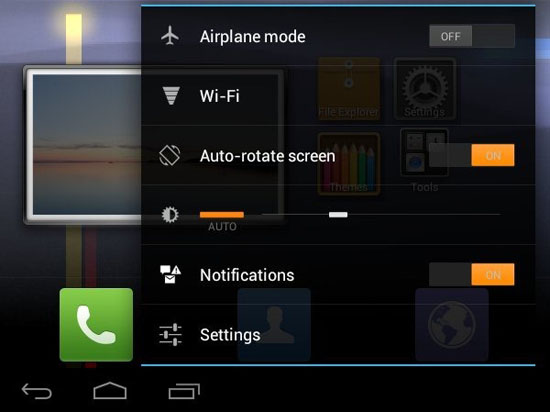 Amazon released the Kindle Fire and had record sales of the device over the holiday season 2011 and now you can get Android 4.0.3 Ice Cream Sandwich on the device. One of the more popular ROM's MIUI has been ported over to the Kindle Fire allowing the upgrade to ICS.
Almost everything works on the port to Ice Cream Sandwich but there is a small list of things that don't currently work. The current features that aren't working include tethering via USB, hardware accelerated graphics static wallpaper and themes. This being said everything that a daily user needs works just fine on the Android 4.0.3 MIUI ROM for the Fire.
How to Install Ice Cream Sandwich on the Kindle Fire:
Install ClockworkMod Recovery via ROM Manager (Free on Market)
Download MIUI to your Kindle Fire's SDcard (Download Link)
Make sure your Kindle Fire is disconnected form PC
Open ROM Manager and tap "reboot into recovery"
Select the "factory reset" option and confirm on next screen
Go back to the main screen of recovery
Select install zip from SDcard option
Select the MIUI ROM zip file you downloaded earlier and confirm
Once complete select "wipe cache" then select "reboot device"
Be patient as the first boot will take a little time.
Congrats your Kindle Fire is running Android 4.0.3 ICS!
If you have any issues or need anything explained in more detail please feel free to leave a comment below. We have tested this on the device and love the ROM. We will try to get a video of the installation up soon although did not record the previous process as it was on a users device that we don't own.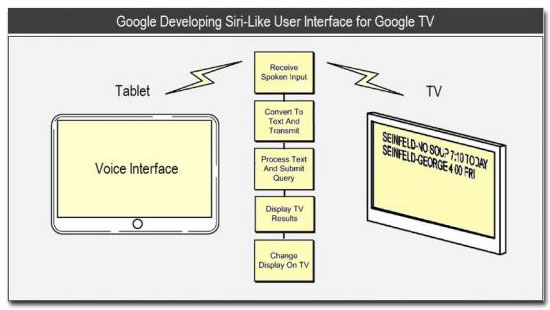 It looks like Google is developing a voice activated remote control for Google TV according to many sources around the net. Google filed for a patent last year for a remote and Android application that will use the Google Cloud assisted voice recognition technology for Google TV. This patent is for a device that will allow you to use your voice to navigate around the Google TV menus. Make no mistake that while being compared to Siri that Google has been working on these technologies since late 2010 with their Voice Actions.
The patent filing states that Google TV users will be able to talk to their Android powered device or special Google TV remote. The commands will then be sent to Google voice recognition servers to be analyzed and then sent to the Google TV unit for actions. This will also allow for control of the TV remotely to start programs before we ever get home so that everything is running when we get there. There will also be music controls and application commands included so that you can completely control the unit with voice commands.
the provision of the query to the television may occur when the user is within a set distance of his home also (e.g., by determining with GPS functionality on the smartphone that he is within 1/4 mile of the home), and the television may be turned on automatically as he approaches the home, with the television tuned to a channel that is determined to be most relevant to the query
Please let us know what you think about the new feature that Google will be including without the TV unit and if it will be useful or not for you. As we get more information and a release date is set we will be sure to let you know.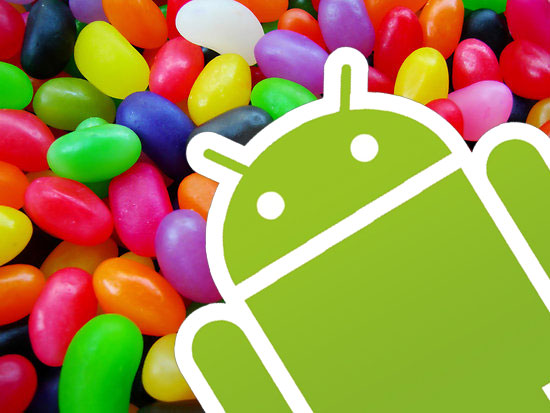 It seems that while Android 4 Ice Cream Sandwich is still on very few devices that Google already has the next version on its way this summer. At the speed Android phones and tablets are hitting the market we expect no less than the OS to be upgraded as fast.
We have seen with every version of Android a better user experience, speed and battery life so why not keep it coming. Android 5 is rumored to be released in the second quarter of this year. While the current version is Ice Cream Sandwich and the first version to unit tablets and phones, the next iteration will be known as JellyBean.
At the rate the Android OS is growing into new versions it makes app development a very complicated process even with Android's general backward compatibilities. The choice by Google to update their popular Android OS that gains about 1% adoption is tablet manufacturers hatred for Android 4 according to DigiTimes.
From what we have heard the new Android 5 OS will begin the integration process of the Google Chrome OS's double boot functions. This will allow you to switch between Android and Windows 8 without rebooting your device. Certainly this could increase the amount of users that adopt the Android OS.
We aren't sure if the actual numbering system will be Android 5.0 or rather something like Android 4.1 like they did in earlier quick releases. We also can make the assumption that Google will still leave the phone and tablet version one and the same to keep things unified as they started with ICS.

Earlier this month Barnes & Noble made an announcement about their preparing a new tablet to compete with the Kindle Fire. The new 8GB version looks to be the same as their previous models that are currently selling for $249 but with a bit less space.
This being said the new tablet will cost less than its $249 big brother putting it around the same price as the $200 Kindle Fire. Walmart will be releasing the new Nook Tablet this Wednesday, February 22nd and are already at the stores now.
We can't say much else about it as they will be pretty much the old model with a little less space to make it more affordable.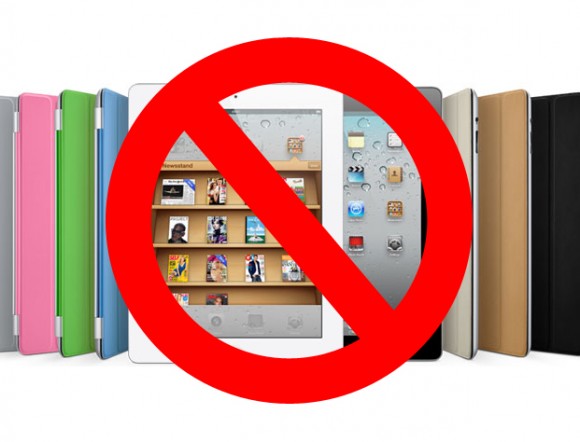 At the Intermediate People's Court in Huizhou, Proview International issued a statement through their attorney, that the Intermediate People's Court issued a ruling banning distributers from selling iPads in China.
Proview claims that Apple is violating their trademark and that they own the rights to the name "iPad" in China. Carolyn Wu, an Apple spokeswoman responded to the lawsuit with the following:
"We bought Proview's worldwide rights to the iPad trademark in 10 different countries several years ago. Proview refuses to honor their agreement with Apple in China and a Hong Kong court has sided with Apple in this matter,"
Despite the ruling in China there are a few distributors in China still selling the iPads. It has been said that Proview might be filing the same claims in the United States for $2 billion in damages over the trademark.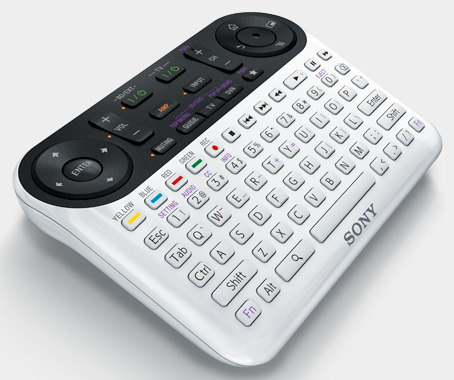 If you own a Sony Google TV unit then you can finally get root access on it, you will however need 4 usb memory sticks and a basic knowledge of your device. It does require you to flash the device although well worth it if you know what your doing. Kellex at Droid-life says:
"It does involve flashing your system back to a vulnerable software release which then hijacks the upgrade back to a current version to give you a new kernel and root access. That was a mouthful."
The actual instructions can be found at:
http://blog.gtvhacker.com/2012/root-for-sony-google-tv-with-unsigned-kernels/
What Rooting your Sony Google TV will get you:
Modified flash plugin with random per box flash string for Content Provider Bypass.
Crippled update feature to prevent box from receiving automatic updates.
Completely RW system, cache, and rootfs partitions
Full ADB Root
Removed signature checks on kernel / init scripts / init binary
A few other surprises.
BETA: Enable NTFS Support for Sony Google TV devices (see wiki for instructions on how to add: GTVHacker.com: Sony NTFS)
The process is completely software hacking and does not require any changes to hardware. This will also speed up your Google TV noticeably. Please let us know if you complete the process and how everything went.

The Droid X has started its soak testing phase meaning if all goes well the update will hit devices OTA (over the air) in about a week. This update is not Android 4 Ice Cream Sandwich but does fix many of the bugs the device has had since its update to Android 2.3 Gingerbread. The update will bring the Droid X up to software version 4.5.621.MB810.Verizon.en.US.
Motorola Droid X Update Features:
Prevents lockups or resets after the Over the Air (OTA) update.
OTA update notice screen displays the correct estimated update time.
Improved browser security with the Google Security Patch from Android 2.3.6.
Fixed issue where the device may power ON without user interaction.
Resolved possible device resets while playing music.
Adjusted camera settings will be saved, even after the device is powered down.
Reduced Out of Memory errors.
WAV files can be played from Visual Voice Mail.
Device is enabled with the Wireless Alerting System.
Improved stability of Music Player reduces resets.
Shortcuts to applications remain on the device even after applications are moved to the SD card.
Improved connectivity with 3G Mobile Hotspot data connectivity.
Addressed error that replicated thumbnails in message threads.
Corrected errors where Yahoo! mail notifications were not displayed properly.
Reduced duplicate message errors.
Improved ability to access and receive Gmail when the Mobile Hotspot is turned on.
Sorted contact groups.
Device recognizes Multimedia ringtones after purchase.
Button background lighting turns off while in the desktop cradle.
Judging by the number of updates this device should feel new when you get it. Let us know how your Droid X runs after the update and we hope for all the Droid X users out there that it doesn't bring more bugs than it fixes.
---