Samsung Galaxy Chat Android 4.0 Phone with QWERTY Keyboard
Samsung has announced a new phone with a QWERTY keyboard that runs Android 4.0 called the Samsung Galaxy Chat. Samsung has announced the Galaxy Chat with its QWERTY keyboard to compete with those users that just can't give up on the Blackberry experience but really want to move forward to the Android OS.  Take note that the keyboard is not slide out so you will be giving up screen real estate in favor of the keyboard.  Some of the things you will notice and be pleased with is the fact that it will come with Android 4.0 Ice Cream Sandwich as well as Samsung's Nature UX.  Some other specifications you may be interested in are as follows.
Samsung Galaxy Chat Features:
Android 4.0 Ice Cream Sandwich
Samsung's Nature UX
3.0 inch capacitive touch display
4GB internal storage
microSD slot (Max 32GB)
2-megapixel camera
1200mAh battery
The Samsung Galaxy Chat will make its debut in Spain some time this month. Once released to Spain it will slowly make its way through Europe before any decision is made to bring it to the United States. There is currently no price available for the device although we can assume it will be priced with other mid-range Android devices.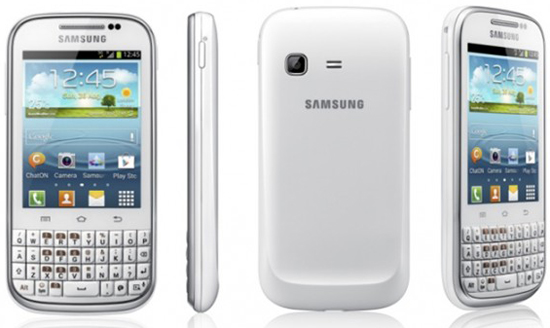 UPDATE: So we have had a chance to take a look at the new Samsung Galaxy Chat up close and have to say that while it has a small screen that isn't the worst part of it.  The reason the screen is a huge con is the resolution at 240 x 320 with a pixel density of 133 ppi.  The QWERTY keyboard is nice while needing to use your fingernails to click the buttons they click and respond quite well.  This is a great Android device for those that love their Blackberry's but want to move into Android.  We also have to note that if Samsung decides to create a high end version of this device they could likely cause Blackberry to lose what little market share they still have.