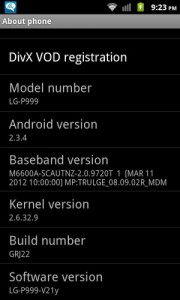 There is a minor update to the T-Mobile G2X LG-P999 that can be found via the LG Mobile Support tool. Before you get too excited this update is very minor and is not the Android 4 Ice Cream Sandwich update everyone is waiting for. The update brings the device to software version LG-P999-V21y and to Android 2.3.4 (which is of course still Gingerbread). You wont notice much besides the Baseband version changing and Google+ added to the ROM.
This update supposedly increases the G2X battery life a bit but not to an extent that we have noticed to this point. Still the same hardware heavy but software buggy device that it started out as and we aren't sure that the G2X will ever even see Ice Cream Sandwich.  There have been talks of the device getting the Android 4.0 update although nothing official and at this point we don't see the community support that would be required to get LG on track either.
If you get the update let us know if you see some great addition that we may have missed.  In the mean time keep you fingers crossed for a major update to fix the slew of bugs that have been reported on the device.  We will also keep you updated as to any new updates to the LG G2X.
UPDATE: So we have been testing the update on a stock G2X we have here and it does seem that the battery life has increased a good bit more than we initially thought.  We tested the battery life from a full charge letting it sit before the update and again after the update seeing about an 8 percent gain in battery life.  Of course this gain was with nothing but mobile data running and no apps besides the bloat that is in a factory ROM. Again please let us know if you notice anything else that we missed although I don't see much coming from the update besides battery improvement.