Team Win Recovery Project 2.1.2 Update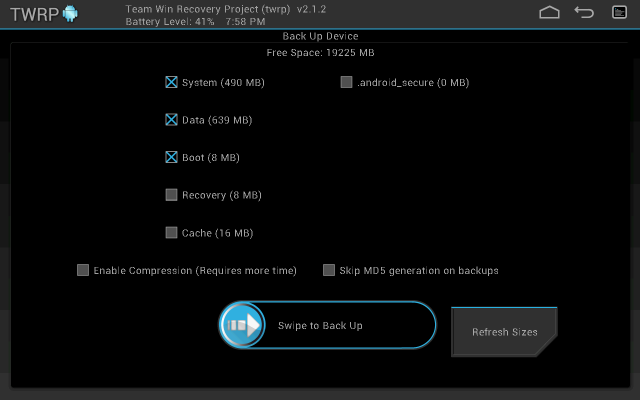 Also known as TWRP, Team Win Recover Project is a utility used to backup and recover your Android device, even when switching between custom ROMs. Version 2.0 worked on a limited selection of devices like Nexus S, Kindle Fire, and TouchPad. With the release of 2.1.2 brings support for Honeycomb tablets and ICS phones like the Galaxy Nexus, and now for the first time supporting the Transformer Prime. Also introduced by Team Win, is an OpenRecoveryScript function that lets apps influence the recovery process by allowing an app to send commands to the recovery for the recovery to perform during startup.
Team Win Recovery Utilities Key Features:
• Touchscreen driven with real buttons and drag-to-scroll
• XML-based GUI that allows full customization of the layout – true theming!
• Settings are saved to the sdcard and persist through reboots
• Ability to choose which partitions to back up and which to restore
• Ability to choose to compress backups – now with pigz (multi-core processor support for faster compression times)
There are many other devices that will get supported as the utility grows, and we suspect it will be adopted by many users.  This is the most user friendly and feature packed backup solution currently available in our opinions.  Give TWRP a try and let us know what you think of it as well as any cons you notice so that others can get a feel for it before trying it themselves.
UPDATE: The TWRP has been improved on and updated quite a bit since the writing of this article and one of the biggest questions we get is, "why not just use ClockWorkMod Recovery instead".  While ClockworkMod is open-source with touch recovery and NANDroid Backup and Restore capabilities there are a few added benefits to TWRP.  With TWRP you can select the partition that you want to use for backups as well as a file manager and lock screen.  With these added benefits many people would prefer the lesser known solution of the Team Win Recovery Project over ClockworkMod Recovery.  This being said they are both great solutions and ultimately come down to user preference.
Source: RootzWiki