Top 5 Android Backup Apps
Android device data protection now highly essential thing than ever. Because of these devices contain lots of important stuff such as contacts, email, SMS, notes, documents, etc. However selecting a good application somewhat time consuming process because of we have to compare their features. This post I added top 5 backup applications and their features. So that you can select one of the app, if they satisfy your needs.

Titanium Backup (root).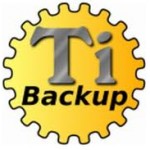 There is no argument, this is one of the best all-in one backup solution for the android devices. However this tool need root access, if you don't have, then you can't use. Titanium backup has more than 20 different useful features, some of them are,
Backup
Batch restores
Apps freezer
Sync with Dropbox, Box, Gdrive manual and scheduled time.
Convert user apps to system apps
Play store page in here.

JS Backup


JS also all in one backup solution for android user. It has ability to backup your phone into SD card as well as personal cloud. This app work with rooted and unrooted devices. However if you need backup "Android home screen shortcuts" it requires root access. JS has ability to automatically and manually perform its tasks.
Backup and restore
Contacts
SMS
Call Log
Home Shortcut Icon ( root need)
Alarm
Stock media player playlist
Stock web browser bookmark
Unprotected all Apps
Music, Picture, Movie
System Setting
Save backup SD card or personal cloud
Play store page in here.

Backup Master

This is a powerful all-rounder android free backup application. This free tool can backup your phone user apps, call logs, SMS, MMS, bookmarks, system setting, alarms and APN settings at schedule time or manually. Apart from that, users can view previous backups.
Play store page in here.

Handy Backup


Handy backup is another powerful tool for the android. It can protect your phone's address book, call logs, SMS, MMS, calendar, web browser bookmarks and its History, system settings, SD card files at a schedule time or manually. Free user can save files locally (SD card), but the premium user can save them online cloud.
Play store page in here.

GO Backup


Go backup app has attractive, but simple user interface. It can protect your phone's contacts, SMS, MMS, call logs and user applications with one click. If you have root permission this tool can backup user apps data and hide installation process when it restore apps. If we compare it with above applications, it can't fully backup your android phone, as well as it can't store backup online.
Play store page in here.