Welcome to Android Advice and Tutorials.
---
Acer has announced that they will be releasing their Acer Iconia Tab A110 in the U.S. on October 30th for $229.99. The Acer Iconia Tab A110 is a 7 inch Android 4.1 Jelly Bean tablet that sports a Tegra 3 processor. With its $230 price tag it will surely be another competitive device to rival the Google Nexus and Amazon Kindle Fire HD.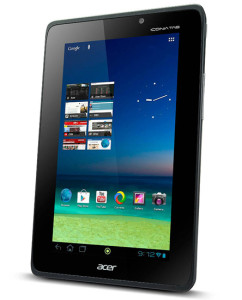 Acer Iconia Tab A110 Features:
Android 4.1 Jelly Bean
7-inch 1024×600 display
Quad-core Tegra 3 processor
2-megapixel front facing camera
1GB RAM
8GB storage
microSD slot
While the Acer Iconia Tab A110 is a powerful tablet can it still compete with the Google Nexus 7? It has a slightly lower resolution and prices out at almost $30 more than the Nexus 7 but seems to be close enough in specs that it could be a choice in your list. As far as the Amazon Kindle Fire HD, the fact that the specs are what they are on the A110 and its not covered by Amazons Theme it may be a better choice there. If you get your hands on an A110 on October 30th please let us know what you think of Acer's new tablet.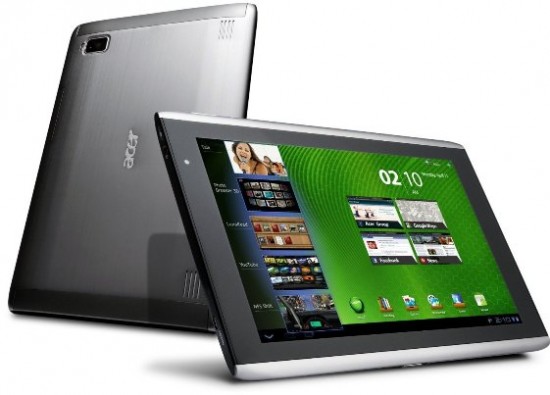 Acer has confirmed the release of Android 4.0 for their Iconia Tab A500 and A100 tablets. The current date set for the update to be available is April 27th with the updates starting in the US and Latin America followed closely by Canada by May 3rd.
Since these 2 tablets are almost identical the updates are releasing at the same time. Specs on the devices are an Nvidia Tegra 2 dual-core chipset with 1GB of memory. The difference between the two devices however is screen size and resolution with the A100 a 7 inch 1024×600 display and the A500 with its 10.1 inch 1280×800 display. There should be no hardware issues with the devices running Android 4.0.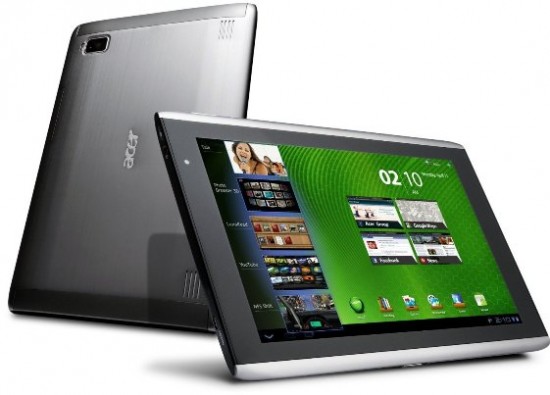 Acer has announced that the Acer Iconia Tab A500 will be receiving the Android 4.0 Ice Cream Sandwich update in April. This was posted on Acers New Zealand Facebook page. This should make all of the owners of the Iconia Tab A500 very happy to see the device finally get the update they have been waiting for.
Great news, everyone! We've just got confirmation from HQ that the Iconia Tab A500 will be getting Ice Cream Sandwich in April. No exact date yet, but we'll let you know when we have it. What are you looking forward to most in ICS?
There was no date in April set for the release of the Ice Cream Sandwich update although you've waited this long so whats the month of April. No reference of the update in the US or any other country so the update may just start in April in Australia. Either way its on its way.
Acer is now pushing out the Android 4.0 Ice Cream Sandwich update to their devices now. This comes just a month after launch of the device and a promise by Acer to send out the update.
After you have updated your Acer Iconia Tab A200 to Ice Cream Sandwich it will upgrade the device to build number Acer_AV041_A200_1.037.00_PA_CUS1. This update has too many features to list but puts your tablet to the latest and greatest Android OS to date.
If you haven't been pushed the OTA (over the air) update yet you can always check manually via "Settings -> About Tablet -> System Updates -> Check Now". Please let us know how the update goes and if you run into an issues.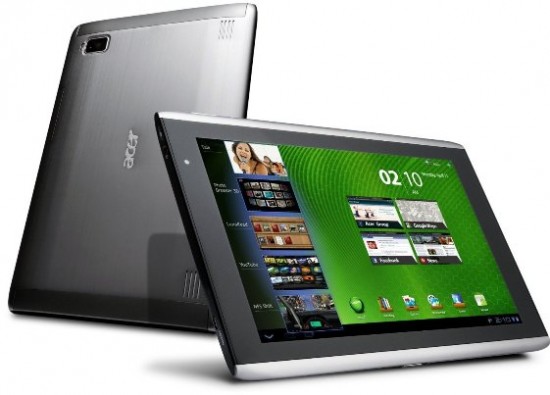 Early this month we were told that the Acer Iconia Tab would be getting the Android 3.2 Honeycomb update August 25th although it is already being pushed out now. Users in Poland have reported receiving the Android 3.2 update on their Iconia A500 and A501 tablets.
By getting this update the Iconia Tab is now upgraded to that of the Motorola Xoom and Asus Eee Pad Transformer running Honeycomb 3.2. The Iconia Tab will now have SDcard support and the new "zoom to scale" feature for non native apps.
We assume all of Europe will be next and it will slowly be out to the rest of the world. Most if not all users should get the update before the previously posted release date.
The Acer Iconia Tab A100 is now available in the US. Out of the box it has Android 3.2 Honeycomb which supports smiler screens. This makes the Iconia Tab A100 the first 7 inch tablet with Honeycomb. This Tablet comes in a $329 8GB version and a $349 16GB version.
Some of the Acer Iconia Tab A100 Features:
Android Honeycomb 3.2
Dual-core Tegra 2 Processor
5 MP rear Camera
2 MP front Camera
Weighs in at 0.92lbs
Acers Press Release on the Iconia Tab A100:

Acer Iconia Tab A100 Now Available in North America: Industry's First 7-inch Android Honeycomb Tablet

Acer America expands its Acer Iconia™ Tab line of tablets with its first 7-inch tablet – and the industry's first 7-inch tablet running Android™ 3.2 (Honeycomb) – in the United States and Canada. The new Acer Iconia™ Tab A100 features an incredibly portable sub-one pound design, a vibrant 7-inch multi-touch display, and a sleek, thin design that is comfortable to use and take virtually anywhere.

With the Acer Iconia™ Tab A100 tablet, customers can have a single portable device for enjoying entertainment such as games and websites as well as productivity applications such as a calendar and email. The tablet comes pre-installed with Adobe Flash Player 10.3, so Adobe Flash games and websites can be enjoyed right out of the box. In addition, the WiFi device is the ideal size for moms, families and individuals who want to stay entertained and productive, since the screen is large enough to enjoy video and other multimedia, yet the device is portable enough for comfortable single-handed use.

Weighing in at a mere 0.92 pounds and measuring only a half-inch thick, the Acer Iconia™ Tab A100's super-portable size makes it easy to take anywhere. The vibrant 7-inch TFT WSVGA screen displays social networking sites, photos and more in 1024×600 resolution and high-color contrast, so customers can enjoy crisp, vibrant content enhanced by a 16:10 aspect ratio and 75-degree wide viewing angle. Plus, the 7-inch capacitive touch-screen is incredibly responsive and accurate for convenient finger-tip control.

"The Acer Iconia™ Tab A100 tablet delivers the ultimate combination of portability and performance for fun and gaming as well as staying in touch," said Sumit Agnihotry, vice president of product marketing, Acer America. "Families are spending more time social networking and enjoying web-based digital media, so a highly portable tablet like the Acer A100 will let them get more done and stay connected on-the-go to enjoy their lives more fully."

Ultimate Companion for Mobile Moms and Families
The Acer Iconia™ Tab A100 is the ultimate companion for mobile consumers such as moms and families who want a single device for gaming, fun, entertainment and staying in touch on the go. Customers can enjoy movies right out of the box with the Google® Movies app that allows users to rent and play movies on the Acer A100. Also, Google® Music gives customers instant access to their personal music collection on the web without the hassle of wires or syncing. Customers can also use NemoPlayer® for video, photos and music and Aupeo! for enjoying online radio. Dolby® Mobile Technology on the tablet delivers dynamic sound to enhance the enjoyment of music and movies. In addition, the Acer Iconia™ Tab A100 can be connected to a TV via its HDMI port, so customers can share full HD videos in 1080p resolution. Game play can also be extended to a big screen TV or display with the Acer A100's HDMI port and dual-display support. As a result, more people can watch and enjoy the game as it is mirrored to the larger screen. Plus, the Acer A100 can be used as a controller for the game as the player watches the image on the larger display.

In addition, games are crisp, fast and realistic thanks to the performance technology and six-axis motion sensing gyro meter. Customers can enjoy rich and exciting Adobe-flash basedWeb pages, games, videos and animations with Adobe Flash Player 10.3. Thousands of additional apps can be easily downloaded from the Android Marketplace.

Save Memories, Shop Better, Stay Connected with Cameras
The Acer Iconia™ Tab A100 allows customers to always be ready to take photos and video on-the-go and quickly share them by email and on social media sites. Lighter than most SLRcameras, the Acer A100 has a 5MP rear-facing camera with flash, so families will know they have a great camera with them to capture all of life's fun and unexpected moments. It also records clear and detailed HD Video at 720p at 30 frames per second. Plus, the rear-facing camera can be used with many available apps to read bar-codes and QR codes for shopping and other promotions. The tablet also has a 2MP fixed-focused front-facing camera and webcam for video chats.

Reading and Productivity Apps Let Moms and Families Get More Done
The Acer Iconia™ Tab A100 e-reading functionality will be appreciated by a range of family members. Moms and dads can download e-books to enjoy during quiet moments in comfortable single-handed usage. The tablet comes pre-installed with Google® Books eReading app for enjoying e-books. Plus, the color screen vibrantly displays children's e-books, so they'll always have something to enjoy during long or unexpected waits. Extra features like the realistic page turn effect make reading even more fun. The auto-rotation allows customers to enjoy e-books, games, movies and more in either landscape or portrait mode.

In addition, everyone can stay up-to-date with extended family and friends via Acer's Social Jogger, which puts Facebook® and Twitter® in one place for quick and easy reading and updates. Moms can keep their family schedule organized with the easy-to-use Acer "Day Planner" application that gives an easy-to-view list of upcoming activities. Working moms and those with busy schedules will appreciate that the Acer Iconia™ Tab A100 helps them stay productive. Customers can set up multiple email addresses and view Microsoft® Office documents using the trial version of the "Docs to Go" app for getting things done quickly.

Android 3.2 Brings Additional Benefits for Browsing and Entertainment
The Acer A100 comes installed with Android 3.2, the latest version of Honeycomb to give customers the latest in advanced mobile browsing. Customers can browse the Internet with speed and ease, even web pages built with Flash, thanks to Adobe Flash 10.3 that comes pre-loaded on the Acer A100 tablet. In addition, Android 3.2 lets customers have more control over their entire browsing experience, such as managing web pages by tabs, more advanced privacy settings, and proper sizing of apps and web pages for the 7-inch display.

Connectivity to WiFi and Other Devices
The Acer Iconia™ Tab A100 can quickly and easily connect to Wi-Fi networks via the integrated Acer InviLink Nplify 802.11a/b/g/n Wi-Fi CERTIFIED wireless technology to access the Internet, the Android marketplace for apps and more.

Customers can enjoy their own digital content on the Acer A100 tablet by transferring files such as videos, movies and eBooks to it through the tablet's micro-USB port or by using the Micro-SD card reader that can read Micro-SD cards with a capacity up to 32GB.Plus, the integrated Bluetooth allows consumers to connect the tablet to a variety of other devices, such as headsets and keyboards.

High-Performance for Maximum Enjoyment
The Acer Iconia™ Tab A100 packs maximum performance into its incredibly portable size. It uses a high-performance NVIDIA Tegra 2 dual-core processor with 1GB of RAM to give customers blazing fast access to multiple programs and apps at once. The Ultra Low Power GeForce® GPU enhances gaming, web, and multimedia for a more realistic, responsive experience.

The Acer Iconia™ Tab A100 provides solid uptime with a 1530 mAh Li-polymer battery for up to five hours during Internet browsing with WiFi, up to four hours during web-streamed video and up to 4.5 hours during 720p video playback.(1)

Sharing Digital Media is Easy with clear.fi
Acer Iconia™ Tab A100 comes with Acer clear.fi, which connects with any other DLNA-compliant device to quickly and easily share and enjoy digital media. It automatically detects clear-fi-enabled devices on the wireless home network (smartphones, notebooks, HD media players, etc.) and gathers and organizes media files by type (video, music, photo, pre-recorded TV).

Priced Starting at only $329.99
The Acer Iconia™ Tab A100 is available in the U.S. now at national retail stores and will be available in Canada next month. The Acer Iconia™ Tab A100-07u16u with 16GB of memory(2) has a manufacturer's suggested retail price of $349.99 U.S and $399.99 CAD, while the Acer Iconia™ Tab A100-07u08u with 8GB of memory(2) has a manufacturer's suggested retail price of $329.99 U.S. and $349.99 CAD.
While its now available in the US and will be popping up in retail stores slowly over the coming days it will be available in Canada in the next few week or so.
Originally the Iconia Tab A501 looked to be no different than the Iconia Tab A500 although there is now a new request for upgrade granted by the FCC on June 12th.
The product, Tablet Computer, has been granted by FCC dated 06/12/2011, FCC ID: HLZTMDMA501A.
Now we, Acer Incorporated, would like to modify the authorized equipment for below changes:

Antenna change of WWAN Aux(antenna gain is lower than original antenna type is same as the original case.)
eMMC add Scandisk 64G and Samsung g4G
LPDDR2 add Hynix 8Gb
Camera add Liteon / 11P2BA501
Battery add SANYO BAT1010
Touch +LCD add AUO+Cando B101EW05 V1
USB cable added ICT(DC081001A00) and MEC(DC081001A00)
With these new image and touch sensors along with huge increase in storage we can see the A501 being a nice upgrade to its A500 predecessor. The Acer Iconia Tab A501 will now be the only Android Tablet with 64GB of storage to compete with the iPads 64GB storage to date. Although we still have to mention that Archos will be releasing a tablet with 250GB later this year.
It's not the Android 3.1 update that is set to arrive in June, Acer Iconia Tab A500 owners are now reporting that a system update weighing in around 38MB is now starting to appear. As reported in the Android Central forums — the update will bring your device up to system software version 1.141.07 and appears to be mostly bugfixes but a change log is not yet available. Some of the fixes users have been reporting:
Daylight savings time fixes
Calendar appointment fixes
Fixes the screen wake/sleep issue
Browser bugfixes
Adobe Flash Player 10.2
Improved Wi-Fi signal
Improved GPS signal
Corporate Exchange email support
One thing to keep in mind is that of you are currently rooted — you may not see this update available as of yet. Returning to stock should help with making the update arrive, and you can re-root again using Gingerbreak. Did your device get the update? If so, jump into the forums and let us know what changes you've spotted.
To add to NVIDIA powering Android 3.0 tablets in the future we now have Intel working their way on the scene. Android 3.0 tablets currently and soon to be available are powered by NVIDIA's Tegra 2 dual-core processor and soon NVIDIA's Tegra 3 Processor.  Asus is going to launch an Android 3.0 tablet running Intel's Oak Trail processor for tablets. The Intel powered Acer tablet is already in mass production and is expected to start selling in July.
Intel has been seeking partners to launch Android 3.0 tablets running its new processor besides Acer (we can't see any reason others wont follow suit. You can also expect to see Lenovo and Asus to follow with Android 3.0 tablets running the new Oak Trail processor. The new Intel chip delivers improved video playback and longer battery life over the previous Z series Atom chips according to Intel.
Its nice to see Intel working its way into the world of Android Tablets.  With this new powerhouse supplying to Tablet manufacturers we are likely to see an even greater selection of devices to choose from.  Its only a matter of time before laptops are a thing of the past.
---