Welcome to Android Advice and Tutorials.
---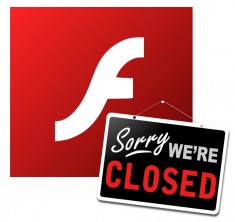 Those of you that have already been lucky enough to get your hands on a Galaxy Nexus may have noticed that it doesn't have flash on it.  Then going to the Market to download flash you have again noticed that its not there as well.  With Adobe announcing that they will no longer be developing flash for mobile devices you start to panic but don't worry Android 4.0 Ice Cream Sandwich will be getting flash support soon.
Adobe has stated that they will push out support for flash on Android 4.0 by the end of the year.  This being said they have also stated that Android 5.0 will not get Flash and ics will be the end of it.  It looks like after Ice Cream Sandwich that Jellybean (or whatever they decide to call it) will have to stick with HTML5 and hope for the best.
ZDNet was the first to announce that Adobe would be stopping all development on mobile devices on its Tech Broiler blog. The statement says that Adobe will stop all development of Flash for Android devices and focus its efforts on HTML 5 and other mobile apps. This was recently confirmed by Adobe on their own blog.
Our future work with Flash on mobile devices will be focused on enabling Flash developers to package native apps with Adobe AIR for all the major app stores. We will no longer adapt Flash Player for mobile devices to new browser, OS version or device configurations. Some of our source code licensees may opt to continue working on and releasing their own implementations. We will continue to support the current Android and PlayBook configurations with critical bug fixes and security updates.
Adobe does plan on continuing its support on its current Flash for Android. What this means is that new device will still be able to download Flash from the Android Market. All this really means it that when they update the Desktop version of Flash that it will not be ported in the form of an update to mobile devices. The current available Flash package should last long enough for HTML 5 to take over.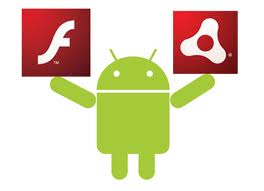 Adobe has been staying up to date with their Android apps for some time now with almost weekly updates to flash for a while there. Now they have released updates to Adobe Flash Player and Adobe AIR bringing them to version 11 and 3 respectively. These updated versions are available to anyone with Android 2.2 Froyo or higher on the Android Market.
Flash Player 11 new Features:
Native 64-bit Support (Flash Player desktop)
Asynchronous Bitmap Decoding (new for Flash Player)
TLS Secure Sockets Support (new for Flash Player)
Adobe AIR 3 new Features:
Native Extensions
Captive Runtime Support
Stage Video Hardware Acceleration (AIR Mobile)
H.264/AAC Playback Support (AIR for iOS)
Front-facing Camera Support (AIR for Android)
Background Audio Playback Support (AIR for iOS)
Device Speaker Control for Mobile (AIR for iOS & Android)
16 and 32-bit color depth
Game Controller API (AIR TV)
New Features Adobe Flash Player 11 and AIR 3 have in common:
Stage 3D Accelerated Graphics Rendering (Player & AIR desktop + AIR for TV)
Flash Access Content Protection Support for Mobile
Flash Access Content Protection Enhancements
Protected HTTP Dynamic Streaming (HDS)
NetStream.dispose()
H.264/AVC Software Encoding for Cameras (desktop)
JPEG-XR support
Enhanced high resolution bitmap support
High efficiency SWF compression support
G.711 Audio Compression for Telephony
Native JSON (JavaScript Object Notation) Support
Garbage Collection Advice
Cubic Bezier Curves
Secure Random Number Generator
Socket Progress Events
DisplayObjectContainer.removeChildren and MovieClip.isPlaying
At Adobe Max 2011 on October 3rd, Adobe announced six new touch apps for Android Tablets. These apps let you design and edit just about anything. The touch screen features make easily controlling whether you are using a stylus or your finger allowing for almost perfect precision.
Adobe Photoshop Touch: Transform images freely using core Photoshop features in an app custom-built for tablets.
Adobe Proto: Create interactive wireframes and prototypes of websites and mobile apps.
Adobe Ideas: Design virtually anywhere using vectors, layers, and color themes.
Adobe Debut: Present Creative Suite designs anywhere with confidence, convenience, and complete control.
Adobe Collage: Capture ideas and concepts by combining images, drawings, and text into conceptual moodboards.
Adobe Kuler: Create, explore, download, and share color themes that can inspire any design project.
The Adobe Touch Apps will be released in November and sell for $9.99 each.
Adobe Flash Player has been receiving a lot of updates lately to fix security bugs and loopholes with this one being about the same. Adobe seems to care about user input and fixing issues quickly without waiting for a set number of issues beforehand. This is a breath of fresh air in a market that seems to be slow at updating.
Flash Player 10.3.186.3 Fixes:
Enabled NEON optimizations for OMAP4 (Cortex A-9) based devices.
Corrected an issue on the Samsung Galaxy S where H.264 video at resolutions of 720p and below was not displayed.
Fixed an issue where app packaging would fail for Android Apps using Flash Player in WebView that set android:hardwareAcceleration to True in their AndroidManifest.xml.
Fixed a crash on the HTC EVO that some users encountered with specific video.
Fixed an issue that caused video frames to stop rendering on long streaming videos (> 1 hour) on some Motorola devices.
Fixed an issue where touch events were getting delayed with Kongregate.com games.
Fixed an issue where games on Kongregate.com freeze when users exit from Full-Screen mode.
---