Welcome to Android Advice and Tutorials.
---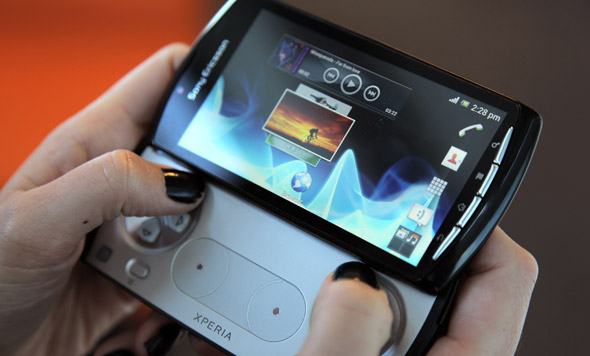 Verizon has released an update to their version of the Xperia Play bringing it to software version 4.02.E.0.57. Before you get too excited this is an Android 2.3.4 Gingerbread update and not Android 4 Ice Cream Sandwich. The update will bring some updated bloatware and camera improvements. See below for full feature list from the 4.02.E.0.57 update.
Verizon Xperia Play Android 2.3.4 Update Features:
Verizon Wireless Video on Demand now comes preloaded.
Improved user experience and new delivery method of preloaded games.
When connected via Bluetooth®, the Music Player now supports
Fast Forward and Rewind.
VZ Navigator® has been updated with the latest 3D map improvements.
Upgraded to Gingerbread 2.3.4 operating system.
A long-press of the power button will successfully capture
a screen shot.
Charging issues forcing device to remain in landscape
mode have been resolved.
Recommended contacts now populate correctly when
using the dialpad.
Camera Improvements: Right trigger successfully captures a picture – Record video in 720p with continuous auto-focus.
Device is now enabled with the Wireless Emergency Alerting System.
Mobile Hotspot ID broadcast can be turned off to increase security.
It doesn't look like Android 4 ICS is in the plans for Verizon to release to the device although you can hold your breath if you'd like. Let us know if you have received the update and what you think of it.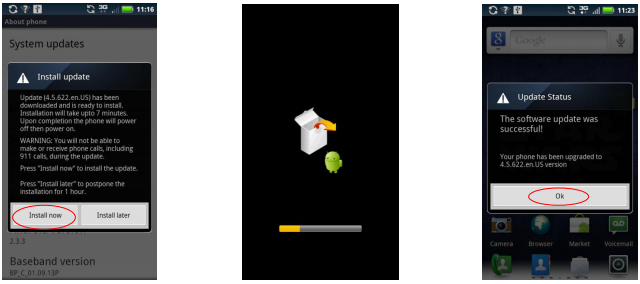 Verizon and Motorola have finally updated the Droid R2-D2 to Android 2.3.4 Gingerbread. This brings the Motorola R2-D2 to software version 4.5.622.A957.Verizon.en.US and contains a slew of changes to the device. Its nice to see a device that we all thought forgotten getting updates even to fix minor bugs but one this size puts our trust back into both Motorola and Verizon when it comes to their device support.
Droid R2-D2 Features with the Update:
Enhanced security with DigiNotar security patch.
Increased browser cross-application scripting for enhanced multitasking stability.
Device will no longer automatically power on after it has been powered off.
Device is enabled with the Wireless Alerting System.
Successfully download and save purchased MP3 ringtones.
Camera settings will be saved, even after the device is powered off.
Increased device stability when keypad is opened and closed repeatedly.
Improved 3G data connectivity while using the Mobile Hotspot.
Droid R2-D2 Application and Widget Updates:
App shortcuts remain on the home screen after moving them from internal to external memory.
VZ Navigator® is now updated to version 7.2.0.452.
V CAST Apps is now updated to version 4.4.1.0.
Successfully play WAV files.
Contact groups will sort correctly.
Successfully add application shortcuts or widgets to the home panel without error.
Droid R2-D2 Email and Messaging Updates:
Fixed issue where duplicate text and multimedia messages were being received.
Improved ability to access and receive Gmail messages when the Mobile Hotspot is turned on.
Improved syncing with Yahoo! email.
Forwarded emails will no longer remain in the outbox when Smart Forwarding is enabled.
If you haven't been pushed the update yet then you can always check manually by going to "Settings -> About Phone -> System Updates". After checking for the update you should see an update available to version 4.5.622. Click Download and your on your way to the update Motorola Droid R2-D2. Please let us know how you like the update via a comment below.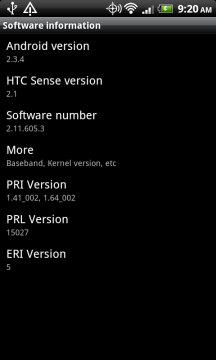 Finally after a long wait the HTC Thunderbolt is receiving the Android 2.3.4 Gingerbread Update. The OTA (Over the Air) update can be installed via the phone options on your device.
HTC Thunderbolt Gingerbread Update Instructions:
Settings -> Software Update -> Check New
Thunderbolt Gingerbread Features and Enhancements:
Download Manager App
New Desktop User Interface
New widgets, icons and screens with refreshed colors
Improved audio quality while using Bluetooth
V CAST Tones pre-loaded
New Google Books app
---