Welcome to Android Advice and Tutorials.
---

Finally the TELUS HTC Desire HD is getting the OTA (over the air) update to Android 2.3.5 Gingerbread update pushed to devices now. This will create a much smoother experience for the HTC Desire HD putting it on the level of the majority of Android devices to date. While its not Ice Cream Sandwich it is something to be happy about.
HTC Desire HD Gingerbread Update Features:
HTC Sense 3.0 (improved Calendar, Messages, Camera, Gallery, Music, Weather, Lock Screen, Reader, and more)
HTC Watch – Rent or buy the latest movies and/or shows
Google Video Chat
Improved stability
If the update hasn't been pushed to your device yet no worries you can check manually via "Settings -> About Phone -> System Updates". Please let us know anything you notice and any issues you run into.

There have been reports from HTC Desire HD users that they are getting the Android 2.3.5 Gingerbread update with HTC Sense 3.0. These reports have all been from users with unbranded devices and we aren't aware of any carriers pushing this update yet.
The newer HTC Desire S got this update back in October so we have no reason to believe that this update is not actually being pushed. We have to give HTC its due for updating their older models as they have recently.
Confirmed updates in the Netherlands, Serbia, Cyprus, Vodafone UK, Malta. These have been reported although does not mean that only these areas are getting the update nor does it mean just because you live there that you will.
If you get the update please let us know where you are and whether the device is unbranded or not. Thanks.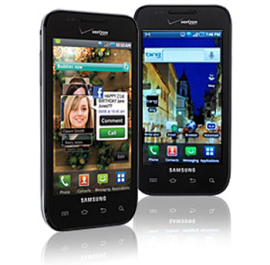 Finally those users of Verizon's Samsung Fascinate will be getting the update from Android 2.2 Froyo to Android 2.3.5 Gingerbread. This OTA (over the air) update has already started pushing out. If you haven't updated yet you can easily check for the update by going to "Settings -> About Phone -> System Updates".
This update to Gingerbread now leaves the Fascinate one OS version behind but is nice to see finally getting to the device. Please let us know what you notice in the update and if there are any bugs you encounter.
If you have an HTC Desire S that is unbranded or on Orange, Vodaphone and O2 you either have or will be receiving the Android 2.3.5 Gingerbread update. This is mostly a UK Desire S update and comes with some great improvements to the UI.
Some of the features you will see with this new update are a new custom HTC user interface that is updated to HTC Sense 3.0. You will now see a new lockscreen with new elements and a new pull down notification menu. Those of you that have seen this update please let us know how its going and if there are any issues with it.
Verizon has finally announced the Android 2.3 Gingerbread update for their original Samsung Galaxy Tab. Most users have just assumed with all of the new tablets released that the original Galaxy Tab would be forgotten and never get the Gingerbread update at this point. This update will bring the Galaxy tab to Android version 2.3.5 Gingerbread.
Samsung Galaxy Tab Gingerbread Update Features:
Improved security for the PIN method. When using the PIN, the device will no longer request a symbol as a numeric entry
Improved word selection and copy functionality
A 'View Data Plan' icon so that users can adjust their plans accordingly
Verizon Data Service feature will allow users to see how much data they have used so that they won't go over
A new download manager app
The ability to use the front-facing camera as a camcorder
Widgets will resize to reflect landscape and portrait mode more accurately
Support for Verizon Pay As You Go prepaid plans
Google security patches
We aren't aware of an exact date the OTA (over the air update will hit. We have only been told that it will be "coming soon" on Verizon's website. As soon as we have a date we will be sure to let you all know.
---