Welcome to Android Advice and Tutorials.
---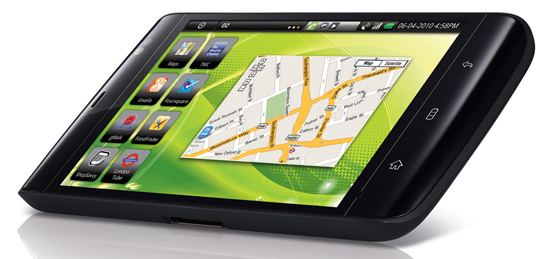 About one month ago we started to see people reporting that the Dell Streak 7 was going to get the Android 3.2 Honeycomb update. Today people in the UK have already reported that the update is being pushed. We can assume like every other update to Android devices that the Honeycomb 3.2 update for the Dell Streak 7 will roll out in phases.
The update is being sent out as an OTA (over the air) update. As long as users of the Dell Streak 7 after the update don't report any major issues all users should see the update within the next few days. To check for the update go to your tablets settings and search for updates.
As always let us know how the update is doing on your device.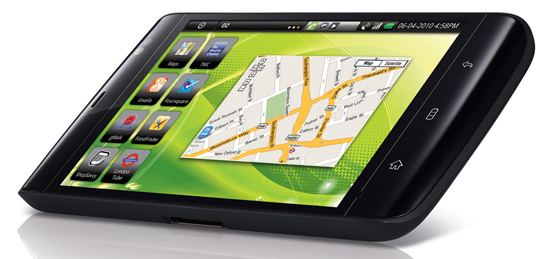 For those of you that still remember that Dell had released a Tablet or maybe you own one and its collecting dust there will be a Honeycomb update soon. The Dell Streak was a promising device although they made the mistake of releasing it with Android 2.2 Froyo.
The Dell Streak 7 has a Tegra 2 processor making it a promising device as far as hardware goes and a Honeycomb update should give the device new life. While there is no official word on the updates release date it has been verified that the update to Honeycomb will occur. The official word from Dell was given at the IFA conference in Berlin.
When we hear more information and the Dell Streak 7 update release date we will let you know.
Toshiba has announced a new tablet that is only 7.7 mm thin making it one of the thinnest Honeycomb tablets on the market. The Toshiba AT200 tablet also known as the Toshiba Excite will be a Honeycomb 3.2 tablet out of the box with a 10.1 inch display.
Toshiba AT200 Tablet Features:
10.1-inch 1280×800 LCD display
1.2 GHz dual-core OMAP 4430 processor
1 GB DDR2 RAM
Built-in storage up to 64GB
microSD, microUSB, and microHDMI
5 MP and 2 MP cameras
7.7 mm thick, 558 g
Up to 8-hour battery life
There is no word on the release for the US although it will be released before the end of this year in Europe. We have no pricing on the tablet at this point nor do we know what the Official name will be besides the fact that it will be either Excite or AT200.
The Honeycomb 3.2 SDK is now available for download by Google. If you have SDK Tools installed you can update that with the compatibility package and a new release of the Android NDK.
New Features with the Honeycomb 3.2 SDK and Tools:
Compatibility zoom for apps that are a fixed size
Media sync from SD Card Support
Extended API for managing screen size
Now that the SDK is available we are likely to see more apps for tablets and more types of tablets as well. You can get more information from the Android Development site but can go ahead and get the update directly from within the SDK now.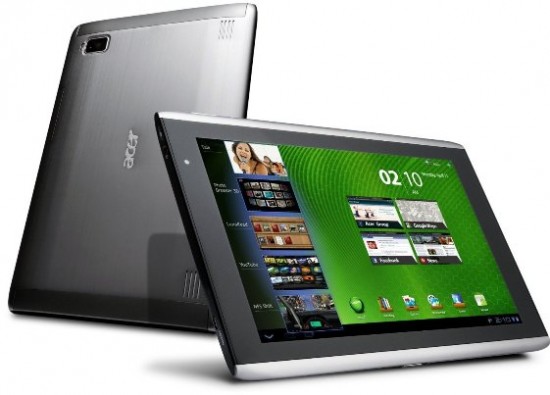 Early this month we were told that the Acer Iconia Tab would be getting the Android 3.2 Honeycomb update August 25th although it is already being pushed out now. Users in Poland have reported receiving the Android 3.2 update on their Iconia A500 and A501 tablets.
By getting this update the Iconia Tab is now upgraded to that of the Motorola Xoom and Asus Eee Pad Transformer running Honeycomb 3.2. The Iconia Tab will now have SDcard support and the new "zoom to scale" feature for non native apps.
We assume all of Europe will be next and it will slowly be out to the rest of the world. Most if not all users should get the update before the previously posted release date.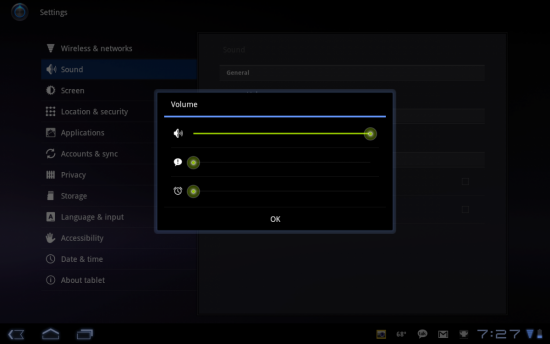 On your phone its nice to be alerted when you get emails, calls, voicemail, etc. What about your Tablet? These notifications are in most cases annoying at best. Below are the steps you can take to turn off all notification sounds.
Instructions to Silence all Sounds on Honeycomb:
Go to Settings -> Sound -> Volume
Slide all three sliders to the far left
Go to Notifications and set ringtone to silent
Go to Feedback and uncheck "Audible selection" and "Screen Lock Sounds"
Thats it your Tablet is now silent
This will fix the ever so annoying sounds on your Honeycomb Tablet that you think you have turned off by turning the volume down just to open something else and have the sounds come back. Many apps and areas of the Tablets will use different sounds to play their notifications other than just media.
---