Welcome to Android Advice and Tutorials.
---
Users of the Motorola Droid Bionic on the Verizon Network are finally able to get the Android 4.0 Ice Cream Sandwich update. The update comes after a year of waiting and wondering but has started the process of pushing out yesterday October 19th. We have already had a few Droid Bionic users report they have received the over the air update and that it came in at around 368MB.
Verizon Droid Bionic Android 4.0 ICS Update Features:
Easy smooth multitasking – You will notice this in the incredible reduction in the time it takes switching between apps.
Face Unlock – new feature that has a very low usage rate although a fun feature to have just the same.
Battery improvements – battery optimization seems to be a key feature in all Android updates although with the Droid Bionic already being a great device on battery this should prove beneficial.
Direct Access Lock – users can now unlock their device directly to their text message, camera app, keypad or unlock screen. This is by far the one improvement that most will find the most useful and those that like to get the camera out quickly now have no reason to complain.
Enhanced Notification bar – Swipe to dismiss functionality of the new notification bar is a feature that many devices have and makes for a much easier experience. Also there are many visual changes you will notice.
Home screen folders – it's now easier to create folders on your home screen by simply dragging an icon over another to create a folder.
As always when updating your Droid Bionic be sure to have at least a 50% charge and connect to WiFi to be sure the process is not interrupted  Again the download is 368MB so be patient as it could take a bit to get down. If you want to check for the update manually all you need to do is go to "settings -> about phone -> system updates". If you see the popup "update available" then your good to go otherwise just try again later.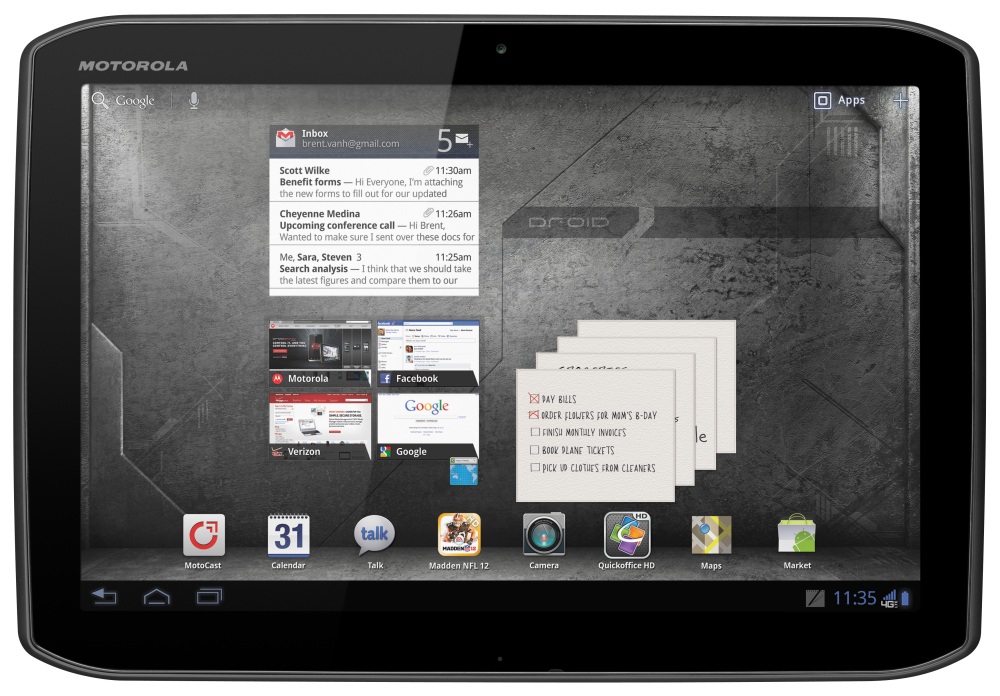 If you are carrying around a Motorola XYBOARD Wifi Edition version 10.1 or 8.2, the update to Android 4.0 Ice Cream Sandwich is now available. Motorola has started rolling out the update today so when you have time go ahead and connect to Wifi (as if you have another way) and get the update. The update seems to be a standard Android 4.0 ICS update although if you want more information read on.
Motorola XYBOARD Android 4.0 ICS Update Features:
Updated Browser with faster rendering, zoom and pan: Users can also now save pages for offline reading and request desktop versions of websites.
Swipe to dismiss notifications and recent apps: You can now dismiss individual notifications and apps from the Recent Apps list with a simple swipe of a finger.
Redesigned app launcher: In All Apps launcher, you can now simply drag an app to get information about it, immediately uninstall it, or disable a pre-installed app.
New System Font for Improved Readability: An entirely new typeface (called Roboto) optimized for high resolution screens improves readability and brings a polished feel to the user interface.
Updated "People" Application: Replaces contacts and integrates seamlessly with Google+ and other social networks.
Improved text input and spell-checking: The keyboard now features improved accuracy to make text input faster. It also now includes an in-line spell checker to make corrections easier.
Type with your voice: Now you can simply touch the microphone on the keyboard and start talking to write emails, or any other text—more than 20 languages supported. Text appears in real time, so there's no waiting for server processing.
Richer and versatile imaging capabilities: For new flexibility and convenience while shooting video, you can now take snapshots at full video resolution just by tapping the screen as video continues to record. For capturing larger scenes, the camera introduces a single motion panorama mode. You can also launch camera directly from the Lockscreen. When you shoot videos, you can now choose from a number of silly faces and other fun effects which recognize individual facial features so you can give your friends big eyes, squeeze heads, make noses bigger, or change the scenery with background replacement.
Redesigned Gallery app with photo editor: To help pictures look their best, the Gallery now offers a powerful photo editor so you can crop and rotate pictures, set levels, remove red eyes, add effects, and much more.
Richer, resizable widgets: You can expand widgets to show more content, or shrink them to save space.
Quicker screen rotation
A new setting to choose whether the power button immediately locks the device or not: shows up only when you have a pattern, PIN or password lock, it then lets you set a timer for how long it takes to lock after pressing the sleep button.
Microsoft Exchange improvements with additional EAS policies
Improved stability
Face Unlock: Face Unlock is a new screen-lock option that lets you unlock your device with your face. It takes advantage of the device front-facing camera and state-of-the-art facial recognition technology to register a face during setup and then to recognize it again when unlocking the device. Just hold your device in front of your face to unlock, or use back up PIN or pattern.
Along with the enhancements to the 10.1 and 8.2 Wifi versions of the Motorola XYBOARD you should notice quite a few bug fixes on both devices. There is still no date given for the Verizon 4G LTE version of the XYBOARD although if your waiting for it there should be more information soon. If you have received the update to your XYBOARD please let us know what you think via comments below.
There are many reasons why you would want your Android device running Android 4.0 Ice Cream Sandwich but we have narrowed it down to the top 5. While many devices are getting the Android 4.0 update pushed to the device this year, if your not getting it you may want to upgrade. Android 4.0 Ice Cream Sandwich has been out for some time now and a selling feature for most new devices is the fact that they are running the newest Android OS. Below are the main 5 reasons that you will want and maybe even need Android 4.0 Ice Cream Sandwich on your Android device.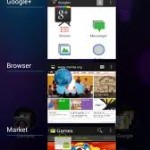 Android 4.0 Task Management:
The task management features alone in Android 4.0 ICS is a great reason to want the update as this is a weakness in most Android devices and the number one drain on battery life. Beside the home button in ICS there is a button that looks like two windows overlapping. When you click the button you will get a list of windows that will show you whats running. You can either swipe your finger across the ones you want to close to remove it from memory or tap something that you want to re-open. This is incredibly helpful when you are having an issue with an app being able to close it quickly and re-open it without having to go through settings to find it.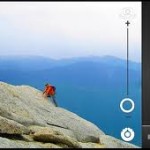 Android 4.0′s Camera App:
The stock camera app has been greatly improved from Android 2.3 to Ice Cream Sadnwich even though hardware may not change on the device. Your camera with Android 4.0 is almost instant without the horrible lag that you may get with your previous OS. You can keep tapping and taking pictures without waiting and having to actually get the perfect picture. Your Android 4.0 camera is as professional as you can get with a phone.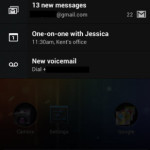 Android 4.0 Notifications:
While the notification system hasn't changed much on the new Android OS it has been improved. Instead of having to go though notifications or clear them all you can swipe the ones away that you no longer need or want to show. You remove the risk of missing the X on devices that actually have it by swiping instead of tapping. This may not seem like a great improvement but once you use the new way of swiping you will love it and wonder how you got by without it in earlier versions of Android.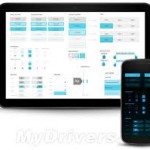 Android 4.0 Brings Unified Applications:
With previous versions of Android if you have a phone and a tablet you would need different versions of the same application for each device. Now you can have the same version running on both devices while still having them work well on both devices and in pretty much the same way. While the number of Android 4.0 applications are still low developers have moved their focus to the new OS and we are bound to see them increase in numbers very quickly.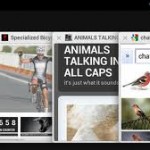 Android 4.0 has Chrome Browser Support:
We have all wondered why Android being a Google powerhouse has never had the Chrome browser but now with Android 4.0 you can have it. The Chrome browser doesn't come pre-installed although you can at least now install it if you want it and in fact we recommend it. While the stock Android browser seems to work very well Chrome is by far the best available right now with flawless multi-tabbed browsing. As with many other Android 4.0 features you can easily see all of the open tabs and swipe away all of the tabs that you no longer want open. We recommend downloading Chrome as soon as you get Android 4.0.
Again there are many improvements to the Android OS with Ice Cream Sandwich although those listed above are the most useful improvements in our opinion. There are also those features that we didn't mention here that many of you may love like the Face unlock features and Android Beam although they are still being worked on as at release they seem a bit buggy. Let us know if we missed anything that you feel should be included in our list for the benefit of those reading this article.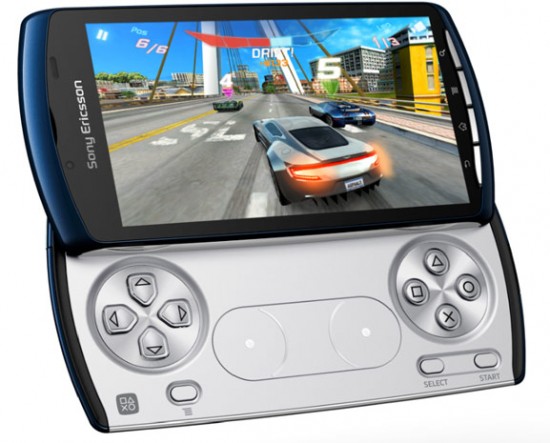 Sony has posted a list of their devices that will be getting the Android 4.0 Ice Cream Sandwich updates and the Sony Ericsson Xperia Play is not on the list. Sony had previously planned on the device getting the update but have decided not to push it to the device after all.
"In regards to Xperia PLAY, after extensive in house testing with our developer teams and working with our partners, we have concluded that a consistent and stable experience, particularly with gaming, cannot be guaranteed for this smartphone on Ice Cream Sandwich – therefore, we will not make the Android 4.0 upgrade available for Xperia PLAY.
This decision was also verified when we received similar feedback from the developer community; both experienced developers and advanced users, along with game content providers following our ICS beta ROM for unlocked Xperia PLAY smartphones."
I would have assumed with the lower end Sony Android phones getting the update to Android 4.0 that the Xperia Play would be a shoe in. Sorry to everyone with the Xperia Play it's certainly not fair. While the official update wont hit the device you can still always root and ROM.
If you have a Nook Color and don't want to install Android 4.0 Ice Cream Sandwich over the stock ROM then you can install CM9 on an SD Card and run ICS from that. The instructions to install CyanogenMod 9 on an SD card is a very simple process, does not require root, and sows not effect the Nook Color stock ROM.
Install CM9 on the Nook Color using SD Card:
Download Win32DiskImager (Download Link)
Download generic-sdcard-v1.3-ICS-large.img.zip (Download Link)
Unzip Win32DiskImager and run the EXE file
Click the blue folder icon and select the image file
Under Device select your SD card
Click Write to write the image
Eject the SD card and plug it right back in
You should now see a partition named "Boot"
Download the Latest CM9 Nightly (Download Link)
Copy the CM9 Nightly onto your SD card on the "Boot" partition
Plug the SD card into your Nook and turn it on.
The image on the sd card will install and the Nook will turn off
Turn the Nook Color back on and enjoy CM9 from SD Card!
If you cannot connect to WiFi Go here to fix it:
http://www.android-advice.com/2012/wifi-not-working-running-cm9-on-nook-color-sd-card-fix/
After Installing CM9 to the SD Card you probably want the Google Market. To get the market and other Google Apps follow this article:
http://www.android-advice.com/2012/install-the-google-market-on-the-nook-color-via-gapps-for-cm9/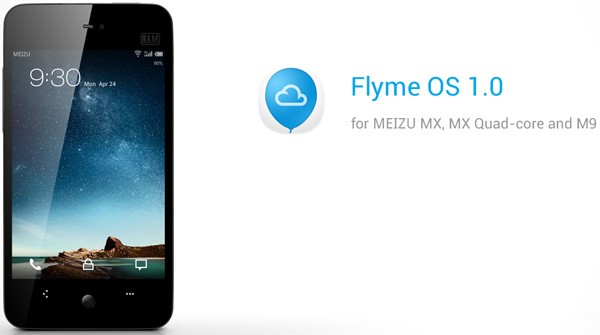 An upgrade to Android 4.0 Ice Cream Sandwich was promised by Meizu's CEO Jack Wong back almost 6 months ago in November. It looks like he has finally released a date for the Ice Cream Sandwich update for the MX and M9 smartphones of June. The Meizu MX and Meizu M9 will not be getting the Ice Cream Sandwich update that most other phones get as it will be skinned with Meizu's own Flyme OS version 1.0. Their Flyme OS is supposed to improve Google's default Android 4.0 features with a more refined logical interface, backup and sync data functions, and cloud storage.
Official Press Release About Flyme OS 1.0 for the Meizu MX and M9:
HONG KONG – April 24, 2012 – MEIZU today officially announces that the MEIZU MX and M9 smartphones will be upgraded to Flyme OS 1.0 (based on Android 4.0) in June 2012. This announcement indicates that MEIZU's entire current range of smartphones will be brought into the Android 4.0 era, reflecting MEIZU's unyielding commitment towards its old users.

MEIZU's Flyme OS offers a powerful range of features and user-friendliness together with a simple and elegant design, receiving praise from users both at home and abroad. It is the result of MEIZU's focus on user experience since the start. Combining all the best elements from past products and iterations, Flyme OS 1.0 provides a superior user experience.
Flyme OS 1.0 will offer a slew of advantages over the native Android 4.0 system. The user experience will be more logical; interactions more streamlined and pre-installed apps more comprehensive. Under the hood, Flyme OS 1.0 offers backup and sync, lost phone locating, as well as a new cloud services such as personal file storage. In Mainland China, MEIZU's Music Online music streaming app will have its entire library upgraded to lossless audio formats.

Customers with the MEIZU MX and M9 will be able to upgrade to Flyme 1.0 via an OTA (over the air) push directly on their phones, or by downloading the firmware upgrade from the official MEIZU website in June this year.

MEIZU MX comes with an Exynos dual-core A9 processor and a high resolution 4-inch 292 PPI display with the world's most naturally beautiful ASV display technology, giving users the ultimate visual experience. It also comes with an 8 megapixel backside illuminated (BSI) camera with a lens aperture of f/2.2, capable of taking great photos even in low light conditions.

As China's first flagship smartphone, the MEIZU M9 was released in early 2011 with a 1 GHz CPU, 3.5-inch 960×640 resolution ASV display and a 5 megapixel camera to much fanfare in China and beyond.

The MEIZU MX 16GB retails for ¥2399 CNY in Mainland China and $2599 HKD in Hong Kong, while the MEIZU M9 sells for 1699 yuan in Mainland China.
While HTC Amaze owners just got their hands on a perm S-Off tool a few days ago there is already something else to get excited about. The Official Android 4.0 Ice Cream Sandwich update was leaked on XDA and can already be flashed if your interested. Keep in mind before flashing to the leaked Official ICS update on your Amaze 4G that its not yet rooted. This being said we will go ahead and assume there will be a root for the build very shortly.
We haven't heard when the Android 4.0 Ice Cream Sandwich update Officially push to T-Mobile HTC Amaze 4G owners although with a fully functional build already available we will go ahead and say very soon.
NOTE: Using this leak to install Android 4.0 Ice Cream Sandwich on your HTC Amaze does not require root or S-Off as its an Official update file. Follow the instructions below to update.
Instructions to Install Official ICS ROM on the HTC Amaze 4G:
Rename download to PH85IMG
Put that file on your SD card in the phone
Unplug usb cable, remove battery
Put battery back in
Press and hold Volume Down and Power
Apply update. Will take some time and reboots.
Enjoy Sense 3.6 and Android 4.0.3
If you update using the Official HTC Amaze 4G Leaked ROM here, please let us know how you like it. Also if you have any issues or questions feel free to ask here.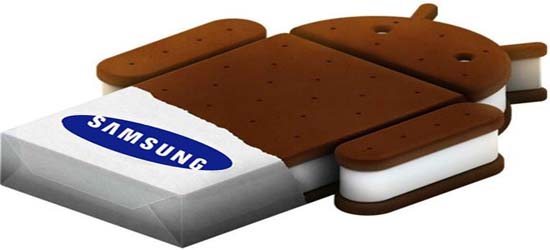 With Android 4.0 Ice Cream Sandwich being almost a requirement now when looking for a new phone Samsung is letting us know what devices they will update with the popular current Android OS. Samsung has been slow with their Android 4.0 updates although they have released a list of devices that will get the update by carrier. The following are confirmed ICS updates to come although not all devices that will get the update may be listed.
AT&T Samsung Android Phones Getting Android 4.0 ICS:
Galaxy S2 (SGH-i777)
Galaxy S2 Skyrocket (SGH-i727)
Galaxy Note (SGH-i717)
Captivate Glide (SGH-i927)
Nexus S (SGH-i9020A)
Galaxy Tab 8.9 (SGH-i957)
Sprint Samsung Android Phones Getting Android 4.0 ICS:
Galaxy S2
the Epic 4G Touch (SPH-d710)
Verizon Samsung Android Devices Getting Android 4.0 ICS:
Galaxy Tab 10.1 (SCH-i905)
Galaxy Tab 7.7 (SCH-i815)
Galaxy Tab 7.0 Plus Wi-Fi (P6210)
Galaxy Tab 8.9 Wi-Fi (P7310)
Galaxy Tab 10.1 Wi-Fi (P7510)
There has been no mention of T-Mobile updates although Samsung has stated that "We are in close communication with T-Mobile to ensure that eligible devices are upgraded to Android 4.0 Ice Cream Sandwich in the coming months and will provide updates as we have additional details to share." We can assume such devices as their version of the Galaxy S2 will be getting the update although thats about all we can say for sure right now.
Source: Samsung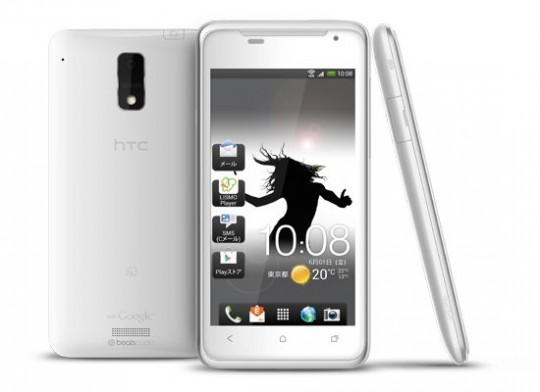 For those living in Japan that are jealous of the HTC One S your wait is almost over. The Android 4.0 Ice Cream Sandwich HTC J will be released soon with a 1.5GHz Snapdragon processor. The specs are pretty much the same as the HTC One S but specifically designed for the Japanese market.
HTC J Android 4.0 ICS Phone Features:
Android 4.0 Ice Cream Sandwich
Beats Audio
960 x 540 qHD Display
1.5 GHz Dual-Core Snapdragon S4 Processor
1 GB RAM
16 GB Internal Storage
MicroSD slot (up to 32 GB additional storage)
HTC Sense 4.0
8 MP Camera (with HTC ImageSense)
1.3 MP front facing camera
1810 mAh battery
The HTC J seems to have some impressive specifications and should prove to be a competitive device in the Japanese market. Let us know if you get your hands on one and especially if you can compare it to the One S.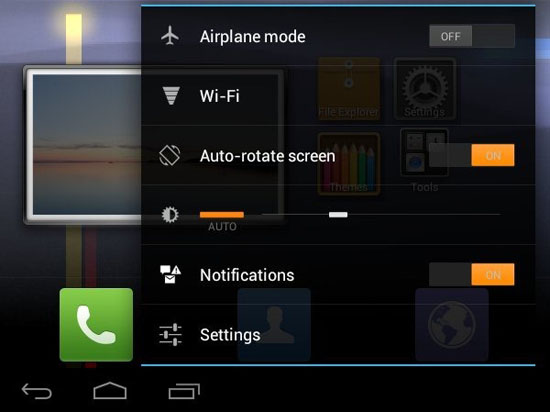 Amazon released the Kindle Fire and had record sales of the device over the holiday season 2011 and now you can get Android 4.0.3 Ice Cream Sandwich on the device. One of the more popular ROM's MIUI has been ported over to the Kindle Fire allowing the upgrade to ICS.
Almost everything works on the port to Ice Cream Sandwich but there is a small list of things that don't currently work. The current features that aren't working include tethering via USB, hardware accelerated graphics static wallpaper and themes. This being said everything that a daily user needs works just fine on the Android 4.0.3 MIUI ROM for the Fire.
How to Install Ice Cream Sandwich on the Kindle Fire:
Install ClockworkMod Recovery via ROM Manager (Free on Market)
Download MIUI to your Kindle Fire's SDcard (Download Link)
Make sure your Kindle Fire is disconnected form PC
Open ROM Manager and tap "reboot into recovery"
Select the "factory reset" option and confirm on next screen
Go back to the main screen of recovery
Select install zip from SDcard option
Select the MIUI ROM zip file you downloaded earlier and confirm
Once complete select "wipe cache" then select "reboot device"
Be patient as the first boot will take a little time.
Congrats your Kindle Fire is running Android 4.0.3 ICS!
If you have any issues or need anything explained in more detail please feel free to leave a comment below. We have tested this on the device and love the ROM. We will try to get a video of the installation up soon although did not record the previous process as it was on a users device that we don't own.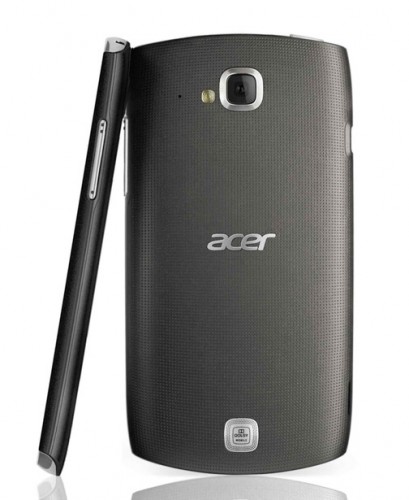 Acer has announced their plans for Mobile World Congress this year. They will be showing their Acer CloudMobile (official name as we have heard). They not only announced the device itself but the CloudMobile service as well.
The new Acer CloudMobile Features:
Android 4.0 Ice Cream Sandwich
4.3 inch HD Display
Thin bezel and brushed aluminum frame
Thats all we officially know right now
While there aren't many specifications available right now they have already won a few IF design awards for the device. It is rumored that it will come with an 8mp camera and Dolby Digital Mobile on board. The rest of the specs should be released by the end of the month.
This phone will be extremely thin around 8mm thick which seems to be about standard for phones right now. The Acer CloudMobile will be officially and fully announced at Mobile World Congress 2012 in Spain.
---