Welcome to Android Advice and Tutorials.
---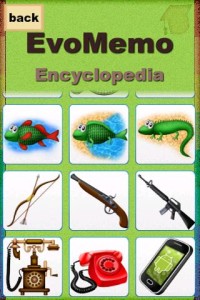 Andrey's Apps today announces its new brain-teaser called EvoMemo is now available from the Google Play. The game will help adults and kids to exercise memory and concentration in a fun way.
EvoMemo offers two modes: Evo and Memo. Both modes are good for training concentration and working memory that allows the user to hold information for brief periods of time.
In the first one, the goal of the player is to uncover all the cards by successfully matching three images that present an evolution of a certain device, such as a phone, or a rifle. Once the evolutionary sequence is uncovered, the cards disappear, and the player has to find other sequences.
In the Memo mode, the player needs to memorize one or more objects, and to find them among many others within a short period of time. The number of objects to be memorized grows with time, which makes the game very hard.
EvoMemo offers 2 difficulty levels, 3 game board sizes (9, 30 и 42) and a built-in encyclopedia.
The game is available for free from the Google Play:
https://play.google.com/store/apps/details?id=com.andreysapps.evomemo
FleaFlicker is a free fantasy sports website that allows everyone to play their favorite fantasy sports. There have been a lot of people around the internet requesting an app for Android and finally someone has released one. The un-official FleaFlicker app for Android is available now on Google Play.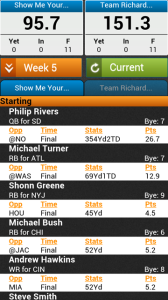 The current FleaFlicker Android app does not have all of the features that the website has although it does have everything you need to view stats, scores and previous weeks standings. As of right now the Android app for FleaFlicker only has the football fantasy leagues implemented although there are talks of adding other sports to the mix.
Current FleaFlicker for Android Features:
View current weeks fantasy scores via a scoreboard style display
See all of your active, benched and injured players
View your opponents active, benched and injured players
See each players fantasy stats and other details
Features that are said to be added in the next update or two will be total fantasy leagues standings by team, full rosters, and the ability to make trades and control your team from within the application.
Where can I download the FleaFlicker Android App?
The FleaFlicker Android app was removed from the market, we are working on getting our hands on the APK so check back later.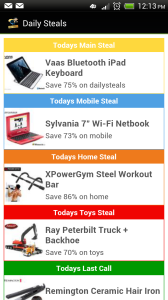 Daily Steals is currently the best daily discount website to date with everything from Android phones and tablets to bed linens and toys. There has not been an easy way to view all of the deals available each day from your Android device until now. There have been other apps available to see Daily Steals although they seem to only work for a short time.  Keep in mind that this app is an un-official Daily Steals app and is not released by Daily Steals.
Daily Steals Android App Features:
Simple, Easily used layout
Main screen shows all 5 deals for the day
Sub Screens show the details of each deal
thats it plain and simple
If you are looking for discounts on current technology, mobile devices, toys, home decor, etc. Daily Steals is a great way to find these items at enormous discounts. This app will not allow you to purchase the items due to security risks although at a glance you can decide whether or not you want to go to the website and get it.
Get Daily Steals Android App via Google Play:
https://play.google.com/store/apps/details?id=com.mofiki.dailysteals.mobile
Visit Daily Steals Official Website:
http://www.dailysteals.com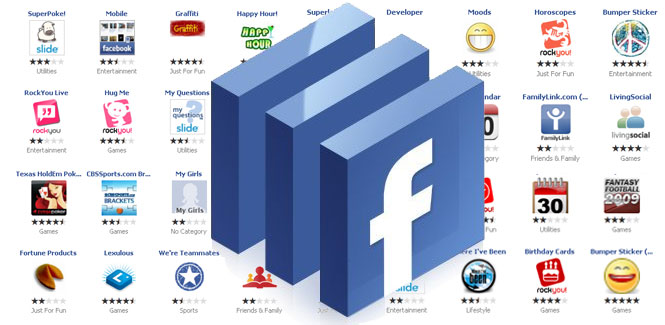 Facebook has been one of the worst when it comes to app development on any platform although the worst is Android. Facebook is now forcing its employees to use the Android mobile Facebook app in an effort to speed up the process of getting a fast, reliable app developed. Their iOS app was just updated yesterday and seems to at least be tolerable at the moment so it seems their focus is Android.
By forcing Facebook employees to use Android phones and the Android Facebook app is an attempt to get employees to provide feedback. We aren't entirely sure why Google Play Store reviews and other review sites aren't sufficient although it nice to see Facebook at least attempting to fix the massive amount of issues.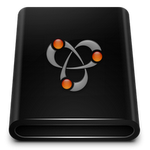 Droid NAS can turn your Android device into a wireless storage device assuming you use a MAC or other Android device to access it. Having to find a micro USB cable to plug your Android device into a computer is just a hassle. Even with applications like Dropbox and Box.net, while helping to make things easier still doesn't make it as easy as it could be. Now Droid NAS makes wireless storage easy and accessible.
The Droid NAS app uses the SMB protocol which Windows currently cannot connect to via a non-standard port which means MAC or other Android devices are all you can connect with currently. Droid NAS is free on the Google Play store so go ahead and give it a shot. It's not the best solution out there but is easily a great one. Let us know what you think via comments below.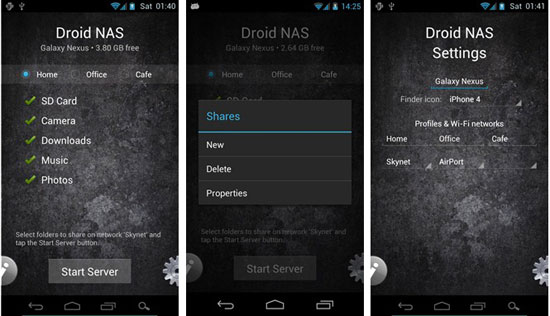 Track, shoot and share your baby's/toddler's events + milestones. StickyTot is a service/application for parents of babies or toddlers who are looking for a simple, straightforward tool for documenting all that happens in the eventful and busy time between birth and and the 3rd birthday.
StickyTot gives you the ability to keep track of events and milestones and attach notes, photographs and growth information to each event. Using data from the National Center for Health Statistics, the service and application calculate the child's height and weight percentile values based on the entered information.
StickyTot was kept as simple as possible since dealing with the daily routine of a young child can get complicated enough. That does not mean that the service will not evolve as new needs become more apparent. Requests and suggestions are welcome.
Permissions StickyTot will Require:
USE THE AUTHENTICATION CREDENTIALS OF AN ACCOUNT – Allows the app to request authentication tokens.
TAKE PICTURES AND VIDEOS – Allows the app to take pictures and videos with the camera. This allows the app at any time to collect images the camera is seeing.
FULL INTERNET ACCESS – Allows the app to create network sockets.
MODIFY/DELETE USB STORAGE CONTENTS MODIFY/DELETE SD CARD CONTENTS – Allows the app to write to the USB storage. Allows the app to write to the SD card.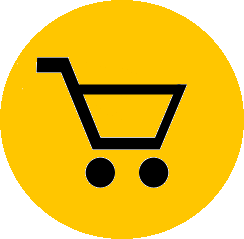 eMyShoppingList is an android application to manage the shopping list with new features added in version 2.3.2. Available in the latest version of the application. Now deleting items on the shopping list and the usual list can be configured to display a delete confirmation window or not. Same for the Products tab. Available the new version of the app. New preference to Indicate Whether to display a window or not to confirm deletion of items in the shopping list, in the usual list and items tab.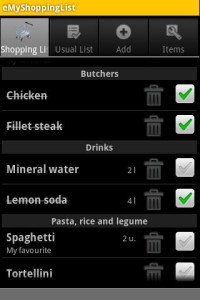 eMyShoppingList Free Android App Features:
eMyShoppingList is completely free
Multi-lingual. Spanish, English or Portuguese
Easy to use and quick user interface
Extensive database of items (more than 300)
Ability to create as many lists as you want
Possibility to indicate notes, quantities, units of measure and prices about items
Possibility to work with item categories
Sorting lists by various criteria
Can be installed on SD card
Send shopping list by email, sms, whatsapp…
Enjoy my first application! It's available on Google Play, I hope your comments.
https://play.google.com/store/apps/details?id=a3g.emyshoppinglist
What people are saying about eMyShoppingList Free Android App:
Dana on January 12, 2011 (Version 1.1.1) - Just what i was looking for i love the ability to email my husband a list. Thank you!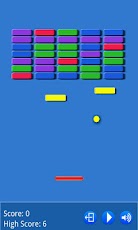 Brick Buster Pro is an Android game created by Vandaveer Software and at the time of this review was on version 3.0.8.  Brick Buster Pro is an Android remake of the old Atari style Brick Breaker, Breakout, Arkenoid, etc.
Positive Aspects of Brick Buster Pro:
They do a good job with the graphics being very late 80′s early 90′s. The levels are nicely done with colored bricks laid out in new patterns as you progress. The levels get harder as you complete each level. There is a high score board to allow you to try and beat others playing the game all around the world.
Negative Aspects of Brick Breaker Pro:
Each level begins with a screen showing the level you are about to begin although gives you no warning when the level starts and the ball is off. If you blink you will lose the ball at the start of the level before you even touch the paddle. The physics within the game are less than perfect as there is no way to know what direction your ball will come off the paddle. Physics with the bricks are way off as well where your ball will hit the top of a brick and bounce then hit the top of another and go right through it.
There is still alot of development that needs to be done to get Brick Buster Pro anywhere near a fully functional and smooth app. As far as the idea behind the gameplay and levels themselves its a good start. We don't want to make anyone think that its a horiible game, it just isn't done yet. Once the physics are fixed it will be a great improvement and worth playing for any period of time.
Get Brick Buster Pro on the Android Market:
https://play.google.com/store/apps/details?id=com.vandaveer.brickbuster_pro&hl=en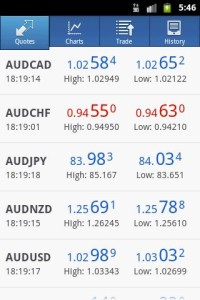 MetaQuotes Software Corp. today announced that MetaTrader 4, a mobile version of its popular trading platform, is now available for Android users. Supporting 570 servers of brokerage companies, MetaTrader 4 for Android makes it easy to select a broker for trading. The functionality of the platform is the same as in the case of the iPhone app that was introduced two months ago.
With the MetaTrader app, all Android users can trade, analyze the market using charts, watch quotes around the clock and examine the history of performed deals. All these options are available for free after downloading the application from Google Play. The application has native support for tablet PCs, meaning tablet PC users will get the internet trading application adapted specifically for their devices.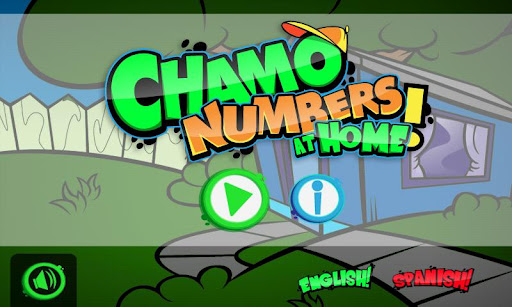 Numbers at Home lite is an advertisement free , fun educational game for your kids ages 2 to 5. With the help of Beto (our main character) and the different games inside Chamo Numbers at Home lite, the kid will have fun while learning to count.
Numbers at Home Lite Android App Features:
2 different games to teach kids counting with two different level each.
Bilingual English and Spanish, texts and voices.
Beto is always there to help the kids complete the task with hints and positive messages.
Stickers rewards after level completion.
Hidden animations in each game are there to discover.
Helps kids recognise the shape of the numbers as well as the sound of each number.
Get Numbers at Home Lite Android Game from Google Play:
https://play.google.com/store/apps/details?id=com.chamogames.numbers.athome.lite.ogl.es&hl=en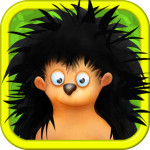 In Frodo, a charming little hedgehog got lost and cannot find the way home. The goal of the player is to help the hedgehog and break the obstacles around him in such a way so that it makes Frodo roll to his cottage. Each level is timed so the quicker you find the solution to the puzzle, the more points you score. There are 40 tricky levels to go, each offering a unique layout of obstacles and multiple ways to solve the puzzle.
TNGames is proud to announce the release of Frodo for Android. In this charming physics-based puzzle adventure, you'll need to use your brains and objects on the screen to help little hedgehog get home. The game is available for download from the Google Play.

Here's a sample how to solve a puzzle: break the box, the hedgehog starts rolling and gets into the cannon, shoot him at the big red button on the wall that gets pressed and lifts the stone wall up, the hedgehog rolls down and into his cottage. The game play resembles a pinball game and is sure to please the whole family.
Key Features found in Frodo for Android:
Over 40 brain-teasing levels to play through, each with its unique set of obstacles
Cartoon-like graphics and nice sound effects
Perfect physics-based puzzle gameplay for all ages
Updates add new levels

TNGames is an independent game development company focused on creating casual games for Apple iOS, Android and other platforms. TNGames was established in 2012 by a group of software developers. For more information about the company and its projects please visit http://www.tngames.us.  If you download the game and play please leave some constructive criticism in the form of a comment below.
---