Welcome to Android Advice and Tutorials.
---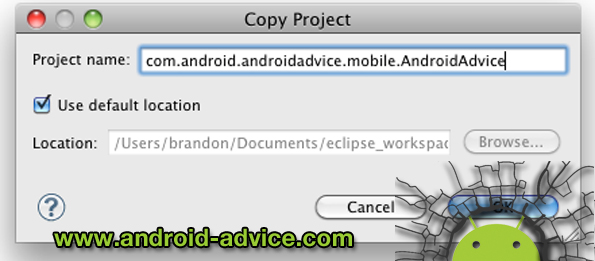 Most new developers for Android will create an app and then want to create a completely new one without starting from scratch. Basically if you have already created a project and want to use it as a starting point for something new, why start over? Keep in mind that there may be a little cleanup beyond what will be discussed here if the app is completely different but close projects being duplicated can save a lot of time and effort.
Copy an existing Project with a new name (package and resource refractor):
Before you copy a project you will need to make sure that the project your copying is open in eclipse otherwise it will not copy. Changing the icons for the app will be discussed after the renaming process.
Select the project that you want to copy, right click it and select copy
Right click in the white space below that project in your package explorer and select paste.
You will now be forced to rename the package so that there is not a duplicate.
Open your AndroidManifest and rename the package-name and save
Next you should have the ability to "Update Launch Configuration", do it.
Next rename the main package by selecting it, right clicking, select refractor and then rename
You will now change the name of the package, preview and continue
After saving it will ask you to "Update References", do this as well.
Replace old icons with new ones in Eclipse and change App Name Label:
First we will open "AndroidManifest.xml"
Click on the tab below the editable file that says Application
Find the Text Box labeled "Icon" and click Browse
At the bottom you will see a button that says "Create New Icon", click it
Create your new icon and click finish
If you get windows saying "Yes to All", click them
If this process created another set of icons instead of overwriting the old ones you will need to go into your "res" folder and delete the old ones and rename the new ones to match.
After completing the two processes above you should now have a new project that is completely independent of the one copied. Now you can create an entirely new app as a new project. If there are any steps that you notice have been left out or have anything else to add please feel free to leave it via comments below.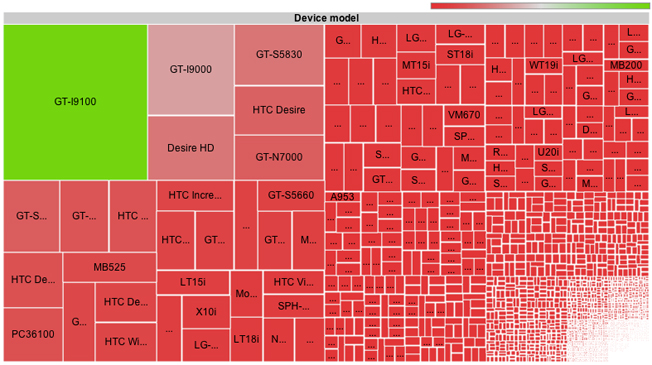 Google being the largest threat to Apple with their Android OS has proven to be a heavyweight in the mobile arena. With this the Apple App Store and Google Play Market have hundreds of thousands of apps. Android however requires much more thought when it comes to app design since its popularity has created a demand for many different screen resolutions, custom UI's, and hardware configurations. Android fragmentation is due to the number of manufacturers out there using Android for their mobile OS with many different devices.
While all developers have the intension of creating ideal experiences for every user having 4,000+ different models to test on is not at all ideal. You would need to develop different versions of your Android app many times to allow it to function on every device the way you intend it to. This being said the most popular devices can be tested and verified working but its unlikely you will ever be able to develop and Android app to work on every device.
iOS developers have it easy with only a couple different resolutions to deal with although most Android devices can be developed for by making sure it works for the 5 major screen resolutions so don't let this hold you back. With every manufacturer wanting to design the new thing with the highest resolution and newest hardware its likely that Android fragmentation will get increasingly worse. This being said fragmentation is the future and will likely fall hand in hand with innovation.

There are many development tools available to make creating an Android game a little easier for developers. What if you didn't need to be a developer to create a great Android Game? There is a program available that we have personally used in the past before the Android Platform was added that really is easy to use called GameMaker by Yoyo Games.
While it makes the difficult task of creating an Android game easier it also allows for app development for Windows, Mac, HTML5 (Facebook), and iOS. We will however be focusing on the Android module specifically here with GameMaker Studio.
Create Games with GameMaker's Android Module:
You can create Android games around 80% faster using the GameMaker platform than with the SDK and a software like eclipse. The process is streamlined in that it ensures compatibility with the many different hardware and screen resolutions that Android devices have. Since the Android platform has sold over 300 million devices running the popular OS this alone can be one of the most difficult parts of Android development.
GameMaker will allow you to use their integrated development environment to deal with "objects" instead of having to develop every aspect yourself. These objects are things like the fonts, sounds, images, music, and other resources that actually make up the physical game itself. Not only is this made easier but its accompanied by a drag and drop interface for easy development.
If your not into creating a game strictly with what is offered within the GameMaker Studio you can also dive into the code behind it with their source control scheme along with making it easy to allow teams of developer to work on the same project.
GameMaker Studio Android Module Features:
Backgrounds, sprites & images
Animated graphics
Rotate sprites
Modify resources at run-time – sprites, backgrounds, paths etc.
Particle effects
3D graphics
3D hardware acceleration
Native physics support
Off-screen surfaces – for rendering dynamic textures
Font control
Advanced text drawing – rotation etc.
Sound effects & music
Built-in data structures – stacks, lists, dictionaries, queues etc.
Paths and timelines
AI pathfinding
If you play around with the GameMaker Studio software please let us know what you think and let us know what you've created. Currently the GameMaker Studio is priced at $99 which is quite a deal if your looking at getting into Android Game development.
Source: Yoyo Games
As promised by Google they have released the Android 4.0 SDK along side the release of the new Android OS itself. Google is allowing developers to start using the SDK to develop for the most popular Android OS to date being just announced less than 24 hours ago.
Ice Cream Sandwich is a combination of the best features of Android 2.3 Gingerbread and Android 3.0 Honeycomb wrapped up into one OS. Now developer's can create apps for both phones and tablets using this new SDK. For more information on the Android 4.0 SDK visit the Android Developers Site.
We can assume that there will be many apps developed and released soon enough for this new powerhouse OS released by Google. Its also nice to see them getting back to the roots of Android with releasing this fast enough to allow devs to use it right away.
---