Welcome to Android Advice and Tutorials.
---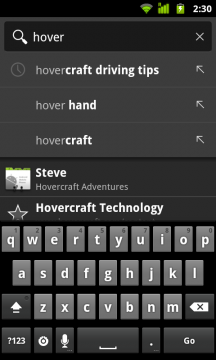 Google just updated their search for Tablets and are now announcing the update to phones as well. This update will change the UI and add a few features to the existing search functions.
New Google Search Features for Android Phones:
Faster and smoother performance
updated and simplified user interface
long press to remove history items
web suggestions at the top with suggestions grouped by type
country specific suggestions
search results for all countries with Google domains
This update will be available to all Android phones running 2.2 Froyo and newer. We aren't sure of the date although it will just happen as always and will require nothing on the users end. Once this goes live let us know how you like it.
---