Welcome to Android Advice and Tutorials.
---

While we have seen everywhere that Android devices were king in 2012, we never thought it was as dominant as 70.1% of the market. We could have easily guessed that Android was beating out Apple's iOS by the landslide in share price that Apple has seen this month.
According to the latest research from our Wireless Smartphone Strategies (WSS) service, global smartphone shipments grew 38 percent annually to reach 217 million units in the fourth quarter of 2012. Android and Apple iOS together accounted for a record 92 percent share of all smartphones shipped worldwide.
Among Google's Android OS's grip on the market we see around 152 million phones being activated last quarter alone. This makes Android the favored OS by far seeing as Apple held on to only around 22% of total market share. This means that Android is up by almost 42.7% year over year. At this rate Apple had better come up with something or risk their empire collapsing under the pressure or our little green friend.
Just to give you an idea of how well Android is actually doing, 68.4% of all devices last year being used were Android. This equates to around 3 times what Apple did in the same time frame. Google and its Android OS have most assuredly created a global name thats sure to do nothing but grow from here on out.
Source: Strategy Analytics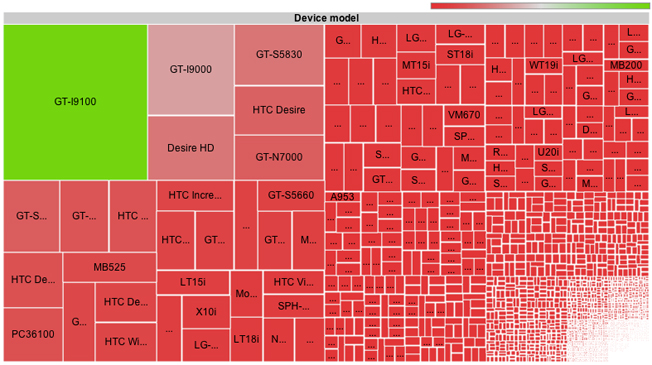 Google being the largest threat to Apple with their Android OS has proven to be a heavyweight in the mobile arena. With this the Apple App Store and Google Play Market have hundreds of thousands of apps. Android however requires much more thought when it comes to app design since its popularity has created a demand for many different screen resolutions, custom UI's, and hardware configurations. Android fragmentation is due to the number of manufacturers out there using Android for their mobile OS with many different devices.
While all developers have the intension of creating ideal experiences for every user having 4,000+ different models to test on is not at all ideal. You would need to develop different versions of your Android app many times to allow it to function on every device the way you intend it to. This being said the most popular devices can be tested and verified working but its unlikely you will ever be able to develop and Android app to work on every device.
iOS developers have it easy with only a couple different resolutions to deal with although most Android devices can be developed for by making sure it works for the 5 major screen resolutions so don't let this hold you back. With every manufacturer wanting to design the new thing with the highest resolution and newest hardware its likely that Android fragmentation will get increasingly worse. This being said fragmentation is the future and will likely fall hand in hand with innovation.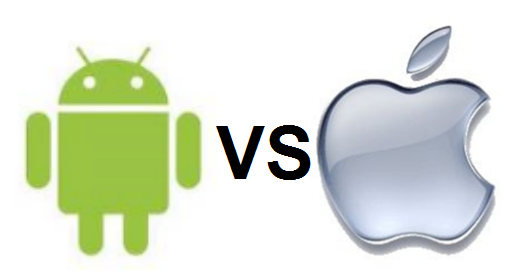 While we have seen Google's Android OS grow rapidly with 850,000 activated devices daily and over 50% of the market share does Google make much from it? All reports currently show that Google still makes more from iOS than its own Android OS. The reports that we have dove into show that Google makes not only more but almost four times more from iOS than Android.
Where does Google make their money with iOS you might be thinking? Well since Google is a search company and not a software company they are profiting from iPhone and iPad from ad revenue.
"seeing a huge positive revenue impact from mobile, which has grown 2.5 times in the last 12 months to a run rate of over $2.5bn." Notice how he used the word, "mobile?"
Asymco has charted out revenue difference based on operating system and it seems 2010 was crazy for iOS and very slow for Android: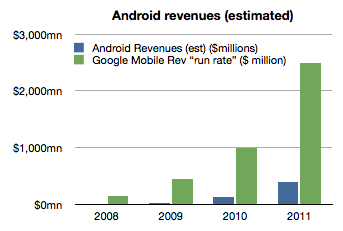 While they may be in competition Google does not have ill thoughts toward Apple's iOS. Since it looks as though iOS is easily Google's largest revenue generator for mobile income we can assume they will continue to offer iOS search capabilities.
Comscore put some numbers together the other day showing the US smartphone market share and it looks like Android is there at the top. The data was from May 2011 to July 2011, so not a true quarter but impressive just the same. The Chart shows Android at 41.8% compared to Android's 36.4% last month.
iPhone is still staying pretty steady at 27% which is up 1% since April 2011 although most think this lack of fast growth is due to others waiting out for the iPhone 5. I feel this is a legitimate claim although I can't imagine that its a huge percentage of people doing this since the same thing happened when the iPhone 4 came out and still didn't move much then.
We will report again after the release of the iPhone 5 although with the Samsung Galaxy S II just being released i'm note sure the small improvements from the iPhone 4 to 5 will be enough to make Apple move very fast.
In just one year, Android holds on the tablet market are up 27.1%. This puts Android tablets at 30% of the total market up from just 2.9% last year. This is according to Strategy Analytics, a global market research organization with analysts based in the Europe, Asia and the Americas.
We know this is easily caused by the increase in tablet manufacturers of the last 6 months or so. With big ones like the HTC Flyer, Motorola Xoom and Samsung Galaxy Tab 10.1 just to name a few.
Last year iPad easily held 94% of the market but with new Android tablets released almost weekly it seems we will see this number dwindle fast. Apple now is only at around 61.3% of the market although we can only assume this will be down again this time next year.
---