Welcome to Android Advice and Tutorials.
---

While the Archos GamePad has been available in Europe for about a month now we hadn't been told about its US launch until CES 2013. Archos has announced that the GamePad will be available before the end of next month. The Archos GamePad is a 7″ Android 4.1 Jelly Bean device that has standard game controls built into the device. These controls can be mapped via a pre-installed Game Mapping Tool app.
Archos GamePad Features and Specifications:
Android 4.1 Jelly Bean OS
7″ 1024×600 Display
1.6GHz dual-core processor
Quad core GPU
1GB RAM
8GB internal storage
While many people who use their tablets for games may want to buy a standard tablet and a bluetooth controller it will be very difficult to match the $170 price tag that has been placed on the GamePad. There has been no specific day set for the release of the GamePad in the US but as it comes closer we will be sure to let you know. If this is something that you are interested in let us know via comments below.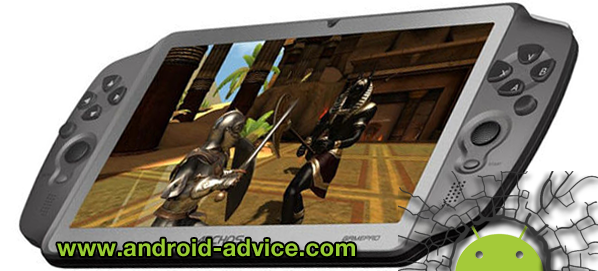 Archos who has been in the Android tablet game for a while now is launching its Android based GamePad Tablet. The Archos GamePad somas with a 7 inch screen and built in gaming controls. When you get the new GamePad it will come out of the box with Android 4.1 Jelly Bean and a 1.6 GHz dual core processor. While those of us in the U.S. are waiting to get our hands on it they can only be purchased in Europe. This being said the GamePad will be available easily next year in the U.S.
"Android device users spend more than 9 hours a month gaming on their devices and yet are not completely satisfied with the touch-screen experience," says Henri Crohas, Founder and CEO of Archos. "We feel this area of gaming is proven and will continue to grow. With the introduction of the GamePad we are uniquely positioned to feed the demand of gamers who want a better gaming experience on a tablet."
Archos GamePad Tablet Features:
Android 4.1 Jelly Bean
Quad-core Mali 400 MP GPU
1024×600 screen resolution
1.6 GHz Dual-Core Processor
8GB internal storage
14 physical buttons
Two analogue joysticks
Micro SD slot (up to 64GB)
Mini HDMI port
0.3 inches thin
Weighs 0.7 pounds
Full Google Play support
"Thanks to the revolutionary Archos mapping tool, even back catalog games that weren't made for physical controls can work with the physical controls of the Archos GamePad; 'map' any on-screen virtual control to the physical controls of the GamePad for hundreds of games within the tool or use its drag-and-drop interface to 'map' any game in seconds," the company said on Thursday.
Currently the Archos GamePad is only available in Europe priced in at 149.99 Euro. We should see more next month at CES in Las Vegas on its U.S. release date. We will let you know what we find out at CES and be sure to update you. Let us know what you think of the new GamePad by Archos via comments below.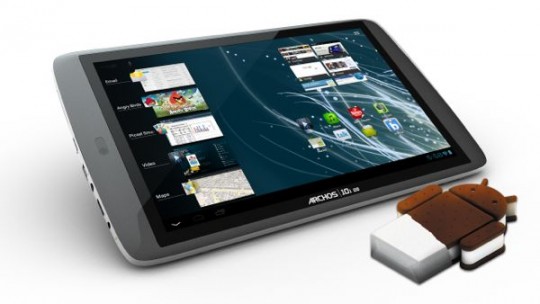 Archos has been a big name in the Android Tablet game due to its low cost tablets but these tablets don't come without issues. One of the worst issues plagueing the Archos tablets are the fact that when you let them die completely they don't want to charge at all. This being said there are some things that you can do to get your battery in your Archos tablet to start charging again.
The methods here dont always work right away so you will have to play with the tablet and try a few different things before you will even get it above 15% charge. Once you are over 15% charge you are usually in the clear and the tablet will charge just fine.
NOTE: Once you fiw the battery not charging issue with your Archos be sure that you try not to ever let it get below 15% or you will be in the same boat your in right now all over again.
Fix the Archos Tablet Battery Not Charging:
Unplug anything that you have connected to your Archos Tablet (this means sdcard, USB cable, and the charger itself).
Press and hold the power button for 10-20 seconds to be sure that the device shuts off completely if its not already unresponsive.
Plug your charger into the Archos tablet then into the wall, be sure your only using the cable that came with your Archos tablet.
Ignore the lights or lack thereof because when the tablet is that dead it will not blink the proper codes all the time.
Wait about 20 minutes and check the tablet by tapping the power button one time quickly
If the tablet is on or turns on at this point leave the Archos tablet alone and let it charge for around 4-5 hours. (up to 12 hours if the battery is completely dead)
If after leaving your Archos tablet plugged in for 4-5 hours its still showing that its not charging then there are a few more things you will need to do.
tap the power button to wake it up and turn off WiFi (and 3g stick if you have one)
tap on the system manager and close all open applications
tap the power button again to put it back to sleep
At this point your Archos tablet should start to show a charge within a few hours and may take an additional 12 hours to fully charge after the completely drained battery. Keep in mind that you need to be sure you leave the Archos on to charge. If you turn the device off with it plugged in it will not charge since the battery relies on charging processor curcuitry to continue charging (the reason it was made this way is unknown). If you are still having issues you can drop us a line here via comments although your problem may be a hardware issue besides the one Archos gave it out of the box.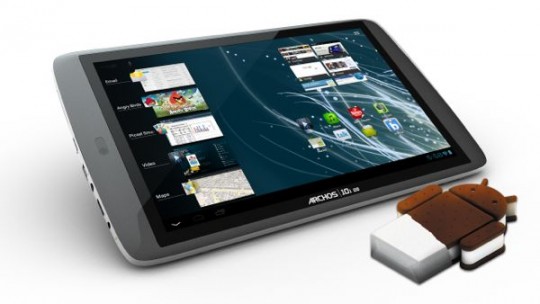 The Archos line of Android tablets may be mid line tablets but they have been a big player in the Android tablet game from the beginning just under the radar. They have made an impression with their G9 tablets by putting an almost pure version of Android 4.0 Ice Cream Sandwich on the devices. Archos is now pushing out an update to their G9 80 and 101 tablets to bring the firmware version up to version 4.0.6.
Archos 80/101 G9 4.0.6 Firmware Update features:
Wi-Fi: fix more disconnect cases happening on some access points
GPS: increase stability of GPS
HDMI: do not propose overscan setting when TV supports underscan
muSD: improve reliability of card insertion detection
muSD: fix read/write permission issue occurring with some applications
Applications: fix platform reboot occurring sometimes after a while when using high CPU demanding applications
Don't confuse Archos and their firmware version 4.0.6 with the Android OS version, it can be confusing. We hope that Archos at some point decides to change their firmware version to not be as close to Android version numbers. The firmware update it rolling out now so let us know when you get it and what you think about it.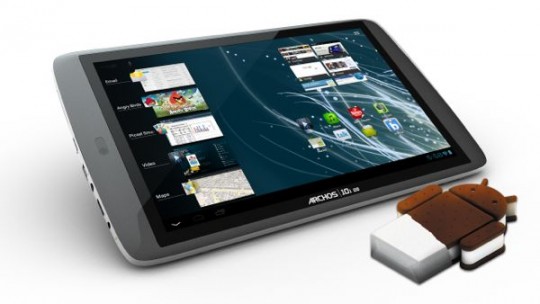 Archos only recently updated their G9 Andoid tablets to Android 4.0.3 Ice Cream Sandwich and have already started fixing some bugs from the update. Archos has been in the Android tablet game for a while and seem to be on top of updating their devices regularly. The update to the G9 tablets are supposed to solve the Wifi and HDMI issues that have plagued the devices until today.
Don't get confused by the naming convention as Android 4.0.3 runs on the device although the G9 firmware version is also version 4.0.3. The Android version will remain 4.0.3 after todays update although the firmware version will move forward to software version 4.0.5.
While the update to firmware version 4.0.5 will be pushed to devices OTA (over the air) you can always go to Archos.com and manually perform the update. If you have HDMI of Wifi issues go ahead and update your Archos G9 and let us know if everything is working ok for you.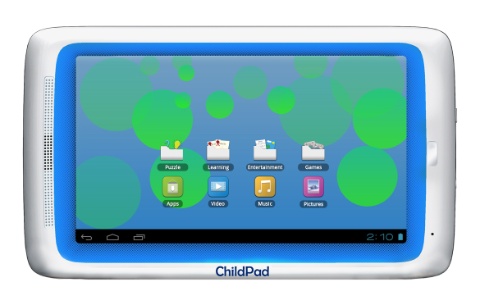 We've seen a few Android tablets come announced for kids with the most prominent being the Vinci which we were able to play with a bit at CES 2012. The Vinci tablet is focused on education and is protected against kids rough play. Now Archos has joined the game with the ChildPad, a kid friendly tablet.
The Archos ChildPad is a 7 inch tablet for children that runs Android 4.0 Ice Cream Sandwich and offers a wide range of kids games and educational materials. Archos has skinned the ChildPad tablet with a child friendlyinterface with bright colors and folders that go straight to kids games, entertainment and puzzles. The tablet was designed to meet CIPA and COPPA regulations to ensure its safe for kids.
Archos has their own app store called Appslib that now has the "Kids App Store" that the ChildPad can connect to. There are already a collection of 10,000 apps and games focused towards children available now. The categories for kids are as follows; games, entertainment, communication, multimedia, books, comics, and sports.
"As a pioneer in the portable audio and Android™ tablet market we realize the importance of providing a tablet that can offer hours of entertainment for all ages, especially kids", says Henri Crohas, Founder and CEO. "ARCHOS strives to offer great tablets with only the best of features at affordable prices and we expect this tablet to bring a smile to the faces of kids and parents' everywhere."
The ChildPad will be available by the end of this month and for a very low price. As always Archos is a very affordable brand in the Android arena and set the ChildPad price at only $129. Those parent out there like me that have their kids on their expensive tablet now have another option that is affordable.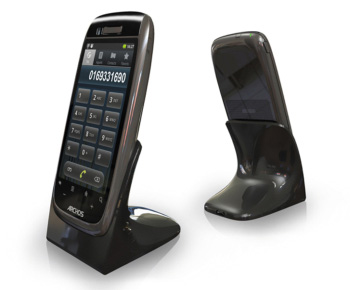 Archos was one of the first names in Android, giving people on a budget the ability to own and Android tablet. Archos has now released their new home phones that run Android 2.2 called the DECT phone.
Archos DECT Android Home Phone Features:
1GHz processor
3.5 inch display
Wifi built in
download games
browse the web
front facing camera
8GB internal storage
microSD slot
Those of you who have been waiting for a home phone running Android now have options. This device looks to be a great addition to the tech enabled home and should prove to be an industry leader in this line of innovation. Let us know when you get your hands on one and any thoughts you have on these new home phones.
Archos has announced that their G9 tablets will be receiving the Android 4.0 Ice Cream Sandwich update Q1 2012. Archos has been in the Android tablet game even before Samsung came out with their Galaxy Tab's. They have until now been a low end alternative to the larger brands. Their G9 tablets come in an 8 inch and 10 inch model and both are said to get the Android 4.0 update.
Archos G9 tablets currently not only compete with some of the larger brand but come in at a very low price point. Android Advice has actually used and tested the Archos 101 8th generation Android tablet and now have the G9 tablet. One great advantage of the G9 tablets are that they have the ability to use not only Wifi but have an external flush slot for 3G cards.
Once the update hits we will review and let everyone know what we find.
The Archos G9 Android 3.2 Honeycomb tablets have only been out for a short time and already has a firmware update available via an OTA (over the air) update. The new update being pushed out by Archos fixes many bugs and adds some new features like some more Google apps.
Archos has been in the Android game for a while bringing low cost tablets to users although the G9 tablets are their first with Honeycomb. Some of the features this device will receive with the newest firmware update will improve the experience tremendously.
Archos 80 and 101 update Features:
Google talk is now part of the firmware and comes pre-loaded.
Improved volume control (better volume range, less glitches on notifications) leading to faster gaming experience on some 3rd party applications
Improved camera quality in high and low light condition
Added Flash acceleration support
Better quality SD video upscaling (e.g. on 1080p display)
Improved memory management for smaller memory footprint
To check for the update and download it on your Archos G9 tablet go to "Settings -> About Tablet -> Firmware Update". Within a few minutes you will see an available firmware update to version 3.2.46. Just be sure to plug the device in and download and install it. Please let us know how the update goes and if it fixes any of your issues.
Archos has been in the tablet game for years now and most have no idea who they are. The first tablet we ever purchased at Android Advice was the Archos 101 Internet Tablet. While the 101 is a bit slower than its competition the price was unmatched. We have faith that the design and integrity of the Archos G9 will be all that we expect.

Features of the Archos 80 & 101 G9 Tablets:
1.5 Ghz dual core OMAP4 Processor – While most tablets are using the 1GHz dual-core nVidia Tegra 2 Processor the Archos is using a 1.5 GHz OMAP4 Processor making it almost twice as fast at others. This also means that it can load websites twice as fast as even the iPad 2.
3G module – Again to stay ahead of other manufacturers Archos has designed and developed a 3G stick to connect to your tablet if you would like to make your tablet a 3G tablet without having to decide when you purchase. The 3G stick fits cleanly into the back of your G9 tablet without any protrusions (you can't even tell its there). There is also the option of using an Archos connect sim card for pay as you go 3G service.
250 GB internal Hard Drive – The only tablet manufacturer to put a 250 GB hard drive in their devices. This drive only adds 3mm to the thickness of the device (I think we can live with that for the storage addition)
Android Honeycomb 3.1 – Designed specially for tablets with flash support the Archos G9 Tablets can handle everything Honeycomb can throw at it. Also has the Android Market unlike its predecessor.
We are ready to upgrade now although have no specific release date at this point. When we find out when these devices are released we will let you know. We do however know that the G9 10″ version will start at $349.
---