Welcome to Android Advice and Tutorials.
---

Asus has a reputation of releasing updates to its devices rather quickly, although with the Transformer Pad Android 4.2 Jelly Bean update it will be the first non-nexus device to get it. Asus officially announced that the Transformer Pad TF300 will be updated in the US today. The rest of the world can still expect the update although it will be later this month. We don't currently have a build number or can even verify the release of the update besides what Asus has mentioned.
Source: Asus Facebook Page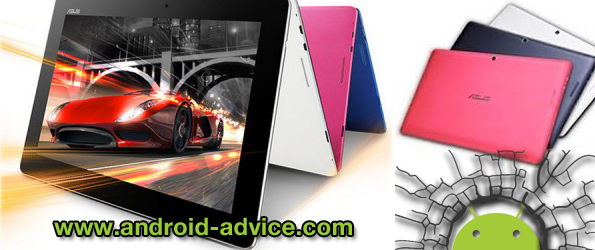 We have seen the rumors of the ASUS MeMo Pad 10 flying around but ASUS has now officially announced the new Android device. This new tablet however has been unveiled for only one market for the time being. ASUS showed their new Tablet off during the Thailand Mobile Expo but will not know much more about the global release until Mobile World Congress later this month.
ASUS MeMo Pad 10 Confirmed Specifications:
Android 4.1 Jelly Bean
10.1 inch WXGA display
Quad-core 1.2GHz NVIDIA Tegra 3 processor
1GB RAM
16GB internal storage
1.2 MP front camera
5 MP rear camera
MicroSD slot for expanded storage
While only unveiled in Thailand at THB 10,900 we can equate the price to around $360 in USD. The new MeMo Pad 10 will be released with model number ME301T and available in a few different colors including pink, blue, and white.
With all of the competition in the Android Tablet market how do you see this new device released by ASUS stacking up against those of the Galaxy Note 10 and Nexus 10? We can assume that with the lower price tag of around $360 that it will sell but those that are already addicted to the Samsung and Google tablets it may be a hard one to move into.
The popular Nexus 7 tablet will have a dock available from ASUS today in the UK. Currently there is no word on the dock's release in retail stores although it is now available at ASUS' website. We can assume at this point other retailers like Expansys will have listings for the Nexus 7 Dock within a week or two.
The ASUS Nexus 7 Dock has only two ports on it being the microUSB and headphone jack. We are a bit disappointed to see no HDMI port although there are adapters for that.
There has been mention of the docks release in the US although no date or price has been given at this time. I'm sure we will see it very soon though if it hasn't been posted as this is being written.
At this time I don't see the listing on ASUS' web store although others have reported that its already there.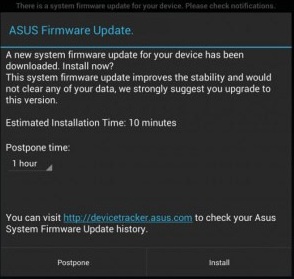 ASUS has started to push out a small update to the Transformer Pad Infinity (TF700) to fix a few WiFi, keyboard and camera issues. This is a very small update and will still keep the Android version at 4.1.1 and you will likely not even notice anything different unless you were having any of the bugs with the WiFi, camera or keyboard. There has also been talks of another update hitting soon to actually make some noticeable changes and updating the Android version to 4.1.2.
While this particular update may be small and nothing that the average user cares too much about ASUS has proven to care about its users and take care as well. As far as updates as users report bugs ASUS is number one and we hope that Motorola, HTC and others will take notes.
As always make sure that your battery is at least 50% charged before you go and try to start the update. Even with smaller updates you can ruin a device if it dies during the update. Those of you that get the update and happen to actually notice something please let us know in the comments below.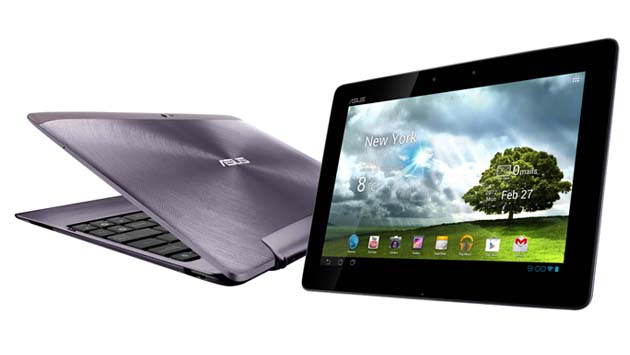 ASUS has released more information on their new ASUS Transformer Pad Infinity along with release date and pricing. The Infinity tablet will come out of the box with Android 4.0 Ice Cream Sandwich although ASUS has already confirmed that it will get the Android 4.1 Jelly Bean update very soon.
Initially the Transformer Pad Infinity will be released in the UK for around £599.99. This is quite high for an Android tablet in this day in age seeing as most manufacturers are attempting to push out very high end devices at much lower price points. This being said the ASUS Transformer Pad Infinity is no slacker when it comes to specs. Se the full specifications on the Transformer Pad Infinity Android tablet below.
ASUS Transformer Pad Infinity Features:
10.1 inch Super IPS+ 16:10 display
1920 x 1200 pixel resolution with HD quality
178 degree viewing angle
1.6Ghz Nvidia Tegra 3 Quad-Core processor
1GB RAM
MicroSD card slot (up to 64GB)
HDMI port
Front and Rear Camera's
As stated earlier the ASUS Transformer Pad Infinity will be first released in the UK at £599.99 with Android 4.0 with the promise of Android 4.1 very soon. The date the Infinity will be released as of now is August 31st meaning we still have about a month before we can get our hands on one.

Since Android is an open source operating system its difficult to get updates as soon as a new version is released. The latest version of Android is version 4.1 Jelly Bean and is currently only available on a few devices although ASUS is working on updates to their devices that can support it. ASUS officially made a statement on their Facebook page to let users know their intentions with the update to Android 4.1 Jelly Bean:
"We are pleased to announce that we will be updating many of our tablet products to Android 4.1, Jelly Bean. The ASUS Transformer Pad, ASUS Transformer Pad Prime and ASUS Transformer Pad Infinity are all scheduled to receive an update to Jelly Bean in the coming months."
Since the Android 4.1 Jelly Bean update will require more processing power than its little brother Ice Cream Sandwich not all ASUS devices will get the update. ASUS has made it clear that they will be looking into the limitations on a per device basis and will update all of them they can with the new OS:
"We are still investigating Jelly Bean updates for other devices, but we are not in a position to confirm whether any other products will be eligible for an update at the moment."
Android 4.1 Jelly Bean has many enhancements over its last version as well as some great new features like Google Now which is Google's version of the popular Siri on newer Apple devices. Almost all Android devices that have been announced this year will see this update although only HTC and ASUS have confirmed that the updates are on their way.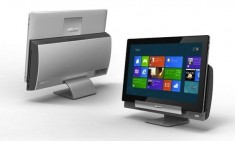 ASUS just announced they will be merging Windows 8 and Android 4.0 Ice Cream Sandwich on their dual-booting computer called the ASUS Transformer AiO. While we have seen tablets dual boot with the Android OS this is the first like this, a computer with Windows 8 and Android on an 18-inch screen.
ASUS unveiled their Transformer AiO about a week ago at Computex showing off the prototype. The Transformer AiO when docked is a Windows 8 desktop that can be disconnected to be used as an 18 inch tablet running Android 4.0. You can however with a button on the back of the dock switch between Windows 8 and Android 4.0 when docked. ASUS has also partnered with Bluestacks to allow Android apps to be ran within the Windows 8 environment as well through the Bluestacks Android player.

Video courtesy of Engadget
We currently have no pricing or availability yet for the ASUS Transformer AiO although the concept alone should spike an interest in the new Desktop/Tablet. As we find more information we will be sure to release it to those that are interested.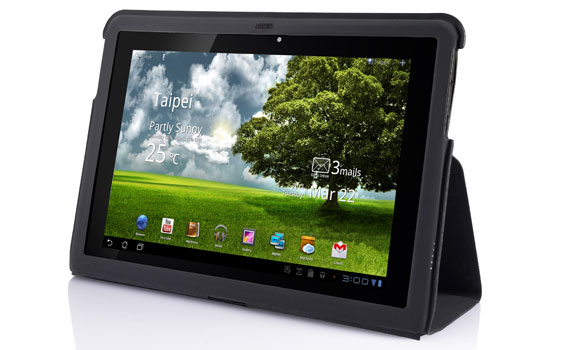 ASUS has released an update to their ASUS Transformer TF101 today to add Face Unlock and a few other features. This update to the ASUS Transformer TF101 that has already been running Android 4.0 Ice Cream Sandwich brings its software to version 9.2.1.24 and adds functionality and improves system stability.
ASUS Transformer TF101 9.2.1.24 Update Features:
Improves system stability
Improves Email App stability
Improves MyNet stability
Improves MyLibrary stability
Add System Bar Lock: Lock the system bar when playing games
Add Face Unlock feature: Unlock your tablet with face recognition
Add Email App new feature: Email download size/Thread/Out of office notification/Mail Sync schedule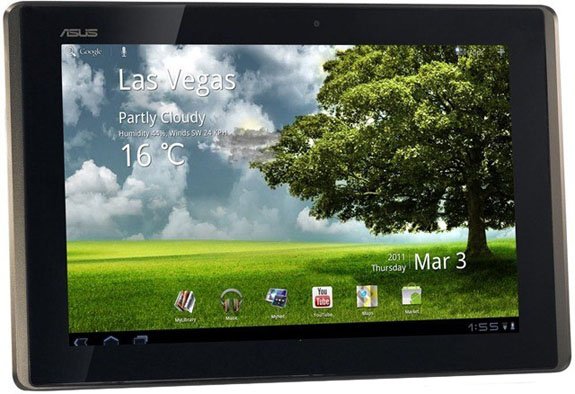 ASUS has announced they are pushing out an update to their Transformer Pad TF101 tablet bringing it to build version 9.2.1.21. With this update you should notice a nice amount of stability and system improvements to make using the tf101 a much smoother experience.
ASUS Transformer Pad TF101 Update 9.2.1.21 Features:
Improves system stability
Improves email stability
Improves AppBackup App
Improves MyLibrary stability
Supports Wi-Fi Direct
Supports unzip in File Manager
Add restore tab function in Browser
IF you haven't already been pushed the update OTA (over the air) you can always manually check. To manually check for the update go to your settings menu and navigate to updates. Let us know how you like the update and if you notice anything buggy or just out of the ordinary.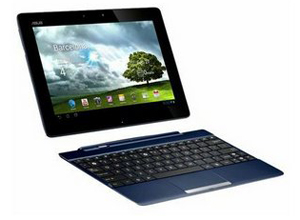 The next Asus Transformer Pad will be released by the end of May this year with the name Asus Transformer Pad TF300T. While this is a new device it will be released as the more cost effective Transformer Prime. At the time of its launch it will be available to only one retailer in the UK with the keyboard dock included for around £399 or $483 USD and should prove a good selling device for Asus.
Asus Transformer Tab TF300T Features:
Android 4.0 Ice Cream Sandwich
NVidia Tegra 3 CPU
10.1″ Display
16 GB Internal Storage
8 MP Camera
UK Press Release about the Transformer Pad TF300T:
United Kingdom (April 23, 2012) – Announced at Mobile World Congress in February, the new ASUS Transformer Pad is a powerful, yet affordable, tablet with a host of features onboard. Available in three stylish colors, the ASUS Transformer Pad is aptly named thanks to the mobile dock that allows it to transform from a tablet into a notebook. When docked, total battery life is rated up to 15 hours, while also increasing productivity with a full QWERTY keyboard, multi-touch touchpad and USB/SD Card ports. Housed in the Transformer Pad is a powerful NVIDIA® Tegra® 3 Quad-core CPU, ASUS SonicMaster technology for an incredible audio experience and an 8MP auto-focus camera that shoots crystal clear photos. The Transformer Pad is running the AndroidTM 4.0 operating system (Ice Cream Sandwich) that is upgradable and features exclusive software for added productivity.

The Transformer Pad comes in three stylish colors: Royal Blue, Iceberg White and Torch Red. It also boasts an elegant concentric patterned finish that hints at the ASUS Zen philosophy found in the ZENBOOKTM and Transformer Pad Prime. With a profile that's 9.9mm thin and 635g light, the Transformer Pad can easily be carried around all day, and when combined with the ASUS exclusive Mobile Dock, it turns into a productivity workstation. A QWERTY keyboard and multi-touch touchpad offers a true notebook experience, while a USB port and SD card slot provide additional storage options.

Powering the Transformer Pad is NVIDIA's Tegra 3 4-PLUS-1TM quad-core CPU with an integrated 12-core GeForce® GPU that provides superior performance, multi-tasking, smooth Full HD 1080p video playback and console-quality gaming. The "PLUS-1″ is an extra battery-saver core in the CPU that handles low-power tasks like active standby, music and video, and is transparent to the OS and applications. It offers the best combination of ultra-performance with low power consumption – up to 10 hours on the Pad and extended up to 15 hours when combined with the Mobile Dock.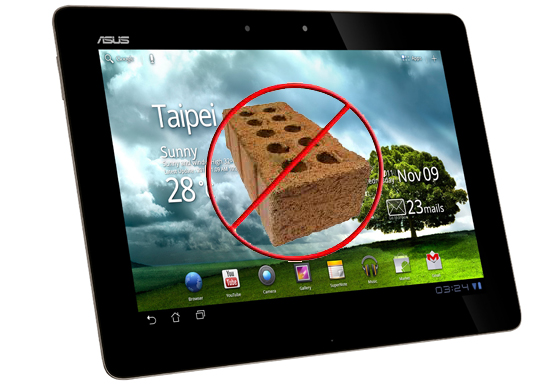 If you have soft bricked your Asus Transformer Prime there is good news thanks to XDA member "MasterZen88″. He has a fix for your bricked Tegra 3 Android tablet that will let you stop stressing the issue of an expensive paper weight. The tool he has created is called WSG UnBricker and is a helpful tool to unbrick and recover your Asus Transformer Prime from its unusable state.
WSG UnBricker is a Windows based batch file that allows you to easily unblock without much knowledge of the Android OS itself. Only use this if your Transformer Prime is bricked and you have no other options.
This is a Full Fastboot based solution that should allow you to flash any partition…
How to Fix your Bricked Asus Transformer Prime:
Download and extract WSG Unbricker (Download Link)
Keep the file structure of the unzipped files or it will not work
First and most important read the included readme before starting
Run WSGFlasher.bat by double clicking it
Select the action you want to do and sit back
Congrats your Asus Transformer Prime is now UnBricked!
Take your time as your soft brick could become a hard brick if you don't take the time to understand what your doing. We are in no way responsible for the use of this utility although will help as best we can with any questions you have.
---