Welcome to Android Advice and Tutorials.
---
The Motorola Atrix 4G is still a very fast quality Android phone, the only issue is the fact that it bogs down bad after heavy use. After you have had an Atrix 4G for about six months to a year it would benefit you to do a factory reset. You can easily format internal storage but to actually get the Atrix 4G back to the condition it was the day you bought it you need to do a hard factory reset.
NOTE: This will completely wipe the entire device including all apps, photos, videos, etc. Backup anything you don't want to lose before doing the factory reset.
How to Completely Reset your Motorola Atrix 4G:
Turn off your Atrix 4G
Turn on the Atrix holding the Vol down button
When you see fastboot at the top of the screen release the vol down button
Press vol down until you get to "Android Recovery"
Press power button to select "Android Recovery"
Once you see a yellow triangle press both vol up and vol down
Use Vol down to navigate to Factory Data Reset
Press Power to select then select Yes to confirm the same way
Wait for the process to complete and go back to the menu
Press power to select "Reboot Device"
Congrats once it reboots you will come to the MotoBlur screen!
If you have any issues please refer to the video above as well as leaving comments and questions below. I have completed this process more times than I can count and have never had an issue so its as safe as it gets.
If you have a Motorola Atrix 4G that is rooted and has an unlocked bootloader, updating the device via an OTA update will brick it. This being said you can recover from it by flashing the updated SBF via RSD Lite. Those of you that have bricked your Motorola Atrix this is how to recover after updating the device.
Currently the updated version of the Motorola Atrix 4G is software version 4.5.141 and as such the instructions will be for this update specifically. Future updates should be able to be fixed as well with the same method with the SBF for that version.
Fix Bricked Motorola Atrix after an OTA Update:
Make sure your Atrix is fully charged before beginning
Download the SBF where you can find it (Download Link)
Download, Install and Run RSD Lite (Download Link)
Remove your SIM and SD Card from the device and turn it on
Press "…" button beside the Filename input and select the SBF
When asked to Extract or cancel, select extract
Plug your Atrix in via USB and wait for RSD Lite to detect it
Press "Start" and wait for RSD Lite to say 100% complete
Congrats you are unbricked and on 4.5.141 running Gingerbread 2.3.6
We aren't responsible for the use of these instructions although they should fix your issue rather well. Also this is kind of a fix all for any other issues you have with your Atrix although it will completely wipe the device. Let us know if you have any questions or need any help.
First of all we want to thank the CyanogenMod team and Jokersax for all the work they have done to get a fully functional CM9 build ported to the Motorola Atrix 4G. The CM9 build for the Motorola Atrix 4G does have a few bugs but for most they will not even be noticed and I'm sure that the current beta build will be released as a stable build very soon as it works great.
PURCHASE THE ATRIX FROM THE VIDEO WITH CM9 ALREADY INSTALLED AND THE OTTERBOX COMMUTER CASE FOR $250
Prerequisites to install CM9 on the Atrix 4G:
How to Install CM9 on the Atrix 4G:
Download CM9 and move the zip file to your SDcard (Download Link)
Reboot your Atrix 4G into Recovery from ROM Manager
When in Recovery select Wipe Data/Factory Reset
Wipe cache and wipe dalvik cache
Navigate to install downloaded zip from SDcard
Choose zip from SDcard and select the ROM
Reboot your Atrix 4G
Congrats your Atrix is on CM9 Ice Cream Sandwich!
After you have flashed your device to CM9 you will need to install Gapps to get all of the Google Apps required to access the Android Market etc (Download Gapps).  You will flash Gapps the same way you did CM9 from steps 5 and 6.
If you have any issues installing CM9 on your Atrix let us know here and we will try to help you out. As always we are not responsible for the use of these instructions and you flash your device at your own risk.
And after the ROM is Installed this is what it looks like:


Tonight Motorola started sending out emails to Atrix 4G owners that are members of the Motorola Feedback Network and signed up to soak test the devices. The soak testers will be receiving the updates to their Atrix 4G's tomorrow morning 10am Pacific Standard Time. Judging by the email that was forwarded to us this update could be anything although we suspect it will be the 4.5.141 software update that we talked about the other day.
Tomorrow after 12 Central/10 Pacific you will receive a pop-up message on your phone that will mark the beginning of the software pre-release test. This email contains several links to a private area where you should provide your feedback about the update process itself and your experiences post-update.
We would be glad to see an Android 4.0 Ice Cream Sandwich update but figure it would have been leaked by now. Our source will send us more information tomorrow after the update to let us know what we can expect and will keep you posted.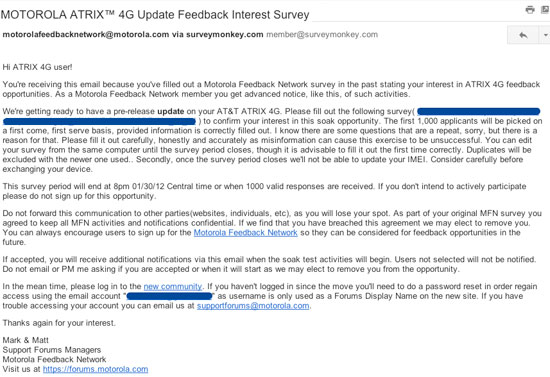 While we discussed earlier in the week that the Motorola Atrix would be getting an update that might be Ice Cream Sandwich, we were wrong and hate to say it. It looks like the Atrix 4G is getting updated to version 4.5.141 to include a few security and bug fixes but beyond that not much more. It also looks like if your device is rooted you may not see the update at all but is looking to be pushed out February 7th.
Motorola Atrix 4G Update 4.5.141 Features:
Latest Android security fixes from Android 2.3.6+
Bluetooth voice commands while the device is asleep
Improvements to the Messaging and Contacts applications (unspecified)
WiFi settings update and AT&T Mobile Hotspot usage built-in
Increases in stability, power management
While we again are sorry to even be posting this it looks like the Motorola Atrix may never see the update to Android 4 Ice Cream Sandwich officially. We can say with the Atrix's hardware that it will get an unofficial fully functional ROM at some point beyond what is already available via CyanogenMod 9.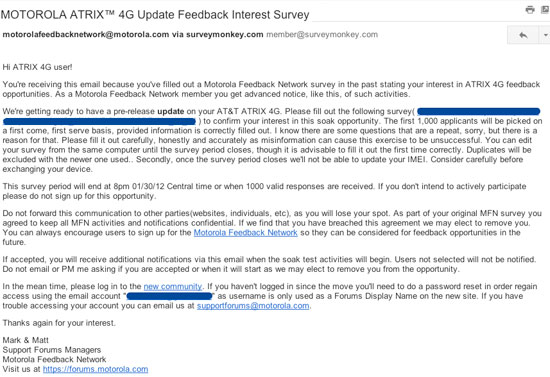 While we aren't sure if this means Android 4.0 Ice Cream Sandwich for the Motorola Atrix 4G on AT&T, we do know there is a big update to the device. Judging by the past experience with Motorola we can only assume that it will mean Ice Cream Sandwich very soon for the device.
The Motorola Atrix 4G can easily support the Android 4.0 operating system and with no promise from Motorola or AT&T we know its possible to get this device running the popular new OS. CyanogenMod 9 proves that it can be done now lets keep our fingers crossed that it will and this soak test is it.
While we aren't involved in the testing this time we will keep you informed as our contact gets the OTA from Motorola. If you are involved in the testing please let us know if you hear anything outside of what we already know, which isn't much since Motorola is so hush hush with its testing groups.
Those of you that want to get back to the stock Atrix 4G 4.5.91 ROM for one reason or another here it is. Many of you are going to be involved in the upcoming soak testing and some just need it back to stock to get a replacement and are worried about warranty. Keep in mind that this image is for the AT&T Atrix 4G. Either way here are the instructions.
While we haven't verified this, the ROM you flash here may or may not be able to receive OTA updates. Also you may not be able to flash to an older firmware after doing this without an unlocked bootloader.
Instructions to Flash Motorola Atrix 4G back to Stock 4.5.91:
Download the System image (Download Link)
Download moto-fastboot and install (Download Link)
Turn off your Atrix 4G
Boot the Atrix into "Fastboot Mode" (hold power + vol down)
plug your Atrix into your PC via USB
Navigate to your fastboot folder via command prompt
type "moto-fastboot flash boot boot.img" press enter
type "moto-fastboot flash system system.img" press enter
type "moto-fastboot -w" press enter
type "moto-fastboot reboot" press enter
Grats you now have the stock ROM when the Atrix turns back on
As always we aren't responsible for your use of these instructions and its recommended that you have a working knowledge of the process before starting. This being said let us know if you have any questions and share your reasons and results with us.
Those of us that have the Motorola Atrix have been waiting for some time now to get Android 4.0 Ice Cream Sandwich on the device and it seems for some of us the wait is over. While the CM9 ROM still has some bugs it is available and functions on the Motorola Atrix 4G. If your Atrix is your primary phone you may want to hold out due to some bugs that still aren't ironed out completely but in any case its a nice ROM.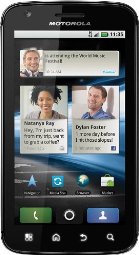 CyanogenMod Features not working on the Atrix 4G:
Camera
Adobe flash is buggy
HDMI landscape
YouTube
Car dock
Some 2d issues
Built in video playback
While there are some pretty hefty daily use items not quite there yet like the camera jokersax11 from XDA Developers has vowed that he will not stop until its fully functionally on the popular device. If you have already installed the ICS ROM on your Atrix 4G please let us know what you think. In the mean time we are gonna give it a shot with one of our test devices and get back to you later.
If you have a Motorola Atrix you have probably given up on the idea of taking screenshots on your phone. There is however an app that was created specifically for the Atrix to take screenshots and best of all it does not require root access. The app we are talking about was created by XDA member mindphase called ScreenGrabber.
We have tested and tried to break Screengrabber without any issues to date. There aren't many settings so it is easy to setup and allows the user to setup how its used. You can either have it always running in the notification bar or you can set it to close after you take a screenshot. Also there is a delay setting so that you can tell it to take a screenshot and give yourself enough time to get where you want the image to be taken.
If you are using or decide to use the app please let us know your experience with it for the benefit of other users.
We have had many users of the Motorola Atrix ask us if it will get Android 4.0 Ice Cream Sandwich, we don't know the answer but here is what we do know. The answer is not as cut and dry as we would like but it seems there is a possibility that the Motorola Atrix will get Ice Cream Sandwich. This of course probably would not be an official release due to the fact that Gingerbread has only been on it for a short time. Also Motorola from past experience only releases one OS upgrade per device.
This being said the Motorola Atrix with the Gingerbread update allows developers to do much more than with its previous Froyo version of Android. Now that the Bootloader is able to be modified rather easily we can expect CyanogenMOD or a dev over at XDA to develop a compatible kernel at least to allow for better chances of Android 4.0.
With Ice Cream Sandwich being released in the next month or so we would expect it to be ported over to the Atrix soon after due to the phones user base. We will keep everyone posted as we find any information on Ice Cream Sandwich for the Atrix.
AT&T has sent out a press release stating that all of their previously released Android phones in 2011 will receive Gingerbread updates. Included in these updates are the HTC Inspire 4G, LG Phoenix, Pantech Crossover, Samsung Captivate 4G and the Samsung Infuse 4G. This all started with the Motorola Atrix 4G Gingerbread update a few days ago.
View the full Press Release from AT&T below:
Android 2.3 Debuted in the AT&T Portfolio with HTC Status, All Post-paid Android Smartphones Released in 2011 Planned to Receive 2.3 Upgrade

DALLAS, July 25, 2011 /PRNewswire/ –

Key Facts

AT&T* confirmed that upgrades to the Android™ 2.3 (Gingerbread) platform are planned for all post-paid Android smartphones already introduced this year.
Motorola ATRIX™ 4G users will receive an update to Android 2.3 beginning today and HTC Inspire™ 4G users will receive the update in the coming weeks.
Motorola ATRIX 4G update will also provide the ability to download applications from third-party stores.
HTC Status™ arrived in stores July 17, the first AT&T smartphone running Android 2.3.

Upgrade Details

Customers who purchased an Android smartphone from AT&T introduced in 2011 can expect to receive an update to Android 2.3. All of these devices are planned to be upgraded from Android 2.2 to Android 2.3, also referred to as Gingerbread. In addition, Samsung Captivate™ owners will be able to upgrade to Gingerbread.

Delivery methods will vary by device. Whenever possible, upgrades are delivered over-the-air (OTA), however in some cases the size of the file needed to install the update will require the user to connect via Wi-Fi or connect the phone to a PC to install the update. Factors such as manufacturer-defined software and other device performance improvements result in each device requiring a separate update which will vary in timing.

Beginning today and continuing over the next few weeks, Motorola ATRIX 4G users will be prompted to install the update. To download the update, users must be connected via Wi-Fi. In August, HTC Inspire 4G users will be notified that the update is available and can be downloaded when connected to a Wi-Fi network. AT&T smartphone users can access at any one of the company's more than 26,000 Wi-Fi hotspots at no cost.

The AT&T smartphones planned for a Gingerbread update are:

HTC Inspire™ 4G
LG Phoenix™
Motorola ATRIX™ 4G
Pantech Crossover™
Samsung Captivate™ 4G
Samsung Infuse™ 4G

Android 2.3 (Gingerbread)

Gingerbread delivers a number of improvements, such as user interface refinements, refined copy/paste functionality and speed enhancements. The upgrade offers improved power management that offers a more active role in managing applications in addition to an improved on-screen keyboard with multi-touch support that makes typing faster and more accurate
---