Welcome to Android Advice and Tutorials.
---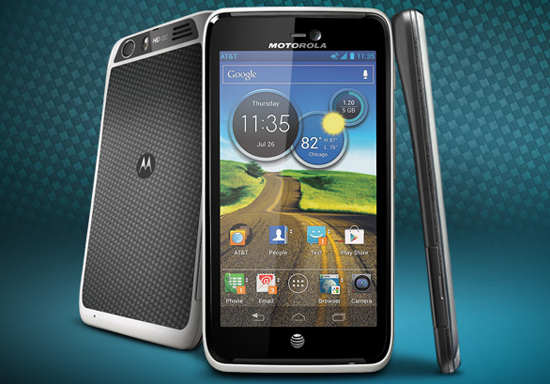 The Atrix HD has an easy one click root method available thanks to XDA member OP. The one click root method is called "motofail2go" and is currently available to use on Windows machines only. If you have a Motorola Atrix HD and want to root it to gain access to everything that Android has to offer the instructions are below.
Motorola Atrix HD Root Instructions:
Install the Drivers for your Atrix HD
Download and Extract motofail2go (Download Link)
Put your Phone in USB Debugging Mode
Navigate to your motofail2go extracted earlier
Run ""run.bat" as administrator
Follow the instructions in the batch file
Congrats your Atrix HD is rooted!
There has been only one issue that very few users have noticed where the device will give you an error "run-as: Package 'com.motorola.bug2go' is unknown". If you get this error printed by the batch file then you will need to wipe your data and cache then start the process over.
If you have a Motorola Atrix 4G that is rooted and has an unlocked bootloader, updating the device via an OTA update will brick it. This being said you can recover from it by flashing the updated SBF via RSD Lite. Those of you that have bricked your Motorola Atrix this is how to recover after updating the device.
Currently the updated version of the Motorola Atrix 4G is software version 4.5.141 and as such the instructions will be for this update specifically. Future updates should be able to be fixed as well with the same method with the SBF for that version.
Fix Bricked Motorola Atrix after an OTA Update:
Make sure your Atrix is fully charged before beginning
Download the SBF where you can find it (Download Link)
Download, Install and Run RSD Lite (Download Link)
Remove your SIM and SD Card from the device and turn it on
Press "…" button beside the Filename input and select the SBF
When asked to Extract or cancel, select extract
Plug your Atrix in via USB and wait for RSD Lite to detect it
Press "Start" and wait for RSD Lite to say 100% complete
Congrats you are unbricked and on 4.5.141 running Gingerbread 2.3.6
We aren't responsible for the use of these instructions although they should fix your issue rather well. Also this is kind of a fix all for any other issues you have with your Atrix although it will completely wipe the device. Let us know if you have any questions or need any help.
First of all we want to thank the CyanogenMod team and Jokersax for all the work they have done to get a fully functional CM9 build ported to the Motorola Atrix 4G. The CM9 build for the Motorola Atrix 4G does have a few bugs but for most they will not even be noticed and I'm sure that the current beta build will be released as a stable build very soon as it works great.
PURCHASE THE ATRIX FROM THE VIDEO WITH CM9 ALREADY INSTALLED AND THE OTTERBOX COMMUTER CASE FOR $250
Prerequisites to install CM9 on the Atrix 4G:
How to Install CM9 on the Atrix 4G:
Download CM9 and move the zip file to your SDcard (Download Link)
Reboot your Atrix 4G into Recovery from ROM Manager
When in Recovery select Wipe Data/Factory Reset
Wipe cache and wipe dalvik cache
Navigate to install downloaded zip from SDcard
Choose zip from SDcard and select the ROM
Reboot your Atrix 4G
Congrats your Atrix is on CM9 Ice Cream Sandwich!
After you have flashed your device to CM9 you will need to install Gapps to get all of the Google Apps required to access the Android Market etc (Download Gapps).  You will flash Gapps the same way you did CM9 from steps 5 and 6.
If you have any issues installing CM9 on your Atrix let us know here and we will try to help you out. As always we are not responsible for the use of these instructions and you flash your device at your own risk.
And after the ROM is Installed this is what it looks like: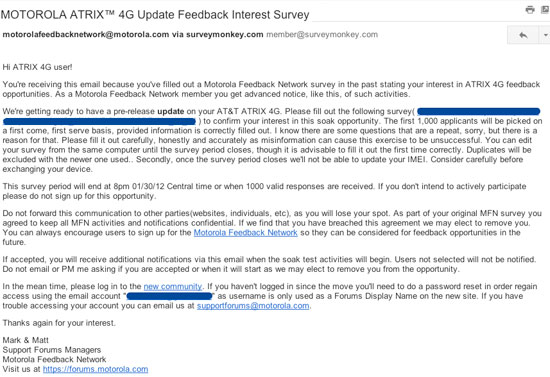 While we aren't sure if this means Android 4.0 Ice Cream Sandwich for the Motorola Atrix 4G on AT&T, we do know there is a big update to the device. Judging by the past experience with Motorola we can only assume that it will mean Ice Cream Sandwich very soon for the device.
The Motorola Atrix 4G can easily support the Android 4.0 operating system and with no promise from Motorola or AT&T we know its possible to get this device running the popular new OS. CyanogenMod 9 proves that it can be done now lets keep our fingers crossed that it will and this soak test is it.
While we aren't involved in the testing this time we will keep you informed as our contact gets the OTA from Motorola. If you are involved in the testing please let us know if you hear anything outside of what we already know, which isn't much since Motorola is so hush hush with its testing groups.
Those of you that want to get back to the stock Atrix 4G 4.5.91 ROM for one reason or another here it is. Many of you are going to be involved in the upcoming soak testing and some just need it back to stock to get a replacement and are worried about warranty. Keep in mind that this image is for the AT&T Atrix 4G. Either way here are the instructions.
While we haven't verified this, the ROM you flash here may or may not be able to receive OTA updates. Also you may not be able to flash to an older firmware after doing this without an unlocked bootloader.
Instructions to Flash Motorola Atrix 4G back to Stock 4.5.91:
Download the System image (Download Link)
Download moto-fastboot and install (Download Link)
Turn off your Atrix 4G
Boot the Atrix into "Fastboot Mode" (hold power + vol down)
plug your Atrix into your PC via USB
Navigate to your fastboot folder via command prompt
type "moto-fastboot flash boot boot.img" press enter
type "moto-fastboot flash system system.img" press enter
type "moto-fastboot -w" press enter
type "moto-fastboot reboot" press enter
Grats you now have the stock ROM when the Atrix turns back on
As always we aren't responsible for your use of these instructions and its recommended that you have a working knowledge of the process before starting. This being said let us know if you have any questions and share your reasons and results with us.
The Motorola Atrix 2 has only been out a short time and it can be easily rooted manually using the method originally developed for the Droid Bionic. This root method was originally created by p3droid at MyDroidWorld and Android Advice takes no credit for the root method. We are just here to make sure you know how to and understand it.
Manual Root Instructions for the Motorola Atrix 2:
Download and extract exploit.zip (Download Link)
Open a command prompt and navigate to the folder you just extracted
Type "adb push zerg /data/local" press enter
Type "adb push su /data/local" press enter
Type "adb push Superuser.apk /data/local" press enter
Type "adb shell" press enter
Type "cd /data/local" press enter
Type "chmod 777 zerg" press enter
Type "./zerg" press enter
Wait for it to complete the root process
Type "adb shell" press enter (skip if already in shell)
Type "mount -o rw,remount /dev/null /system" press enter
Type "cat /data/local/su > /system/bin/su" press enter
Type "cat /data/local/Superuser.apk > /system/app/Superuser.apk" press enter
Type "chmod 4755 /system/bin/su" press enter
Type "chmod 4755 /system/app/Superuser.apk" press enter
Type "reboot" press enter
Congrats your Motorola Atrix 2 is Rooted
If this root method does not work for you check out the "One Click Atrix 2 Root Method". Please leave comments letting us know how this works out for you and any issues that you run into if any.
If you have a Motorola Atrix you have probably given up on the idea of taking screenshots on your phone. There is however an app that was created specifically for the Atrix to take screenshots and best of all it does not require root access. The app we are talking about was created by XDA member mindphase called ScreenGrabber.
We have tested and tried to break Screengrabber without any issues to date. There aren't many settings so it is easy to setup and allows the user to setup how its used. You can either have it always running in the notification bar or you can set it to close after you take a screenshot. Also there is a delay setting so that you can tell it to take a screenshot and give yourself enough time to get where you want the image to be taken.
If you are using or decide to use the app please let us know your experience with it for the benefit of other users.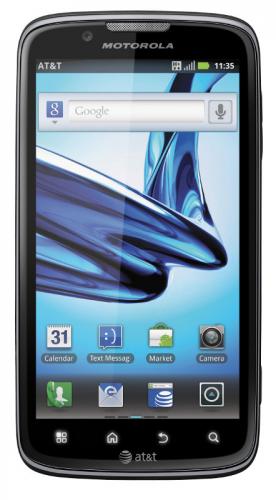 AT&T has already announced the Atrix 2. We knew it was coming when they announced at CES that they would have 12 new Android devices released this year and they have already hit 19. They surely wouldn't make it to the end of the year without a few more.
Now the Atrix with the release of the Atrix 2 puts it in line with the Droid Bionic. Most of the look and feel is that of the original Atrix besides the rounded form factor. Se below for more specifications on the Atrix 2.
Motorola Atrix 2 Features:
UMTS 850/1900/2100
GSM 850/900/1800/1900
4G HSPA+ 21 Mbps (Category 14)
1GHz dual-core processor
Internal memory: 8GB ROM, 1GB RAM, 2GB microSD card (expandable to 32GB)
Android 2.3 (Gingerbread)
4.3-inch qHD screen 960×540 TFT, with more than  500,000 pixels for sharper, clearer display
8MP camera and LED flash with faster viewfinder start-up and shutter speeds than a digital camera
Front-facing camera
1080p HD video capture, 30 frames per second playback
On Device Encryption (ODE) and Enhanced Exchange ActiveSync® (EAS)
IPsec VPN
Lapdock 100 Accessory
As an Atrix user i'm not as impressed as I thought i'd be although unlike the original Atrix we will surely see Ice Cream Sandwich on the Atrix 2 before long if not changed and added before release. While the original Atrix will get Ice Cream Sandwich in some form the Atrix 2 will get an official update at some point.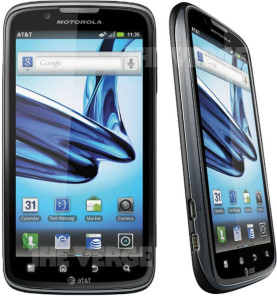 There will be a new Atrix and its name is the Motorola Atrix 2 or the Motorola MB865. Many of us thought that it would be released under the name Motorola Edison but it seems that this is not the case. The specs and image that we have of the Atrix 2 are courtesy of "This is My Next".
TIMN is the one confirmed the official name of the device will be the Atrix 2. Current confirmed specifications of the Atrix 2 are as follows.
Motorola Atrix 2 (MB865) Features:
Android 2.3.5 Gingerbread
4.3 inch qHD display
8 MP camera with LED flash and autofocus
8 GB internal storage
1 GB RAM
The Atrix 2 is said to give you 8.5 hours of talk time and almost 16 days of standby. Not only this but the new device will also come with a new laptop dock. As we find more information we will be sure to let you know.
The Motorola Atrix started pushing its over the air update last night. We have been waiting for this update for a while now and were told July would be the month. Just after a few days of soak testing the OTA update is available. Now the Atrix finally has sideloading.
Instructions to install the Atrix Gingerbread Update:
Make sure you are connected to Wi-Fi
Go to Settings -> About Phone -> System Updates
After scanning Install the update
Congrats you have Gingerbread
With the Bionic coming out soon the Atrix 4G needed this update to stay ahead of the game. Let us know how the update goes for you.
---