Welcome to Android Advice and Tutorials.
---

A couple days ago Samsung posted the source code for AT&T and T-Mobiles version of the Galaxy S III. Samsung's posting of the source code is for the SGH-I747 for AT&T and SGH-T999V for T-Mobile so that developers can go crazy on the device with mods, apps, roots and whatever they want really. While your average Android user will not know what to do with the source file it is a piece of gold for those that do. The most useful aspect of the source codes release is that the average Android user will get most of their ROM's and root access from this file.
Download the AT&T Samsung Galaxy S III Source File Here
Download the T-Mobile Samsung Galaxy S III Source File Here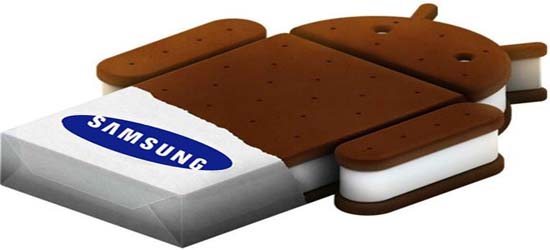 With Android 4.0 Ice Cream Sandwich being almost a requirement now when looking for a new phone Samsung is letting us know what devices they will update with the popular current Android OS. Samsung has been slow with their Android 4.0 updates although they have released a list of devices that will get the update by carrier. The following are confirmed ICS updates to come although not all devices that will get the update may be listed.
AT&T Samsung Android Phones Getting Android 4.0 ICS:
Galaxy S2 (SGH-i777)
Galaxy S2 Skyrocket (SGH-i727)
Galaxy Note (SGH-i717)
Captivate Glide (SGH-i927)
Nexus S (SGH-i9020A)
Galaxy Tab 8.9 (SGH-i957)
Sprint Samsung Android Phones Getting Android 4.0 ICS:
Galaxy S2
the Epic 4G Touch (SPH-d710)
Verizon Samsung Android Devices Getting Android 4.0 ICS:
Galaxy Tab 10.1 (SCH-i905)
Galaxy Tab 7.7 (SCH-i815)
Galaxy Tab 7.0 Plus Wi-Fi (P6210)
Galaxy Tab 8.9 Wi-Fi (P7310)
Galaxy Tab 10.1 Wi-Fi (P7510)
There has been no mention of T-Mobile updates although Samsung has stated that "We are in close communication with T-Mobile to ensure that eligible devices are upgraded to Android 4.0 Ice Cream Sandwich in the coming months and will provide updates as we have additional details to share." We can assume such devices as their version of the Galaxy S2 will be getting the update although thats about all we can say for sure right now.
Source: Samsung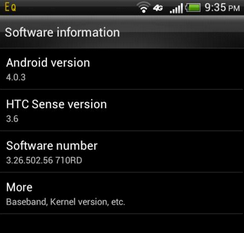 AT&T's HTC Vivid is now receiving the Android 4.0.3 Ice Cream Sandwich update. This update will bring the HTC Vivid to Software version 3.26.502.56.71ORD and HTC Sense 3.6. We were hoping for Sense 4.0 but it looks like this isn't the case yet but may be included in a future update.
If you haven't had the update pushed to your device yet you can dial out *#*#682#*#* and manually force the update from your Vivid. You should go ahead and get it now while you can since we have seen a few updates get pulled for one reason or another. Let us know how you like your HTC Vivid on Android 4.0.3 via comments below.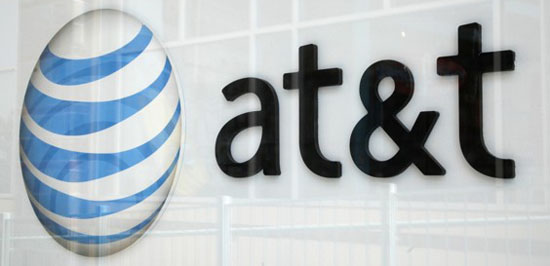 The Wall Street Journal reported that AT&T may soon be testing a new service that will allow app developers to pay for their apps data usage. This means that if a user on the AT&T network downloads a developers app they have the option if the dev allows it to not use their own data with the app. This would of course require app developers to pay AT&T for their apps data usage instead of it falling into the users responsibility.
While we think Ma Bell has gone nuts, think about the fact that applications that stream movies or sports to a mobile device use data very quickly. Users are less likely to use your app if their data plans cannot support it. This way the developers will have the opportunity to reach users and sell their apps to those that would otherwise ignore it due to its intense data requirements. This could increase app service signups with any streaming services available today.
We can't see this actually making AT&T any additional money since they will lose on data overages for those that would download and use the service regardless. If the service costs the developers more than they are gaining from subscriptions then it could prove to be a failure. We are however looking forward to seeing how this all pans out and will keep you informed.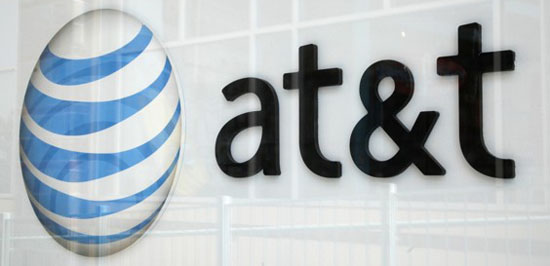 There are over 17 million AT&T users that are grandfathered into the unlimited data plans. Last year AT&T claimed that 20,000% of their data traffic came from the top 5% of unlimited data users.
AT&T has officially announced their data throttling guidelines. Unlimited users on the HSPA+ will be throttled at 3GB and LTE users will be capped at 5GB with anything over resulting in a drastic reduction in data speeds.
Most unlimited users will never notice this cap because they still keep it under the limits although for those of you that stream movies and have rooted devices for tethering you may see a drop in data speeds the second half of your billing cycle. The data will return to normal after the billing cycle you go over.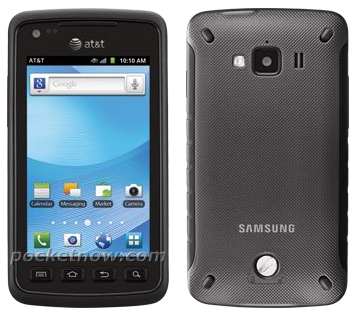 Pocket Now have again came through with a press shot of the Samsung Rugby Smart, a new rugged AT&T Android phone. While the leaked document that we saw a while back showing AT&T's roadmap stated the device would be released mid February which obviously is not the case. The only real information that we do have is that the Rugby Smart will be a rugged phone like the Casio G'Zone and a few specs.
Samsung Rugby Smart Features:
Android 2.3.5 Gingerbread
512 MB RAM
1650 mAh Battery
The Rugby Smart is not a high end device but does broaden choices of tough Android phones. Also the device will come in at AT&T for around $100 with a 2 year contract.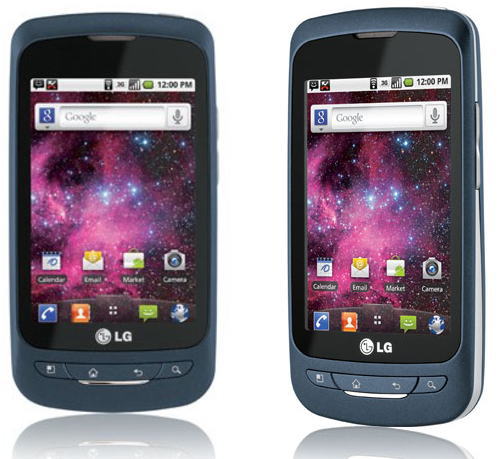 Finally AT&T's LG Phoenix is getting the Android 2.3 Gingerbread update to join the ranks of most Android devices.  The downside right now is that the update is not being pushed OTA (over the air).  Don't let this get you down though, getting Gingerbread on your LG Phoenix is not a hard process.
Preparation for the LG Phoenix Android 2.3 Gingerbread Update:
Fully charge the battery.
Save any important data before updating the software on your device; i.e. contacts, images, etc.
Remove the micro SD memory card.
Close all open applications on your computer before proceeding with the update.
Ensure device "Mass storage only" mode is not selected. Application -> Settings -> SD card & phone storage.
How to Install the Android 2.3 Gingerbread Update on the LG Phoenix:
Install the LG United Mobile Driver - Windows XP, Vista, and Win7
Install the LG Mobile Support Tool(PC only) - Windows XP, Vista, and Win7
Connect Device and Start Update
Connect your phone to your PC using the USB cable included with your device.

Do not tap "Turn on USB storage" on your phone screen.
Do not disconnect the USB cable until the update is complete.
If you experience errors, check USB connection or try another port.

Click 'Start Updating' within the LG Mobile Support tool to begin.

If your phone software upgrade stops before it has completed, please do not close the update tool and try the update again.
The handset is automatically reset during this process.

When upgrade is complete, turn on your phone and complete phone setup.
Another negative for some users is that the update software is not available for the Mac and you will need a Windows machine to complete the process.  Let us know what you think of the update and if you run into any issues.
AT&T announced today that the Samsung Infuse will finally hit mainstream with the update to Android 2.3 Gingerbread. The update will actually take the Samsung Infuse to Android 2.3.6 Gingerbread specifically including bug fixes and enhancements.
Samsung Infuse Gingerbread Update Features:
Improved Copy and Paste functionality
Redesigned Multi Touch Software Keyboard
Download manager for long running HTTP downloads
Improved power management and application control
Notification Shade: "Flight Mode" added ("Silent" removed)
New Fonts options added include Choco Cooky, Cool Jazz, Rosemary
Keyboard Changes: Android Keyboard with Wider Spaced keys and Quick Keys at the top
New Widgets: The name of the content provider will be listed on the widget list along with the widget name. Previously only the widget name was provided.
New Widget: Traffic (Android) added to list of available widgets
Menu Changes/New Apps: Downloads and Google Books added new, Promotional pre-load of Angry Birds removed*.
*Note: The update will remove the promotional Angry Birds pre-load from the device. If you've started playing the game, you would need to re-download from the Marketplace and start from the beginning of the game.
Apparently the update will not be pushed over the air and will require a PC with Windows on it, sorry Mac users. The download link that AT&T gives currently does not work but will be able to be found below.
Please let us know how the update goes and if you notice anything still not working or anything not mentioned above. Good luck and happy updating.
Post linking to the Update for the Samsung Infuse:
http://forums.att.com/t5/Samsung/Samsung-Infuse-4G-i997-Android-2-3-Gingerbread-Software-Update/td-p/3044217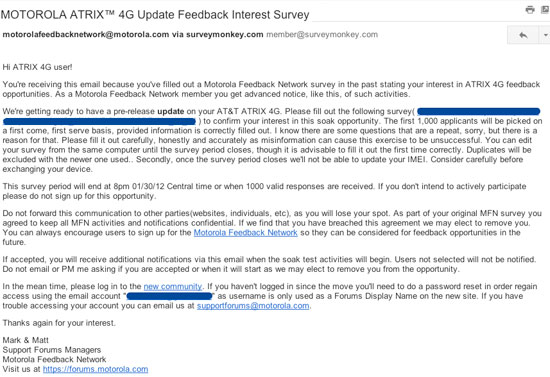 While we aren't sure if this means Android 4.0 Ice Cream Sandwich for the Motorola Atrix 4G on AT&T, we do know there is a big update to the device. Judging by the past experience with Motorola we can only assume that it will mean Ice Cream Sandwich very soon for the device.
The Motorola Atrix 4G can easily support the Android 4.0 operating system and with no promise from Motorola or AT&T we know its possible to get this device running the popular new OS. CyanogenMod 9 proves that it can be done now lets keep our fingers crossed that it will and this soak test is it.
While we aren't involved in the testing this time we will keep you informed as our contact gets the OTA from Motorola. If you are involved in the testing please let us know if you hear anything outside of what we already know, which isn't much since Motorola is so hush hush with its testing groups.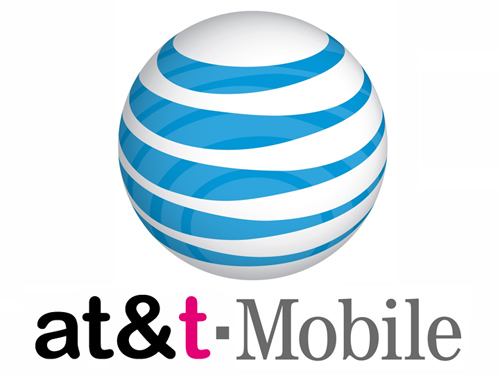 After nine months of pursuing T-Mobile USA, AT&T has pulled out of bidding. This comes soon after the FCC and Justice Department started to get involved to ensure consumer choice and controlled prices in the market. We have all been following this merger and expected it to end this way once the Justice Department got involved.
AT&T Chairman and CEO Randall Stephenson says that this in no way will slow the success of AT&T nor will it stop future investments.
"To meet the needs of our customers, we will continue to invest… However, adding capacity to meet these needs will require policymakers to do two things. First, in the near term, they should allow the free markets to work so that additional spectrum is available to meet the immediate needs of the U.S. wireless industry, including expeditiously approving our acquisition of unused Qualcomm spectrum currently pending before the FCC. Second, policymakers should enact legislation to meet our nation's longer-term spectrum needs."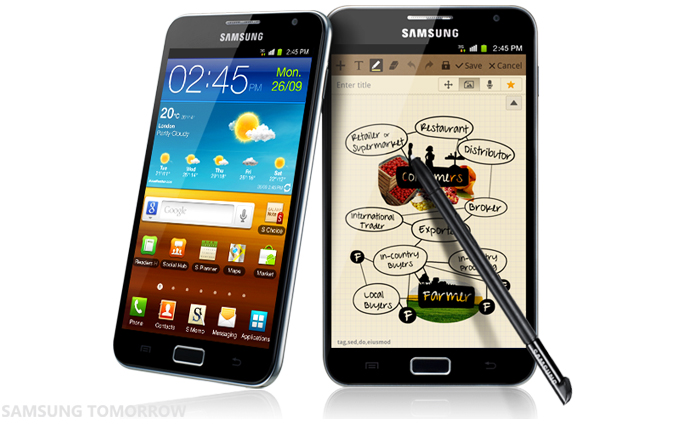 PocketNow has reported that the Samsung Galaxy Note will be available via AT&T with 4G/LTE. The Galaxy Note is the new hybrid device that merges the smartphone and tablet. It has not only a 1.5 GHz dual core processor and 5.3 inch screen but comes with built in "S Pen" for using as a tablet. It has also recently cleared the FCC in Columbia Maryland making it only a matter of time before release.
PocketNow says that the Samsung Galaxy Note will be available some time early 2012 and that the US version may come with a Qualcomm Snapdragon processor to support the 4G LTE stack. This would be replacing the Samsung Exynos processor that we have seen previously in its specifications.
---