Welcome to Android Advice and Tutorials.
---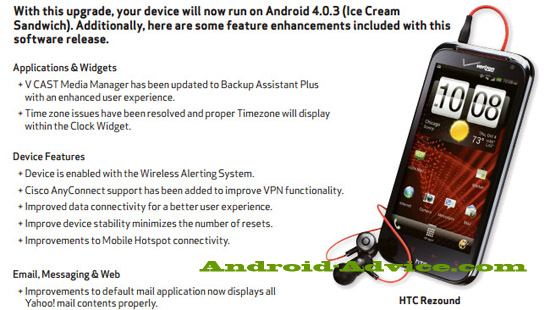 HTC Rezound users have been waiting for some time now to get their hands on the Android 4.0 Ice Cream Sandwich update. If you have an HTC Rezound you can now get the Android 4.0.3 Ice Cream Sandwich update via an OTA update. This update not only brings ICS to the Rezound but also brings the device to build number 3.14.605.12 and a new version of HTC Sense as well.
HTC Rezound Android 4.0.3 ICS Features:
V CAST Media Manager has been updated to Backup Assistant Plus with an enhanced user experience.
Time zone issues have been resolved and proper Timezone will display within the Clock Widget.
Device is enabled with the Wireless Alerting System.
Cisco AnyConnect support has been added to improve VPN functionality.
Improved data connectivity for a better user experience.
Improve device stability minimizes the number of resets.
Improvements to Mobile Hotspot connectivity.
Improvements to default mail application now displays all Yahoo! mail contents properly
The 3.14.605.12 update to the Rexound comes in at 299MB so be sure to connect to Wifi before beginning the process. Those of you that don't currently see the update be patient as it may take a couple days to hit everyones devices. Once you get the update let us know what you think via comments below.
---